Everything You Need to Know About Outdoor Dining in SF
It's finally back.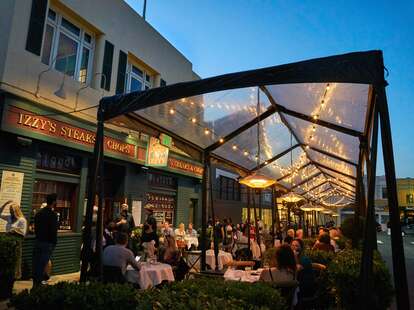 San Francisco got some amazing news this week. After a month and a half of being relegated to take out and delivery, we can finally go to restaurants again. Of course, it's outdoor dining only. And the tables have to be six feet apart. And you'll need to wear a mask when you're not eating or drinking, but still—doesn't it feel fantastic to have even a little more freedom? We sure think so, and we think that freedom tastes even better when it comes in the form of heated patios and beer gardens and dishes that are prepared by professionals and served straight from the kitchen on a (gasp!) plate instead of after 30 minutes of rolling around in a box in the back of someone's car. This list has just a few of our favorite spots for outdoor dining in the city and covers everything from pizza to prime rib and sushi to sandwiches. (Please be sure to double check hours because though dining is permitted as of Thursday, January 28, it is going to take some restaurants a little more time to ramp up and reopen.)
North Beach
This beloved North Beach Italian restaurant, helmed by husband-and-wife team Jen McMahon and Darren Lacey, has a parklet with a covered roof and heat lamps for dinner service Wednesday through Saturday. The dinner menu with seasonal dishes like pesce en brodo with Dungeness crab, jumbo prawns, PEI mussels, and ling cod is available from 5 to 8 pm. Call 415-981-4664 for more information or to make a reservation.

Bayview
All Good Pizza's expansive (7,000 feet) outdoor beer garden is a great spot for a socially distanced pizza feast. They're currently open Tuesday to Saturday from 10:30 am to 5 pm for Neapolitan-style brick oven pizzas, organic salads, paninis grilled on fresh baked local bread, and beer and wine. And since Bayview is one of SF's sunniest neighborhoods, there's a good chance you'll be able to dine jacket-free.
Outer Richmond
This cozy neighborhood bar, beloved for their on-point cocktails and bacon cheeseburger, is open for sidewalk dinner and drinks every evening from 4:30 to 8:45 pm with last call at 9:30 pm. Reserve your spot on OpenTable or by calling 415-682-4861; they have limited space for walk-ins, too.
Western Addition
4505's Divisadero patio, long a go-to for warm days and barbecue cravings, is open daily from 10:30 am to 9 pm. The counter service model remains, and while diners are required to maintain six feet of distance while waiting to order, you can also order online for pick-up ahead of time. Bonus: They now have pitchers of beer available for dine-in, too.

Mission
Prubechu, a destination for Guamanian food and flavors, is open for outdoor patio dining in a plant-bedecked lot adjacent to the Mission Street restaurant. Satiate your cravings for Chamorro flavors, including Guam-style barbecue, empanadas, local beer, natural wine, and more, Wednesday through Saturday from 12 pm to 8 pm and Sunday from 12 pm to 6 pm.
Outer Sunset
Sunset Reservoir, usually a neighborhood go-to for beers, burgers, and trivia, might be best known for its sister company, Devil's Teeth Baking Company, purveyor of one of San Francisco's most justifiably famous breakfast sandwiches. Those are on offer, along with a limited dinner menu of snacks, salads, sandwiches, burgers, and tacos, and can now be enjoyed alongside a cold one or three at one of their first come, first serve outdoor tables on Noriega Street. They're open every day from 3 pm to 9 pm (10 pm on Friday and Saturday), plus additional brunch hours on weekends from 10 am to 2 pm.

Embarcadero
The patio at Red's is as essential to summer in San Francisco as Giants baseball, and an unbeatable place for a pre- or post-game beer (and a giant pile of fries, naturally). We might not be watching baseball in person this year (or at least not during the spring), but Red's is open for business. The patio, jutting over the water in the shadow of the Bay Bridge, is open from 7 am to 6 pm, and is as fine a place as ever for a cold one and one of the most affordable burgers (served on sourdough) in town.

North Beach
Mario's, a legendary all-day cafe and a go-to for in-the-know North Beach regulars, has been holding court on the corner of Columbus and Union since 1971. Now, you can grab a seat at one of their sidewalk tables for a cappuccino, pitchers of cold beer, and most importantly, their unbeatable, oven-baked focaccia sandwiches, made on green-onion flecked slabs of olive oil-rich glory from Liguria Bakery, located right across Washington Square Park. Mario's is open from 11:30 am to 7 pm.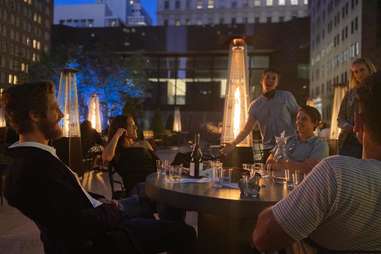 Financial District
Opening a restaurant in the midst of a pandemic is no small feat; opening a restaurant concept specifically designed to fit our pandemic moment is an exercise of true agility. Hi Neighbor Hospitality Group, the team behind Trestle and Corridor, did just that with The Vault Garden, a 100-seat, fully outdoor restaurant. In addition to a roster of built-in safety protocols, there's an all-day food menu from chef Robin Song, along with wine, beer, and cocktails, as well as all kinds of special events, including caviar dinners, drag show brunches, wine dinners, and more. Reservations are available, and recommended, though 30 percent of tables will be held for walk-ins. The Vault Garden is open from Tuesday to Sunday from 11 am to 8:30 pm.

Mission
The iconic SF beer garden is open for food and drinks and toned-down debauchery. The space looks a little different than before—the picnic tables have been divided by plexiglass into "booths"—but the vibe is mostly the same and so is the grub: bugers, grilled cheese, etc., and the drinks: 20+ beers on tap, mixed drinks, and the famous Bloody Mary.
Marina
Izzy's new covered and heater patio, complete with foliage and twinkle lights, was the place to be seen before outdoor dining came to a halt, but even if you don't care about that stuff, it's also a great place for a satisfying steak dinner and local seafood.

Inner Sunset
Pacific Catch's Inner Sunset location has one of the biggest outdoor dining situations in SF with both sidewalk seating and a "Tiki Terrace," both excellent spots to enjoy coconut shrimp, a poke bowl, and lots of delicious cocktails. It's open for all of that Sunday through Thursday from 11 am to 8 pm and Friday and Saturday from 11 am to 9 pm.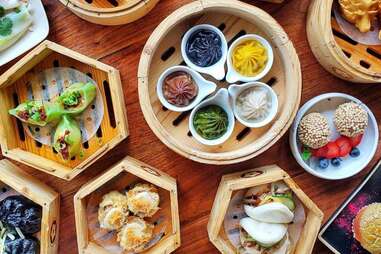 Union Square
Neapolitan pizza is one of those things that needs to be eaten straight out of the (wood-fired) oven. Del Popolo, which does arguably the best Neapolitan pies in the city, does have flash-frozen pies you can heat up at home, but even though they're tasty, it all still tastes better when enjoyed on the restaurant's pop-up rooftop patio.

Ghirardelli Square
Indulge in delicious pork siu mai and steamed pork buns and garlic butter crab at this dim sum palace with a spacious patio that comes with Bay Views. If you manage to leave enough room, you can grab a sundae from the namesake ice cream and chocolate shop before you go home.
Sign up here for our daily San Francisco email and be the first to get all the food/drink/fun SF has to offer.
Daisy Barringer is an SF-based freelance writer who is taking advantage of these strange times by exploring San Francisco on foot. Follow her on Instagram @daisysf to see where she goes next
.