Whether you've been hitting the bars all night and desperately need a 2am calorie bomb, you suddenly decide that you absolutely require pre-dawn donuts for optimal studying, or you just love dining at 10pm like a respectable European, you need to know all the top spots for quality dining after standard hours. We rounded up the top spots in the East Bay to get down to business after 10pm because we care about you getting your snack on whenever you damn well please.
Chinatown, Oakland
If you're feeling the need for heat, hit up Spices 3 for some serious Szechuan game. Expect red chilis, chili oil, and sincere levels of spice in pretty much everything at this Chinatown standout, open till 11 every night except Sunday (and then it's open till 10:30).
North Oakland
Dishing up ridiculously large sundaes since 1894, Fenton's will cure that late night sugar craving. They also serve classic diner food like grilled cheese, burgers, and fries... but, honestly, who needs a meal when there are usually more than 50 flavors of ice cream on offer? Don't try to pretend that you're not going to get a banana special sundae the size of your head. This classic joint stays open till midnight on weekends, and 11pm through the week.
Uptown Oakland
Stylish, gourmet food in a beautiful-people spot: the modern industrial design and snazzy bar scene are sure to impress your date, and the DJ spinning old-school jams adds to your savoir faire. The perfect end after an evening exploring Oakland First Fridays, when Mua stays open till midnight. (You can hit it up until 11 the rest of the week, and 10 on Sundays).
Righteous sandwiches: Analog
Downtown Oakland
Open till midnight on weekdays and 2am on weekends, carnivores and vegans alike get joyful heart palpitations at the downright delicious food on offer. Don't neglect the sides, like the sweet potato salad, which is totally good. If you're eating in, revel in the analog collection of VHS tapes and records while jammin' out to the old-school jukebox.
Southside Berkeley
You're totally running a marathon tomorrow, right? Sure, that's a completely legit reason to eat a massive serving of Gypsy's decadent Crazy Alfredo at 11:30pm tonight. Seriously, their food is cheap, delicious, fast, and made from scratch -- plus they're open until midnight every night.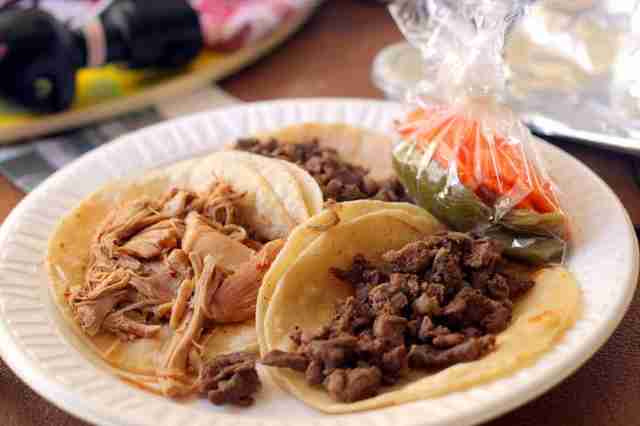 Grand Lake, Oakland
Shogun is the kind of place where you feel really good about eating: they source organically and locally, so you can dine pretty guilt-free. The food is great, they're open until midnight every night, and they're located just a minute walk from The Alley, a classic Oakland dive bar.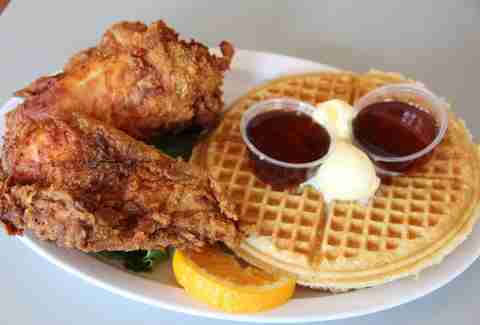 Jack London Square, Oakland
Thankfully, this amazing place stays open until 4am every blessed night of the week, so you have no excuse not to try their syrup-drenched waffles and crispy fried chicken as night turns to dawn. If you're more into savory, get the biscuits and gravy... with cornbread and collards, too. Plus, there's a full bar to wash it all down.
Grand Lake, Oakland
After midnight sushi on Grand, stroll around the corner to Lakeshore and eat as many donuts as you can stuff in your face. No time limit here: this classic donut joint is open 24 hours a day. Grab a pint of milk, watch the old dudes play chess, and settle in for some dietary damage.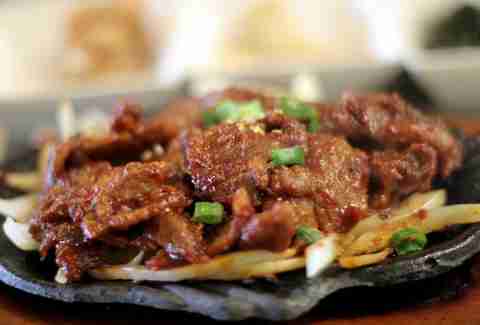 Korean food with the gang: Jong Ga House
Lake Merritt, Oakland
Jong Ga House stays open till 11pm every night and is a crowd pleaser, so gather up a few friends and get ready to feast. You can order off the menu, but the better call is to cowboy up and go for the all you can eat barbecue. Be warned, though: the banchan -- those tiny dishes of pickled goodness they deliver unordered to your table -- might fill you up all on their own. Do this place up right by fasting all day, then pigging out on as much marinated barbecue beef as possible.
Jack London Square, Oakland
This is one of those places where carnivores won't care that they aren't eating meat. Get fed proper at this Southern-comfort soul-food joint that serves Seitan Steak Plates well past your bedtime (10:30pm Tuesday-Thursday, and 11:30pm on Friday and Saturday). Spend the evening carousing near Jack London Square, then pop over here to fill your belly with okra gumbo, vegan mac & cheese, and Southern fried tofu...
Southside Berkeley
It's worth excusing these guys for being a chain: they provide calorie-laden goodness until 4am every blessed night. If you're up that late, you might as well eat damn good fries doused in gravy, covered with meat, and swimming in cheese curds. And try the bulgogi.
North Oakland
This is your late night date night option: Adesso serves straight-up sexy food in a modern atmosphere that's open until midnight weeknights and 1am weekends. Go for the adesso misti, a nice plate that combines things like duck and pine nut salmui, crostini, ricotta, and olives Fancy cocktails, too -- the rye and cynar-based "kith & kin" is no joke. Plus, you'll seem so much more sophisticated wining and dining your date after 10pm -- not to mention, you're more likely to get kissed. It's a basically a statistical dating fact.
Sign up here for our daily San Francisco email and be the first to get all the food/drink/fun SF has to offer.
Annie Crawford is an Oakland-based writer who loves late night snacks of all kinds. Follow the feast at @ReinaAnnie.