San Francisco This summer, we fell in love with a burger, stocked up on beer spots, and met potentially the best new opening of the entire year. Best summer... ever?! Find out for sure at these: the 12 best San Francisco bar and restaurant openings of summer (including one that just barely made the summer cut... ). More Stuff You Will Like
Recommended Video
Drink This Winter Bourbon Smash and Conquer Cold Weather Forever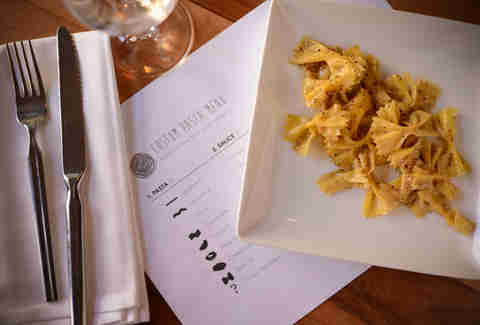 The Mission   What you're getting: You'll either want to build the pasta dish of your dreams here (finally, some DIY we can get behind) or go for the burger topped with a spinach- and egg-stuffed raviolo, onion rings, and truffle oil. A lively bar scene, hearty plates of comforting Italian food, and prices that'll have you happily picking up the check -- hello, favorite new regular spot. Celebrated chef Alexander Alioto has revamped his former Plin restaurant, keeping the fresh handmade pasta he's known for (he's behind the food at dining hotspot Seven Hills) but doing away with Plin's hefty prices. This time around he's intent on catering to the lively vibe of the neighborhood with the addition of amaro-centric Bar Mia, which offers double happy hours, its own bar bite menu, a flight of fernet (!), and an all-day $5 shot-and-a-beer deal. Continue Reading
  The Marina   What you're getting: Deviled eggs topped with oh-so-crispy speck, a burger topped with Dungeness crab and truffle oil, and alllllllll the martinis Thanks to the crew behind Palm House and SoMa nightclub Audio, the epicenter of the Marina's party scene is back and all grown up... kind of. If the now-shuttered Circa was a sloppy-drinking college chick, The Dorian (which barely made the summer opening cut) is that same girl 10 years later, now dressed in cute, new outfits and able to hold her own in a martini bar. That is to say, The Dorian is still down to have a good time (there's a photo booth that converts images to GIFs and brunch is coming soon!), but it's also an opulent oasis with classic cocktails, a separate martini menu, and a sophisticated list of more than 75 whiskeys. Enjoy $1 oysters and half-off Champagne during happy hour in the light-filled dining room, then retire to the lofted study that overlooks the main rectangular bar.
  SoMa   What you're getting: Pillowy potato gnocchi with corn and chanterelles; aromatic, mustardy grilled pork sausage on a shelling bean salad; grilled prawns with fennel butter; plus the Barbary and Hearst, a floral-but-in-a-good-way bourbon cocktail with ginger, lemon, and strawberry This culinary dream team comprised of alums from Foreign Cinema, Commonwealth, and Saison, may have single-handedly revitalized Mint Plaza with this highly anticipated California-Mediterranean eatery. The sleek marble bar and industrial bi-level space offers a cool spot to entertain clients or guests from out of town, or just grab after-work drinks and bites. Meanwhile, the menu, with its drink-friendly snacks, sharable plates, and made-for-one tiny bites, allows diners to taste a wide variety -- which is good because you'll likely want to order one of everything. [Editor's Note: The six-course blind tasting is fucking fantastic.]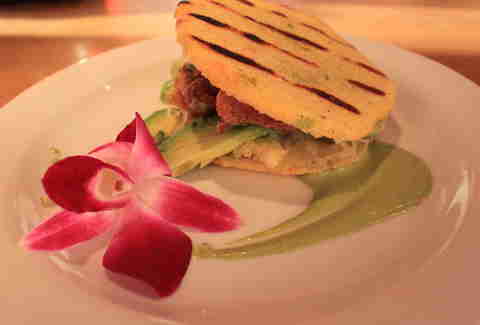 The Mission   What you're getting: The $29, three-course prix fixe menu and the rum-heavy Coco Frio, served in a freshly opened coconut Never mind that this under-the-radar spot offers a three-course prix fixe menu for under $30 -- what you really need to know about Coco Frio is that dining here is kind of like a Caribbean vacation, complete with cocktails in coconuts and the kind of dated 1970s décor that seems ubiquitous in South American restaurants. Chef Manny Torres Gimenez, of Mr. Pollo fame, focuses on the tastes of Isla Margarita, an island off the Caribbean coast of Venezuela with highlights including lobster ceviche on a double-fried plantain, Half Moon Bay salmon with poblano peppers and pickled onions, and the "Dulce de Leche" dessert served with a soufflé made with queso fresco (yep, that's a thing). While portions on the tasting menu are on the small side, the à la carte menu of sharable snacks, such as signature arepas (filled with lobster, shrimp, chicken, or beef) and fresh mussels (at just $5 or $7) make supplementing the meal totally worth it. Also, did we mention that you can get a Hipster Colada, officially giving you license to drink piña coladas during a weeknight dinner? Yep. Cheapest vacation ever.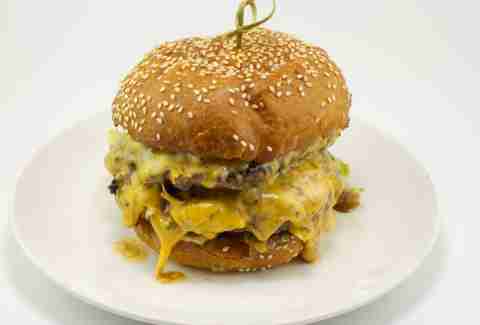 The Marina   What you're getting: The Yard Burger, topped with bone marrow aioli, two kinds of cheese, and cornichon remoulade The former Bin 38 transformed into Scotland Yard this summer, bringing with it Victorian-inspired décor. Thankfully, though, Chef Jason Raffin remained and has since outdone himself with epic charcuterie boards, crispy ceviche and strawberry tacos (get ready for these to be all up in your Instagram), popcorn-flavored ice cream, and the Yard Burger, which we're officially throwing into the ring for the city's best burger (and will be the first add we make to our list of the 20 best burgers in SF). Oh, and brunch debuts there this weekend.
  The Presidio   What you're getting: The Mediterranean mussels paired with Magnolia Brewing's Alicella brew We can think of more than 150 reasons to visit this new beer-focused restaurant in the Presidio. And reasons 1-99 are the beers Master Cicerone Nicole Erny has armed the place with. Then there's the 40-strong wine list (10 on tap, 30 by the bottle), an extensive run of spirits and cocktails, and exceptional comfort food. Oh, and the fact that all of these reasons are housed in a cool industrial loft-meets-log cabin space, complete with a killer patio? Yeah, this place wins.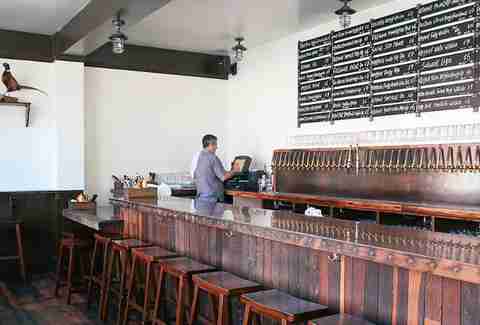 The Mission   What you're getting: Firestone Walker Brewing Company's Stickee Monkee, maple pork sausage sandwich, and grilled octopus Thirty-six hard-to-come-by beers on tap and house-made sausages make just-under-the-Central-Freeway the new happenin' spot! And thanks to the slightly hidden location, finding a seat is generally pretty easy after you order delicious, elevated Irish pub fare from a kitchen window. Side note: if you're ever wondering where the men are, they're here.
  Bernal Heights   What you're getting: Pickled quail eggs (times infinity), OBT Chili Porter, which is brewed with 60lbs of roasted poblano chiles and Valrhona cocoa nibs, and the Peggy Sue shot and beer, featuring a shot of pisco chased with OBT's refreshing Basil Lemon Saison There are still a few months left, but we're callin' it: Old Bus Tavern -- with its winning shot-and-beer combos, to-die-for cocktails, and food that's more "elevated" than "pub fare" -- is our front-runner for best opening of the year.
  Western Addition   What you're getting: The Beet Down slushie, featuring gin, strawberry beet puree, lemon, and rosemary absinthe whipped cream While Bourbon & Branch alums Justin Lew and Ian Scalzo put the finishing touches on their upcoming concept, we've got this temporary no-frills pop-up, starring Bacon Bacon in the kitchen, skeeball, and amazing boozy slushies, all just in time for real SF summer.
  North Beach   What you're getting: Bavarian pretzel This is a date-friendly spot that feels more local and neighborhoody than other sidewalk patio restaurants in the area, thanks to its interesting wine list, sharable small plates, and reasonable prices. Also, guys: Bavarian pretzels.
  Hayes Valley   What you're getting: The five-course tasting menu ($72 per person) The food, inspired by Chef Dominique Crenn's home region of Brittany, France, depends entirely on the best spoils from the farmers market and seafood vendors that day, but you can expect items such as a whole fire-roasted trout, cauliflower gratin, Miyagi oysters, and escargot to appear on Crenn's five-course tasting menu.
  SoMa   What you're getting: Nautilus hibiscus saison It doesn't get friendlier than this new SoMa tasting room that's dog-friendly, laptop-friendly, outside food-friendly, and, most importantly, beer-friendly. Chemical engineer and award-winning home brewer Jim Furman has teamed up with Bryan Hermannsson of Pacific Brew Lab to create this sunlit tasting room and art gallery, featuring both Black Hammer originals and Pacific Brew Lab's Squid Ink IPA and Nautilus saison with hibiscus. Sign up here for our daily San Francisco email and be the first to get all the food/drink/fun SF has to offer. Amy Copperman is a regular contributor to Thrillist. See what she's eating and drinking on Instagram.