Paid Content For
San Pellegrino
The best SF pizzas, by 'hood
Paid Content For
San Pellegrino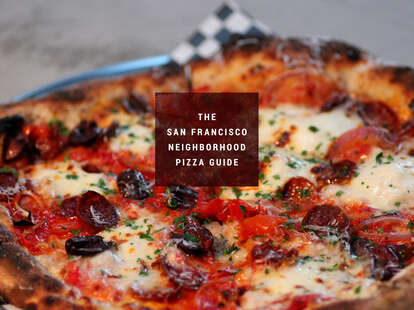 Let's face it, San Francisco has a lot of great pizza. Unfortunately, you'll never get to try most of it, because A) it's not all located right by your house, B) it's not all located right by your work, and C) you apparently refuse to go anywhere not by your house or work. THAT'S why we've decided to, at the very least, make sure you're eating the best pizza wherever you live/work, with this guide that breaks down the best pizza spot in every single SF 'hood (Okay, almost every SF 'hood... sorry Excelsior).
BAYVIEW
Best Pizza Place: All Good Pizza
Pizza + Trailer + Beer Garden + Wait, beer garden?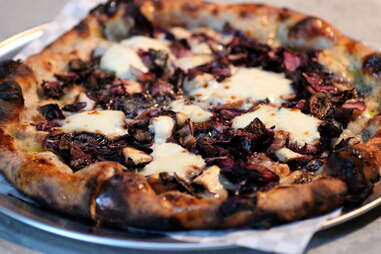 BERNAL HEIGHTS
Best Pizza Place: Pizza Hacker
This guy spent years standing outside of dive bars slinging kinda-not-legal pies out of a modified Webber Grill before gifting SF's newest, coolest neighborhood with a permanent pie-house (with a real, less Webber-y oven).
THE CASTRO
Best Pizza Place: Marcello's
Sure, it's not super fancy, but if you've just spent a late-night in the Castro, chances are you wanna eat some food you would never normally allow yourself to eat. This thin crust deliciousness should be your priority.

DOGPATCH
Best Pizza Place: Piccino
Set in a 150-yr-old bright yellow Victorian, Piccino has two things going for it: 1) old wines by the carafe, and 2) their pizza... amazingly thin crust with delicate blond bread rims and seasonal toppings (the funghi is a must).
FIDI
Best Pizza Place: Pizza Orgasmica
Okay, sure, sure, they're in a few different neighborhoods, but there's a reason for that, right?? They consistently deliver 'zas that won't exactly make you live up to their name, but at the very least come pretty damn close (though if they do, kudos you!).
FISHERMAN'S WHARF
Best Pizza Place: Carmel Pizza Company
If you ever find yourself in Fisherman's Wharf, ruuuuuuuunnnn (right after you grab one of CPC's absolutely fantastic pies made inside a cherry-red trailer by a couple with 20yrs' worth of Italian deli-ing and culinary study in Tuscany)!!!!
THE HAIGHT
Honestly, just walk to Lower Haight. Or even Western Addition.
LOWER HAIGHT
Best Pizza Place: Mythic
Located in a neighborhood constantly plagued by inebriated folks wanting pizza after sports games, Mythic is basically the go-to destination for... inebriated folks wanting pizza after sports games. Just watch what they charge you, because they're not above "accidentally" charging tipsy folks more.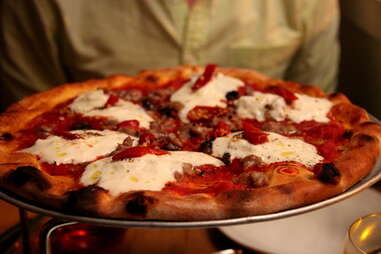 THE MARINA
Best Pizza Place: Delarosa
If you haven't tried the Bartender's Special, you obviously haven't been on a date with us.

THE MISSION
Best Pizza Place: Flour + Water
There are a lot of options for pizza in The Mission (along with burritos), but quite honestly, this is probably one of the best pies you will ever have, hands down. No, actually, up, so that you can keep eating.
NOB HILL
Best Pizza Place: Nob Hill Cafe
In a neighborhood that's remained almost defiantly old-school, this restaurant is a throwback bastion that manages to create some absolutely delicious 'za that you won't find on any best-of lists... despite having the chops.
NOE VALLEY
Best Pizza Place: Haystack
Sure, there's Patxi's, but if you want to go for a more classic pizzeria that still stays true to its ways, this is the place for you. Pro tip: don't do delivery. The pizza's just as good, it just takes a little a lot longer.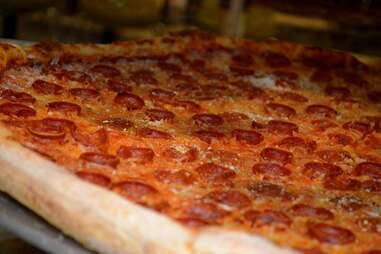 NORTH BEACH
Best Pizza Place: Tony's Pizza Napoletana / Tony's Coal-Fired Pizza & Slice House
Tie! Tony's is a North Beach mainstay so good that it hosts internationally attended pizza-making camps. They make several different kinds in a billion different types of ovens, but the one you really wanna try is the coal-fired at the next-door-to-the-original slice house.
PAC HEIGHTS
Best Pizza Place: Pizzeria Delfina
Part of the Delfina empire that manages to actually still feel like a small pizzeria in Italy, you basically can't go wrong with their menu, but you really REALLY can't go wrong if you get the Salsiccia with house-made fennel sausage.
RICHMOND
Best Pizza Place: Pizzetta 211
How can you argue with a place that opens at "noonish"? Also, this tiny spot has rotating pizza depending upon the freshest ingredients, meaning you get a great, original-every-time pie, every time. Also: some of the best thin crust SF has to offer.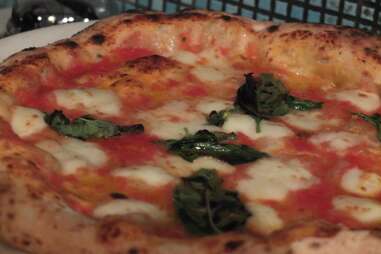 SOMA
Best Pizza Place: Una Pizza Napoletana
Any questions? No? Good.
SUNSET
Best Pizza Place: Arizmendi Bakery
Guys! Girls! Other Guys!! The pizza here comes on homemade focaccia crust. Homemade. Focaccia. Crust. How effing delectable is that?

TENDERLOIN
Best Pizza Place: Bellissimo Pizza
It may not be something you would pay $25 for, but it's also not something you could pay $25 for... cause this ish is cheap, son!
UNION SQUARE
Yeah no.

WESTERN ADDITION
Best Pizza Place: Ragazza
No, we will not call it NoPa, but we will call it Ragazza for some absolutely amazing pies (good enough that we rated them as maybe some of our best in the nation).
Joe Starkey is Thrillist's San Francisco Editor and once cut his mouth shoving a jumbo slice of pizza in his face. Follow him/yell at him for his choices on Twitter.