These are about to be the most popular donuts in SF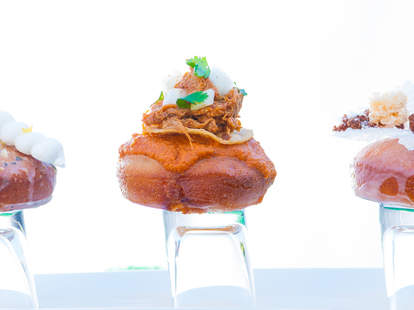 Three words: Buffalo chicken donuts. 46 more words: are part of an absolutely INSANE array of donuts now being made by Bespoke Doughnuts -- a weekend-only pop-up from a couple with 17 combined years in the service industry (one of whom won an award for Best Young Chef in the World in 2011).
You can get these totally insane donuts (DUDE, THERE'S A JALAPENO/CHEDDAR-FILLED ONE WITH A BBQ GLAZE) every Saturday at Melange Market in The Mission and Sunday at Beaux (which also has booze!) in the Castro. Until then, scroll down and start drooling.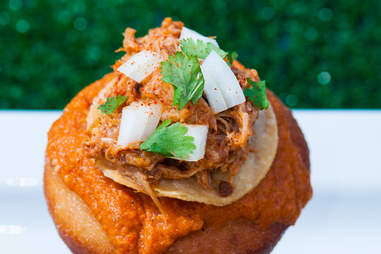 Bespoke Doughnuts
The Donut: The Tacoughnut
What's In It: Chipotle-braised chicken on a tortilla chip with chipotle salsa, cilantro, and onion on top, plus avocado crema inside.
Tastes Like: If all your favorite taco ingredients were wrapped up in a taco and fried. Because that's exactly what this is.
The Donut: The Butternut Squash
What's In It: B-nut squash with chopped hazelnut topping.
Tastes Like: If you had Thanksgiving... in heaven.
The Donut: Mimosa
What's In It: Candied orange, Champagne cream filling.
Tastes Like: Like you wish every day was Sunday Funday.
The Donut: Peaches and Yogurt
What's In It: Peaches... and yogurt.
Tastes Like: Can't get enough of you/Always taken of you/So sweet, I can't forget/So good, girl you make me sweat/Girl I'm talkin' 'bout.

The Donut: Citrus Doughnut
What's In It: Cara Cara orange marmalade filling, minted key lime glaze, Winter citrus salad, key lime meringue.
Tastes Like: If Florida actually did something right.
The Donut: Coffee, Chocolate, and Caramel
What's In It: Sightglass Coffee-infused custard, salted caramel dip, espresso wafer, dark chocolate ganache, candied oat, and pecan crumble.
Tastes Like: If the best salted caramel mocha you've ever had already had a donut dipped in it.
The Donut: Savory Mushroom
What's In It: Mushroom and sharp cheddar filling, balsamic reduction, crispy and pickled mushrooms, French parsley.
Tastes Like: A savory crepe on steroids. If steroids were also delicious.
The Donut: Chocolate Roots
What's In It: Cinnamon-scented chocolate custard, dark chocolate dip, chocolate wafer, beet and chocolate gels, tarragon, and candied-beet garnish.
Tastes Like: The chocolatiest chocolate to ever chocolate a chocolate.
The Donut: Hawaiian Sailor
What's In It: Vanilla-pineapple compote, fresh guava glaze, coconut crumble, crisp lime icing, and lime zest.
Tastes Like: You never understood the appeal of Fleet Week until just now.
The Donut: The Dirty South
What's In It: Jalapeño-cheddar filling, braised pork shoulder, BBQ glaze, fried onions, and scallions.
Tastes Like: Definitive proof that a benevolent and loving God exists.
The Donut: Monkey Business
What's In It: Banana cream, Nutella glaze, crispy banana, Nutella powder, and candied hazelnuts.
Tastes Like: You didn't know that you could somehow make Nutella better.

The Donut: The Buffalo
What's In It: Blue cheese filling, wing sauce, celery carrot salad, chicken skin crumble.
Tastes Like: OH MY GOD THIS IS A DONUT?!?! I... I think I need to lie down.
Joe Starkey is Thrillist's San Francisco Editor and will be stuffing his face with these on Sunday. Follow him on Twitter.