Fried alligator bites, secret patios, and 99-cent oysters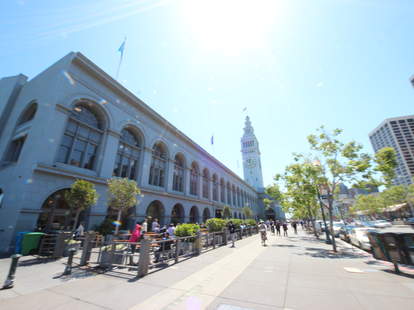 If you've ever been to a Giants game before, you're probably intimately familiar with The Embarcadero. Helping you take that intimacy to the next, hopefully-more-pants-less level, this ultimate 'hood guide to everyone's favorite roadway constructed atop an engineered seawall on reclaimed land.
Pretty Expensive, But Worth It:Hard WaterPier 3; 415.392.3021Charles Phan's latest oceanside restaurant is already crazy popular, and it's not hard to see why with fried alligator bites and delicious cocktails. Also: they've got whiskey/whisky/bourbon bottles on so many shelves they need a friggin' library ladder to get to them all
Outdoor Drinking with a View:Hi DivePier 28; 415.977.0170One man's "dive bar" is another's "awesome outdoor space with a view of the water and the Bay Bridge with Four Roses bourbon on tap". So if you're cool like the second guy, this is where you should be. Happy Hour the Hell Out of Some Oysters:WaterfrontPier 7; 415.391.2696Despite what the Papyrus font they use on their sign may lead you to believe, this spot is definitely worthwhile, rocking a happy hour with $3 beers and all the $.99 oysters you can handle, so bring your coin purse
Need Something Delicious? Chances Are It's Here:Ferry BuildingIn front of the ferry terminalEven though this can get crazy crowded on the weekends (there's a reason: it's got a ton of lunch spots, a gourmet grocery store, a wine bar, and a farmers market featuring some of the best food in the city), you should brave the crowds and go
Best Place to Drink Before a Giants Game:Public House24 Willie Mays Plaza; 415.644.0240If you're going to a Giants game (which you really should be), you're gonna want to get in some brews at Public House beforehand, because not only is this spot awesome, but it also has a secret entrance into the stadium that you can take your much-cheaper-than-$8 beers in through
If You're 12, or Just Act Like It:ExploratoriumPier 15; 415.528.4360This San Francisco standby just got their new digs on the waterfront, so you'll want to check out all the fun things they've got going on, including a full bar in their restaurant that'll make everything else a lot more fun.Photo: Lowell Robinson © Exploratorium
If You Hate Yourself:Pier 39415.981.7437No, seriously, don't go here. This is the definition of tourist trap
Pizza from a Truck? Pizza from a Truck.:Carmel Pizza Co2826 Jones St; 831.277.5285This spot has a giant, imported-from-Italy, wood-burning oven in their pizza trailer that -- because it's so hot -- can whip out delicious 'za in just a couple minutes, which you can then enjoy on premises or take with you on your waterfront exploration.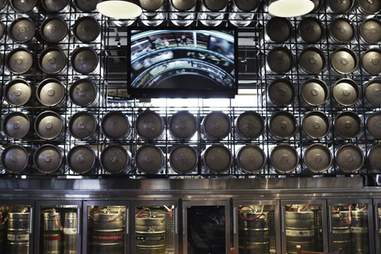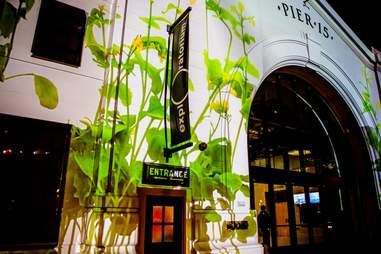 Photo by Lowell Robinson © Exploratorium