Just when you thought City Tavern couldn't get any better, turns out they closed it down and the space was completely renovated by the guys behind The Brixton and Redford, in order to create a snazzy restaurant & bar complete with chocolate-leather booths, outdoor seating, and less people with NorCal stars on their elbows.
Recommended Video
These Mexican-Style Hot Dogs Put Street Meat To Shame
Pull up to their under-lit onyx bar and peruse a cocktail list curated by a pro from San Diego, who's put a heavy emphasis on awesomely lit (!) tequila and mezcal, with a list of five different margs and 10 'tails, including...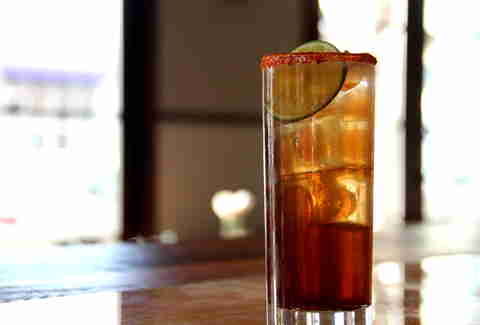 ... THIS. The Charo Negro: a tequila and MEXICAN COKE concoction with a spicy salted-rim.
There's space for more than 110 people at either window side table, this large communal, or two huge booths...
... that look wayyyy more appealing with the Fillmore Anejo (Appleton Estate Jamaica Rum 12 Year + Gran Centenario Anejo + chile honey + old-fashioned bitters) on them.
The chef is an alum of Nopalito and former consultant at Nido, which means badass Mexican, including starters like this Ceviche de Pescado con Fruta that combines lime-marinated fish with chile piquin, persimmon, and fruta (pomegranate, pineapple).
The one thing you absolutely have to order, though? The Questaco de Arrachera, which's basically a delicious grilled cheese wafer with skirt steak covered in a salsa verde, that's not actually super... verde.
Previous Venue
Next Venue
Venue Description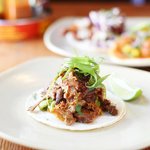 1. Sabrosa
3200 Fillmore St, San Francisco, CA 94123
The guys behind The Brixton and The Redford opened this Cow Hollow spot in 2013, serving Mexican-style 'tails at its onyx bar alongside some delicious food. Service starts at brunch with standouts that go further than the typical scrambles, like the huevos divorciados: two fried eggs separated by homemade corn masa tortillas, chorizo, and black beans covered in a red sauce on one side and green on the other. Dishes like chipotle meatballs and spicy ceviche rounds out the PM offerings.