According to people who aren't the worst, the Mission burrito is the greatest burrito that has ever burrito-ed. This we know. What we don't? Which Mission burrito is the best.
But rather than give you our best list, we decided to do the next-best thing: we stopped 10 people riding fixies in The Mission (so, the first 10 people that passed by), and asked them to give us in-depth rankings of their favorites. 
Brass tacks: all of those people who love bikes with one gear and zero brakes picked their top-five burrito places, and we assigned each of those points accordingly (first got 5pts, second got 4pts, etc.). Let's get to it!
Recommended Video
Thrillist's Best (and the Rest): The Truth Behind the Saddest Cookbook Ever
598 Valencia St
A Mission standby for many years, this spot builds your burrito Chipotle-style, where you point and choose what fresh ingredients you want in your burrito (you should get the carne asada), and then order chips and guac... even though you probably don't need chips and guac. Also: props to them for an extra-clean prep space.
3033 24th St
It's mainly on this list for its eight different vegetarian burrito options that all contain grilled veggies as, opposed to your typical beans, rice, and cheese.
3071 16th St
One of the larger, more chain-y establishments on this list, it's got plenty of seating and it's right in the heart of all the Mission bars... making it perfect for a late-night al pastor burrito to soak up some of that delicious cinnamon whiskey you've been chasing with Fernet.
2399 Folsom St
Another old-school Mission spot, El Faro was docked for its meat-to-rice-and-beans ratio making a change for the worse of late. But it still made the list thanks to some healthier (grilled chicken, whole wheat tortilla) options.
3409 24th St
Possibly a little more high-end than the other taquerias on this list (but still totally deserving), Papalote does some pretty decent burritos that're made infinitely better than "pretty decent" if you literally cover them in the signature salsa that's so popular it has its own website.
2889 Mission St
Okay, okay, we know this is gonna be a little out of your comfort zone, but get the lengua (beef tongue) burrito anyway, because your comfort zone is super dumb. It's incredibly juicy and beefy (the burrito, not your comfort zone), and honestly, you could be eating worse parts.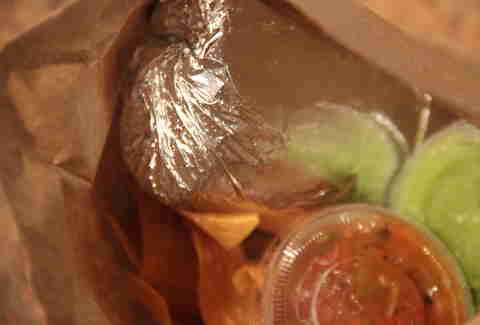 2406 Bryant St
Described by one fixie-riding dude as "the unsung hero of burritos", the longer, thinner, more tightly rolled burritos are slightly different from their Mission brethren, and the veggie burrito's medley of actual grilled vegetables make it delicious even without meat. Sure, you have to walk through the kitchen to get to seating, but it's a small price to pay.
581 Valencia St
This recent-ish Mission transplant grabs the fifth spot (barely), based on two things and two things only: the extensive, delicious salsa bar options, and, um, the burritos.
515 Valencia St
Open 'til 2:30am for all of your post-bar cravings, Taqueria La Cumbre breaks the top-four with a grilled-just-right chicken burrito that's just as good at 2:30am as it is as 2:20am.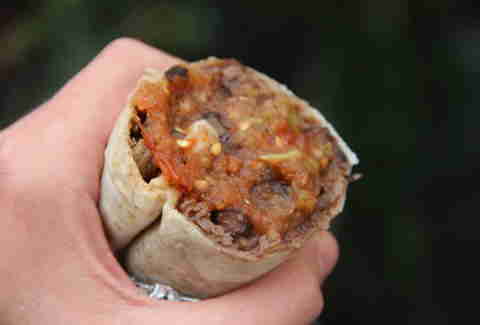 2884 24th St
Insiders know that oddly hour-ed La Palma is where you go for fresh tortillas: they make all of their own (plus tortillas for a bunch of other restaurants in the city, T-Lish included), which usually means a line out the door for delicious burritos with perfectly grilled carne asada ("Every bite is like a greasy, flavorful explosion").
2779 Mission St
This taqueria doesn't skip on any of the key burrito ingredients, and does all of them perfectly, making their 'rritos beefy (both literally and figuratively) rolled meals that are sure to satisfy even the most picky of Mission-ites.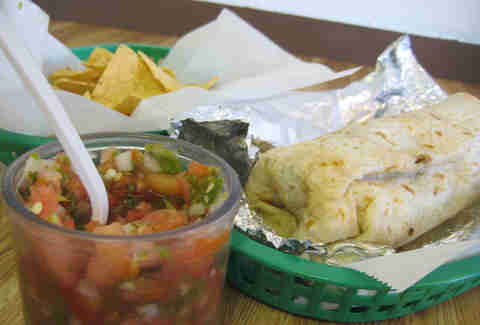 2288 Mission St
Their tortillas are cooked on the same grill as the meat, which means amazingly crispy burritos that taste like their incredible carne asada... whether or not you ordered carne asada. Best part? Their Super Burrito lives up to its name, so get that.
A special thanks to our panelists: Tom DePinto, Austin Saddlemire, Hank Sherwood, Defne Altan, Cameron Crowe, Peter Denny, Rachael Cumbo, and Alice, Frank, and Marissa (who didn't want to give their last names for fear of burrito-choice persecution).
Sign up here for our daily San Francisco email and be the first to get all the food/drink/fun SF has to offer.
Joe Starkey is Thrillist's San Francisco Editor and can't believe, given the amount of burritos he's eaten in the course of this story, that he could still go for one. Follow him on Twitter.