The restaurant version of a Russian nesting doll, La Movida is a Mission addition (rhyme!) that's not one, not two, but three restaurants in one: a California tapas spot at night, the new home for the beloved Pal's Takeaway at lunchtime, and a rotating Tuesday night pop-up destination on... Tuesdays.
Set in a former Mexican restaurant (which needed to be completely gutted), LaMo is probably the only place in SF you can literally eat off the walls -- the owner managed to save parts of the murals from the former Mextaurant to make these tables.
And while, yes, you could go for the actually-kinda-good-sounding tapas (Chorizo Fritos w/ Raclette fondue!) or the pop-up action, you should go for the now-awesome Pal's. Thanks to an expanded kitchen/prep area, they're now doing even more sandwiches, plus frying things like this cilantro/cucumber relish- and soy yuzu-topped Aunt Malaise sausage. Boy, is Uncle Malaise in for a surprise!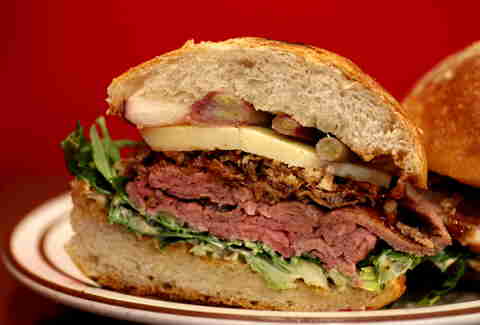 Or this roast beef with BBQ sauce (?), house-pickled Spring shallots, extra-sharp cheddar, and Calabrian chile mayo greens on a firebrand roll.
Oh, and unlike the old Pal's, this one pours tap booze! LaMo's got 10 beers and 20 wines rigged up, plus two awesome SF points of distinction: 1) rare bottles like this late-harvest Pinot that no other place in the city has, and 2) pointy-boobed dolls they found in the basement.