There are two things you're required to love in order to live in San Francisco: 1) delicious food, and 2) waiting months and months (and months) to eat said delicious food. Lucky for us, Lazy Bear, SF's most popular pop-up restaurant, just moved into a brand-new permanent home where it promises to deliver on both fronts.
Here's everything you need to know about SF's soon-to-be coolest new restaurant (it opens tonight!):
Recommended Video
The History of Delivery & Takeout
One very important thing you need to know right off the bat: Lazy Bear is an anagram for the chef's last name: Barzelay. OK, now one other actually-very-important thing you need to know right off the bat: the restaurant is only open Thursday to Monday, and there will only be two 40-person seatings a night.
Dining is communal-style with one set menu every night. Dinner will cost you $120/person for 11+ courses, and another $50 for the beverage pairings, which, of course, you have to get.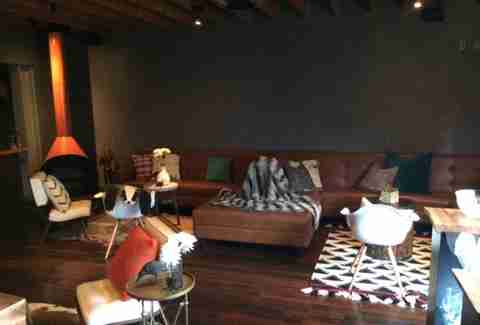 Unlike, well, every other restaurant on the planet, you'll need a ticket to eat here. Tickets for the first two weeks went on sale Monday and sold out immediately (they were actually supposed to go on sale Friday, but people were so excited that they broke the system). Once the next set of tickets goes on sale, you'll be able to buy them on the Lazy Bear site (you can keep track of when that happens next by following them on Twitter).
The food is "modern American" and it looks so pretty you're not going to want to eat it. Except, of course, you're totally going to want to eat it.
Lazy Bear started in 2011 as a dinner party. Originally, guests could walk back into the kitchen and chat with the chefs who, despite the distraction, still managed to put together beautiful plates that were perfectly timed to arrive for all of the guests simultaneously.
And crazily enough, Chef David Barzelay is actually a self-taught chef who didn't even set out to be a chef (we don't want to sell him out, but something about law school and the bar exam???). All we know is that we're really glad things didn't turn out the way he planned. And you should be too.
Sign up here for our daily San Francisco email and be the first to get all the food/drink/fun SF has to offer.
Daisy Barringer is Thrillist's SF Editor. She would love to go to dinner at Lazy Bear. Ask her to join you on Twitter @daisy.