With its rich Hispanic history, this 'hood's culinary scene certainly excels at burritos and authentic tacos, but it's hardly limited to them. So whether it's boozy brunch, casual street food, fancy cocktails, or small-batch brews, The Mission's got it, as well as a laid-back style and gritty charm sure to please even the most discerning of dot-com transplants' palates.
Editors Note: Our picks for The Mission proper are between 16th and 26th, because there's just too much choice -- sorry Outer Mission folks, we're saving all things south of Cesar Chavez, El Rio, and such, for another time.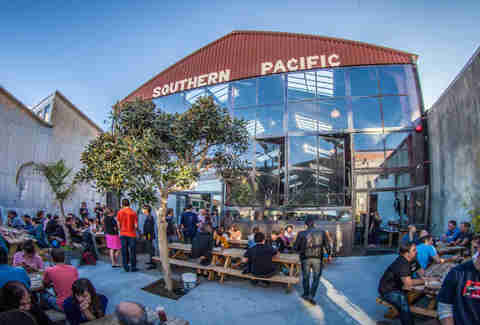 620 Treat Ave
Massive and bright, it's got kind of a Whole Foods vibe: industrial, yet inviting. The long, tea light-bedecked wooden tables will easily fit you and 12 of your closest friends, where you can drink brewed-on-site beers and consume pounds of tossed-in-garlic sage fries with Aleppo sauce.  
 
2234 Mission St
A novelty amid the numerous burrito joints in the area, this kitschy, creative Chinese place draws exactly the crowd you think it might. Get to know your neighbor at the communal table over spicy Thrice Cooked Bacon, or a bowl of Braised Pea Leaf and Pumpkin Soup.
3033 24th St
Fresh, cheap, fast, and DIY. Pick your meat, add some fixin's, and top with a few pickled carrots for good measure. It's easily one of the best tacos in SF. 
 
1096 South Van Ness Ave
The small, 21-and-up course was funded through a Kickstarter campaign, and delivered on its promise of 14 tricked-out holes made from kinetic sculptures, robots, and San Franciscan tributes. Get there early for drinks (no booze on the course) so you're loose for those trick shots. If your Tinder date is a dud, no worries, games only take about an hour.
Best late-night burrito: El Farolito
2779 Mission St
There are plenty of burrito joints in this 'hood, but there's truly no better post-bar snack than a fat, consistently perfect Super Burrito with carne asada. Have half before bed and the other half as a recovery breakfast, or just eat it all right there while listening to the jukebox tunes.
 
Best for a special occasion: Bar Tartine
561 Valencia St
This may be on the bucket list of every self-proclaimed "foodie" in SF, but unlike "foodies," the Asian-, Eastern European-, and Middle Eastern-influenced eats here elude labels. Expect plenty of house-made pickles and preserves, and although the menu changes with the seasons, the welcoming, rustic, and refined space remains constant.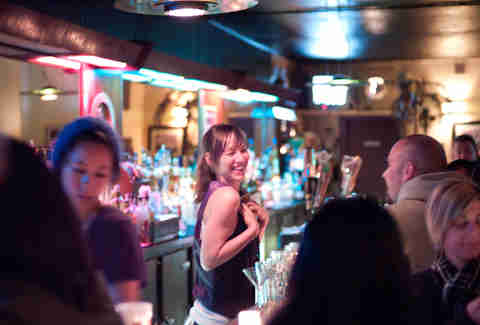 3394 22nd St
With white tablecloths, candlelight, classic cocktails, and Goldfish bar snacks to keep it real, it's a low-key lounge without the dirty-dive vibe.
 
524 Valencia St
So you should get small plates of Pulpo a la Parilla -- grilled octopus, chimichurri, mashed potatoes, in aji amarillo pimento chardonnay sauce -- and Truffle Mac & Cheese (this is a share plate kind of place, after all), but the flame-roasted rotisserie chicken with aji dipping sauce is obligatory.
3692 18th St
Follow the velvet ropes and winding lines to hand-made seasonal and organic small batches of the cold stuff. Creme Brulee and Honey Lavender are my staples.
 
2140 Mission St
Chorizo Benedict, people. Shredded quality cuts of pork are richly flavored with red spices, stuffed into sausage, cooked, re-shredded, and served under an egg on top of an English muffin with hollandaise sauce. Paired with bottomless mimosas and patio seating, you've got yourself a real nice little afternoon.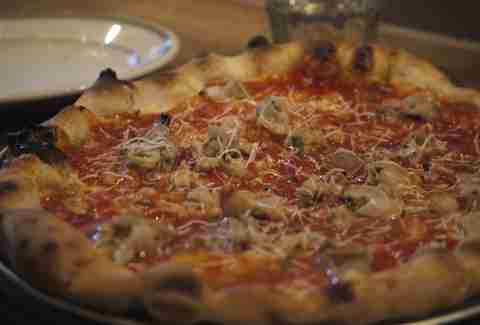 3611 18th St
True to Neapolitan tradition, the pizzas are light with a crisp crust, and true to California code, they're made with locally sourced seasonal ingredients. Get the clam pie if you know what's good for you.
 
2518 Mission St
For a quintessential San Francisco experience, perch up here to watch the fog roll over the city. With a view this striking, the menu is an afterthought, but it shouldn't be. A pitcher of La Paloma -- tequila, grapefruit, agave, lime, and soda -- is the move.
 
3225 22nd St
Saliva swapping is not required, but is totally encouraged. The tinsel decor is charming, like a quinceañera hosted inside a discotheque. Music is usually Latin but, depending on the day, you'll hear anything from live ragatón to '80s throwbacks.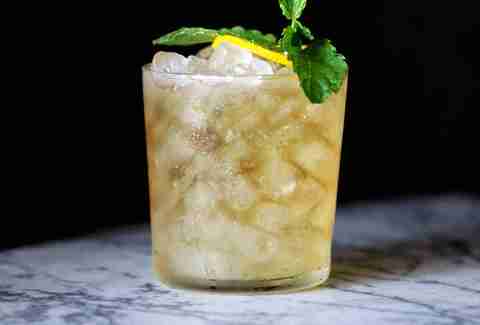 Best cocktail bar: Trick Dog
3010 20th St
Nominated for James Beard's hoity toity Outstanding Bar Program, its cocktails are so hot right now that there's even a limited edition bow tie collection named after the drinks: The Tasty Ties Trick Dog Collection. Twice a year the menu completely changes, and revolves around seemingly random themes like Chinese horoscopes and the Pantone color wheel. It's one of the 30 best bars in the country.
 
Best fried chicken for breakfast: The Vestry
777 Valencia St
Nothing soaks up last night's indiscretions like fried chicken and a few biscuits generously smeared with smoked jalapeño and bell pepper jelly! This surprisingly classy joint, in a former funeral home no less, is part of the historic music venue The Chapel, which means late dinners are available for show-goers as well. Side note: hit the patio on sunny days!
Sign up here for our daily San Francisco email and be the first to get all the food/drink/fun SF has to offer.
Allison Murray is an SF-based writer and creator who loves to explore the unknown. Follow her on Instagram.