This is what it looks like to pwn a creme brulee shop's menu
Everyone's favorite mobile creme brulee-ery has finally parked it in The Mission with a new brick 'n mortar that not only has Harlem Globetrotters pinball, but also a rotating menu of brulees that you can either get as-is, or be a maverick (hi, 2008 topical joke!!) and create your own using any of the available toppings. To show you how easy it is to be a brulee master, we Razor-scootered over to the shop and created four could-only-come-from-Thrillist jaw-droppers: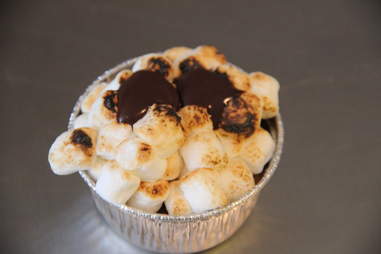 1. The Stay Puft Marshmallow Man
Four layers of toasted marshmallows + vanilla bean brulee (+ choco sauce eyes!) = a dessert so good, you'll probably need to change your proton pack.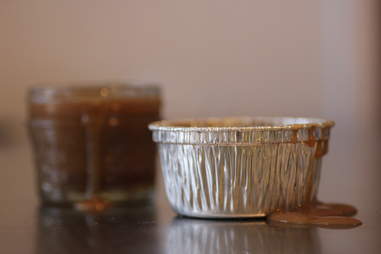 2. The Rip Torn
In order to properly get our Torn on, we paired the coffee brulee with a layer of bourbon caramel, plus an extra shot of bourbon caramel on the side to make sure we also got our Rip on.
3. The Inception
Take whatever toppings you might want (chocolate cornflake clusters, toasted nuts, sea salt caramel, etc.), and top THEM with YOUR BRULEE. Pshpsohsphgsegpsehgsegph* (*sound of your head exploding).
4. The 4x4
Screw toppings, just get all the brulee you possibly can by stacking a vanilla on top of a double chocolate on top of a coffee on top of a lavender... or maybe another double chocolate.