Wise Sons is open for dinner. Challah!
There are a lot of amazing things about living in SF, but a vast array of legit Jewish delis is not one of them. A teeny-tiny array of totally awesome ones though? Totally. Case in point: Wise Sons, which has been doing the Jewish comfort food do in the deep Mission since early 2012. Only problem? If you had a hankering for a pastrami sandwich any time after 3pm, you were SOL.
UNTIL NOW.
Wise Sons' 24th St location is officially serving dinner every Thursday, Friday, and Saturday from 5:30-10pm. The menu is a mix of classic lunch favorites (the pastrami, corned beef, and Reuben sandwiches all made the cut) and all-day breakfast items (pastrami & eggs for dinner? Yes please.). And best of all: this new-ness...
Daisy Barringer
They added three new "blue plates" that they describe as "classics" with "no fancy tricks". Hence: braised brisket.
Daisy Barringer
The atmosphere is still super casual, but they ditched the counter service for dinner, so you can sit down and have a server deliver your latkes (with house-made applesauce) to the table.
Daisy Barringer
"Cream colored ponies and crisp apple strudels
Doorbells and sleigh bells and schnitzel with noodles..."
Fine. The chicken schnitzel is served with a vegetable salad and a spicy vinaigrette, but after you eat it, you're definitely going to go straight home to put on your nightgown and sing about how it's one of your favorite things.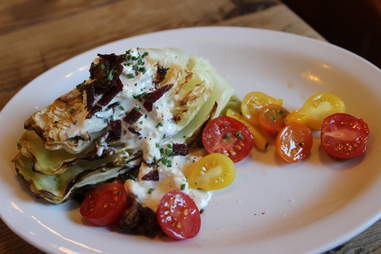 Daisy Barringer
The grilled wedge stays in Jewish deli character two ways: it's cabbage, not romaine, and instead of bacon, it's topped with crispy pastrami.
Daisy Barringer
The challah is served hot and is brushed with honeyed shmaltz, which might bum out some vegetarians, but sure made us happy.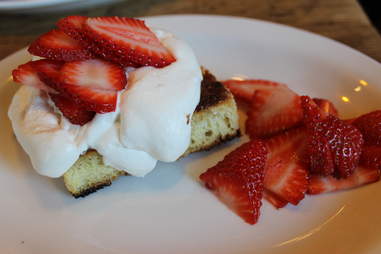 Daisy Barringer
And yeah, there's dessert. Of course there is. What's gluttony without MORE gluttony? If you're just so stuffed you can't eat another bite, the strawberry challah shortcake is light and not too sweet (in other words: you can totally eat another bite).
Daisy Barringer
Whereas the warm chocolate babka will satisfy even the sweetest of sweet tooths. It's made in-house every day and served with cream cheese, 'cause that's how co-founder Evan's grandma served it.
Daisy Barringer
And you'll be happy to know that they now have three beers on tap, all by Fort Point, the new SF beer company in the Presidio that opened this year. Keepin' it local. We like it.
Sign up here for our daily San Francisco email and be the first to get all the food/drink/fun SF has to offer.
Daisy Barringer is Thrillist's SF Editor and, though she doesn't get stoked about raindrops on roses, she does agree that silver white winters that melt into spring should be amongst everyone's favorite things. Follow her on Twitter @daisy.