Camp out in the Presidio with tents, booze, and a zillion food trucks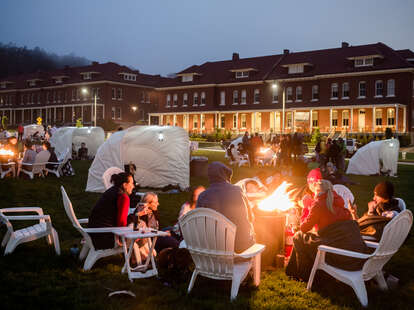 Hardy Wilson for Off the Grid
The best thing to happen to the Presidio since anything that has ever happened to the Presidio, Twilight at the Presidio is a new, weekly, Thursday-night campout put on by Off the Grid where they provide four-person tents, fire circles, on-demand cocktails, and alllllllll the food trucks. Here's everything you need to know about T at the P (including how to score one of those sweet tents):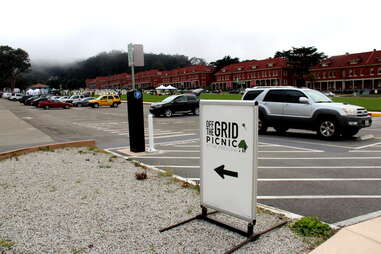 Yes, the Presidio's far. Also yes, there are several bus lines that'll take you inside, or you can just get one of these. Either way, once you're there, you just follow these nifty signs to Main Post Lawn any time between 5-9pm.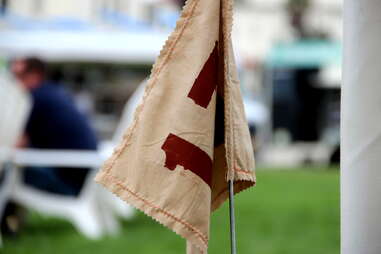 Already set up when you get there: a bunch of wind-shielding tents and fire circles (each with their own number, which you'll need later), all of which're first-come, first-serve. The best way to score a tent or a fire is by arriving at 5pm sharp, or getting your "working from home" friend to show up and grab a spot for you. Tents can fit up to four, but the fire circles have room for six-10.
Now about that number on the flag: using magic (/texting), you can order drinks from Quality Beverage Catering. Just send them your order and spot number, then...
BAM, Old Fashioned: delivered.
This being Off the Grid, every week they'll have an array of trucks -- some coming every week, some bi-weekly. Make sure someone's holding down the fort (perhaps literally, depending on the wind speed), and go grab some street food for everyone to enjoy.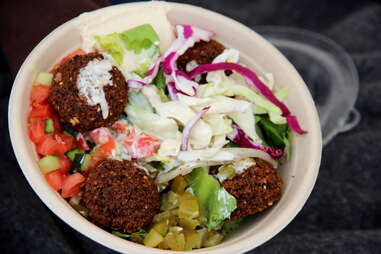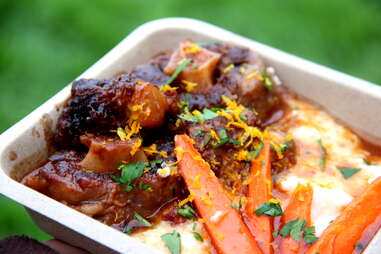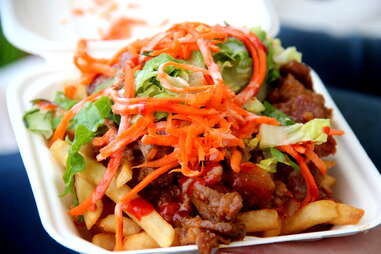 About an hour into things, they have a live band. That's right: dinner and a show (and an excuse to order more drinks!).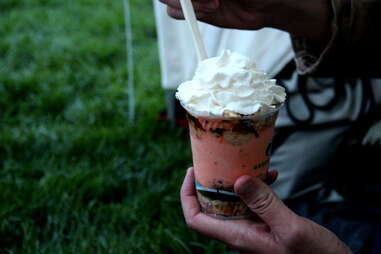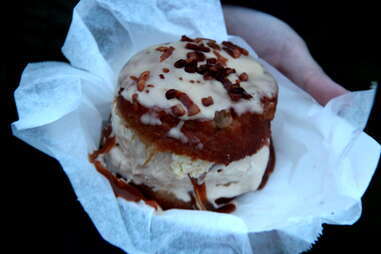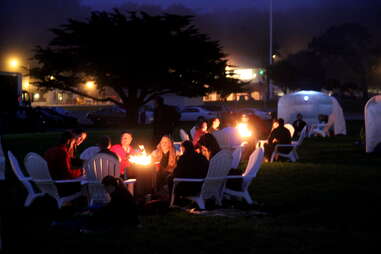 Once things start to get dark, they'll light the fires. And you'll pull out your unsanctioned s'mores. We'd also highly recommend bringing a blanket or two because, San Francisco.
Oh, and don't leave until you've had some spiked apple cider. And don't you dare drink that spiked apple cider until you've asked for a honey stick to pour in.
Joe Starkey is Thrillist's San Francisco Editor and highly recommends this for a date. Follow him on OKCupid. Or Twitter. Totally your call.