The Official San Francisco Dollar Menu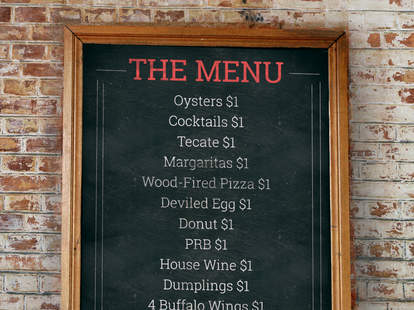 iStock.com/chefbenjamin & LenaTru/Shutterstock.com (Edited)
Tax Day? More like The Government Just Took All My Money Damn I'm Super Poor Now And Suddenly In The Fetal Position Day, amirite?? If you're anything like us, you're going to be pinching pennies for a while. Don't worry, though: one hundred of those pennies can get you all 19 things on this list. That's right, we made you a San Francisco Dollar Menu.
Oysters
At these 36 oyster happy hours
All over SF
People loooooove to give oysters away for a dollar during happy hour. And you love to eat them. And this is the last time we're going to talk about oysters on this list, but seriously: if you're looking for something for a buck in SF, you should look for an oyster during a happy hour.
 
Cocktails
Jackalope (address and info)
Polk Gulch
Sure, it's just a CHANCE to get your drink for a buck. And yeah, it's only on Tuesdays, but still it's a fifty percent shot and who doesn't like to drink on Tuesdays?
 
Tecate
El Rio (address and info)
Outer Mission
Get $1 Tecates on Monday from 1-8pm. That's seven hours. You're welcome.
 
Margaritas
The Taco Shop at Underdogs (address and info)
Outer Sunset
Get $1 margaritas on Fridays from 6-6:30pm.
Wood-fired pizza
Palio d'Asti (address and info)
Financial District
Order two adult beverages during happy hour (Mon-Fri, 4-7pm) and get a $1 pizza. Choose from Margherita, vongole, calabrese, and more.
 
Deviled eggs
Gaspar Brasserie (address and info)
Financial District
Deviled eggs for one stone-cold Washington during happy hour Mon-Fri, 4-6pm.
 
A donut
Bob's Donut & Pastry Shop (address and info)
Nob Hill
You can get a raised or cake donut for less than a dollar, 24 hours a day, seven days a week, 52 weeks a year, 10 years a decade, 10 decades a century... you get the idea.
 
PBR
Brainwash Café & Laundromat (address and info)
SOMA
$1 Pabst every day during happy hour from 4-7pm.
 
House wine & draft beer
Sam's Grill & Seafood Restaurant (address and info)
Financial District
Get your second glass of house wine for $1 (or your second draft beer for fifty cents) on "Throwback Thursdays" from 4-6pm.
Dumplings
E&O Kitchen and Bar (address and info)
Union Square
Butternut squash dumplings with red curry sauce are just a buck each during happy hour (Mon-Sat, 3-6pm).
 
Mussels
Bar Crudo (address and info)
Western Addition
Herb- and jalapeño-marinated mussels for one dinero each. But you've got to order a half dozen or a dozen. (Which shouldn't be a problem.)
 
Exactly four Buffalo wings
Hi Tops (address and info)
Castro
You can get Buffalo wings for 25 cents every Monday. That's four for a dollar in case you were too excited to do the math.
 
One taco
Dr. Teeth and The Electric Mayhem (address and info)
The Mission
$1 tacos on Tuesdays from 4-7pm.
 
One piece of Nigiri
Nara Sushi (address and info)
Nob Hill
From 3-6pm, Mon-Fri, get $1 Nigiri (salmon, tuna, surf clam, tamago...).
A mini cupcake
Mission Minis (address and info)
The Mission
Mini gourmet cupcakes for $1 each. Choose from Ruby Red Velvet, cinnamon horchata, classic vanilla, and more.
 
BBQ pork bun
Wing Lee Bakery (address and info)
Inner Richmond
Eighty cents will get you a baked BBQ pork bun.
 
Beer and cocktails
Monroe (address and info)
North Beach
Get $1 beer AND COCKTAILS every Friday from 6-7pm during the weekly "Battle of the Decades" event.
 
One ounce of wine
Claudine (address and info)
Financial District
All of the wines on tap (eight total) are just a dollar an ounce on Mon-Fri from 4-6pm. Only catch? There's a 2oz minimum.
 
More PBR
The Melt (address and info)
Multiple locations
Buy a melt after 4pm any day of the week and get a PBR for a buck.
Sign up here for our daily San Francisco email and be the first to get all the food/drink/fun SF has to offer.
Daisy Barringer is Thrillist's SF Editor and she loves anything she can get for a dollar, but mostly dollar PBRs. Follow her on Twitter @daisy and tell her your favorite SF dollar deal.