The Search for the Most America-est Hot Dog is on. And SF is totally gonna win (after you vote for it).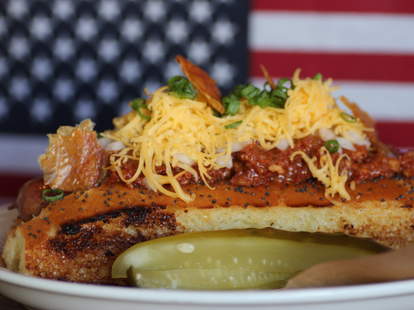 With the Fourth just around the corner, there's nothing more American than celebrating with illegal fireworks hot dogs (and illegal fireworks). So, to honor our nation's birth, Thrillist has sought out the country's most epic-est chefs to create the most USofA-repping dogs on the whole planet, which you're gonna check out, and then use your bottle rocket-singed voting fingers to decide whose is truly the most red, white, and hot dog
Representing San Francisco: Evan Bloom and Leo Beckerman, the two local Berkeley heroes behind SF's favorite gourmet Jewish delicatessen, Wise Sons, from whence they're busting out a corned beef chili and fried chicken skin masterpiece. You're gonna wanna save room for the other 15 creations from chefs across the country, but first, chow on this baby:
First: the corned beef chili, made from scratch using various spices, onions, and house-cured corned beef. Is there anything you can't cure, Hugh Laurie?!?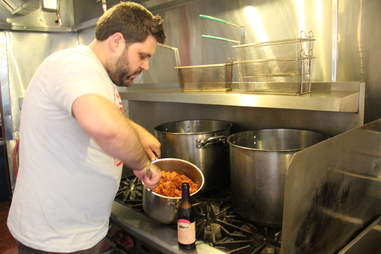 Evan then cooks this on the stove in the back with a beer because, AMURRRCA!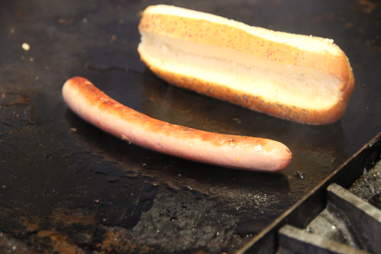 The 100% beef franks (made specifically for Wise Sons and according to their own recipe) are then set on the griddle with a bun to get them both golden brown.
Pre-hot dog Manischewitz break! This is a Jewish Deli, after all.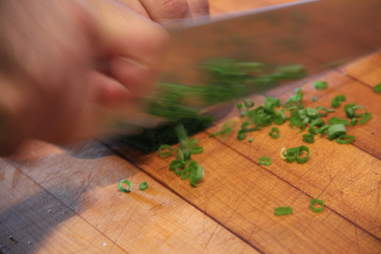 For toppings, you gotta have onions, scallions, and, say...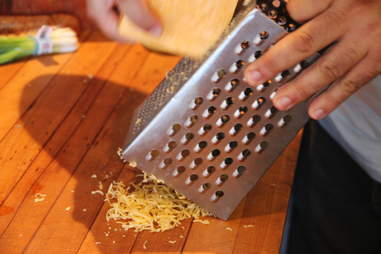 CHEESE! Cheddar, specifically.
Garnish with some chicken skins and BAM, here you have it in all of its glory: the Wise Sons Corned Beef Chili Dog topped with scallions, onions, cheddar, and fried chicken skin, being gloriously taken down by our main man Leo.You've seen this beautiful work of art. Now check out the creations from the 15 other chefs across the country, and cast your vote (for this one, obvi).