Here's what you do know about Ike's Place: 1) the sandwiches are complicated and messy, in the most satisfying way possible, 2) the lines are always out the door, and 3) the secret Dirty Sauce is the stuff dreams are made of.
In many ways, that's all you need to know about the sandwich shop that was started in San Francisco in 2007 by Ike Shehadeh. But in other, more-important-to-this-story ways, that is definitely not. Here are 19 things you DIDN'T know about Ike's, so you can impress everyone while you're in line waiting to order your Spiffy Tiffy:
Recommended Video
Ghost Kitchen: How This NYC Restaurant Is Responding to Coronavirus
1. Ike was born and raised in San Francisco
He grew up in the Outer Sunset on 33rd and Noriega and went to Sacred Heart for a whopping four days before switching to Mills High School in Millbrae. He's not saying he was a bit of a troublemaker, but maybe he's saying he was a bit of a troublemaker.
 
2. Ike's Place wasn't his first successful sandwich shop
Yep. Ike owned a market on 16th and Mission in 2001 and he actually sold his sandwiches there first. That's also where he invented his famous Dirty Sauce, though it was a much more complicated version than what you'll get on your sandwich today. The sandwich shop part of the market was only open for two months though because, despite having lines out the door, selling sandwiches didn't make economic sense at the time.
 
3. The Dirty Sauce from Ike's Place has never changed
The original Dirty Sauce from 2001 was modified two times, but the secret sauce you get today is the exact same recipe from when Ike's opened up in 2007.
 
4. Ike didn't sell a single sandwich on the first day Ike's Place opened
October 31, 2007. That day, Ike cut his leg, his oven blew up, the electric blew, and he didn't sell even a single sandwich (despite standing outside in a Winnie the Pooh costume, trying to give them away). He was so bummed he didn't re-open the store for a week. The good-ish news: on November 7th, exactly nine people bought sandwiches! Yay!
 
5. Now, Ike's Place sells more than 2,000 sandwiches on Saturday and Sunday combined
Oh, and that's JUST in the San Francisco shop. Also, that's not even as many sandwiches as he used to sell on the weekends, due to the fact that there are now a bunch of Bay Area (and SoCal and Arizona) locations.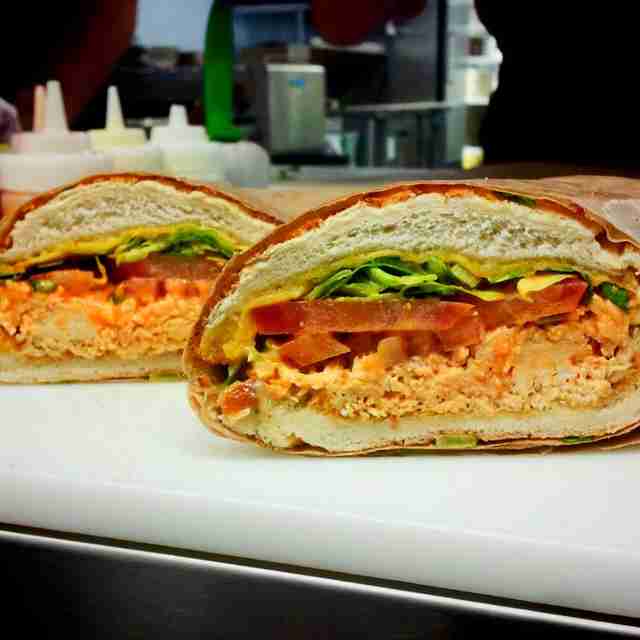 6. When Ike's first opened, there were 46 sandwiches on the menu
26 with meat, 10 veggie, and 10 breakfast sandwiches (which, for the first three months, were the most popular items). And yet still, Ike seriously thought maybe 46 sandwiches wasn't enough.
 
Basically, if a sandwich has ever been on a menu and Ike's can still make it (meaning it doesn't require a special sauce that isn't currently being made), Ike's will do just that. Which means there are currently more than 400 "secret" sandwich options.
 
8. Ike went out with 97 women the year Ike's Place opened
All while working on a book about how to get a girl to pay for the first date. What? All of his money was in Ike's and he still wanted to eat good food. And, you know, meet women. Unfortunately, his goal was 100 women and he fell short by three measly dates.
 
9. Unrelated (?), the most popular sandwich in SF is the Ménage a Trois
BBQ, cheddar, halal chicken, honey mustard, pepper jack, real honey, Swiss. A close second is the Matt Cain (Godfather sauce, provolone, roast beef, salami, turkey). And in third place is the $26.62 Kryptonite (avocado, bacon, beer-battered onion rings, EXTRA pepper jack, ham, mozzarella sticks, pastrami, pesto, roast beef, salami, stuffed-jalapeño poppers, turkey) "but only," Ike says, "because it was on TV."
 
10. Truthfully, Ike doesn't actually recommend the Kryptonite
"If someone comes in and wants it, I tell them to buy two other sandwiches; it'll be cheaper and taste better."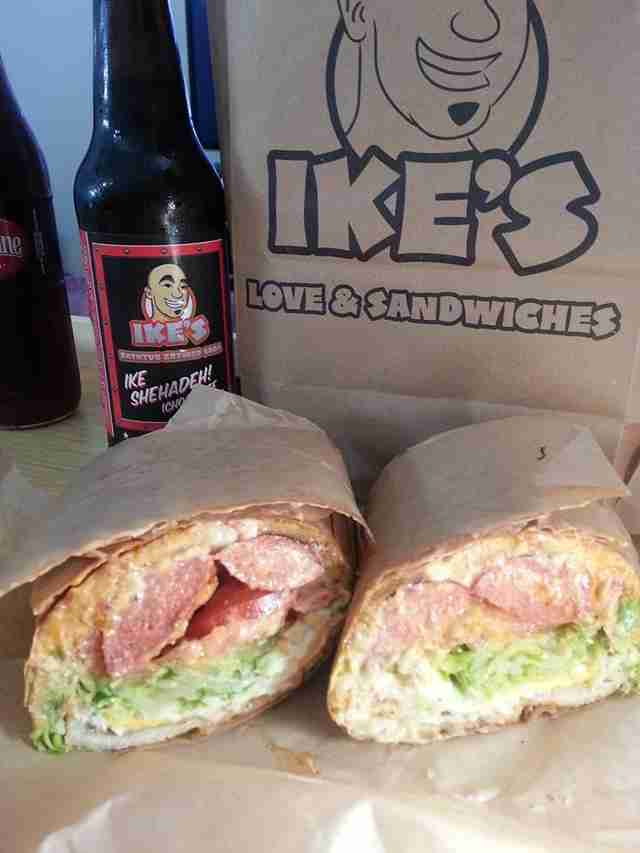 11. 70% of the sandwiches come on Dutch Crunch
Which means it's the one thing they occasionally sell out of... you just got anxiety, didn't you?
 
12. The first celebrity sandwich was the Eli Manning
Win a Super Bowl after everyone makes it abundantly clear they don't believe you can complete a pass, much less win a game, and you'll get a sandwich named after you apparently.
 
13. Ike had to change the Tim Lincecum after selling it for six months
Turns out Timmy hates mushrooms, which were on the original sandwich for six whole months. The revised Lincecum's namesake sandwich is mushroom-less and a classic fan favorite: Ham, turkey, bacon, avocado, and Havarti cheese.
 
14. So now if a celebrity wants a sandwich, they have to help create it
Even though celebrities will say "just make me whatever," Ike learned his lesson. The rule is: if you want a sandwich named after you, you have to come in and help make it. That way everyone's guaranteed to walk away satisfied (and full).
 
15. Ike has 30 sandwiches he hasn't even put on the menu yet
BEST. NEWS. EVER.
16. The original name was "Ike's: Good Looking Sandwiches, Great Tasting People"
Unfortunately (???) that didn't fit on the sign. The sign maker who had to break the news that it wasn't going to work? Same guy responsible for the two giant fishnet stockings and red heel-wearing legs sticking out of the window over the Piedmont Boutique on Haight St.
 
17. The Ike's logo was almost a cartoon ninja frog
And then a koala. And then a squirrel. But ultimately, and appropriately, it ended up being a cartoon version of Ike himself. (Even the Ike cartoon has evolved though. Originally, Ike says, it was more "Legend of Zelda"-esque.)
 
18. Ike wants to do burgers and pizza in the Mission
Stay tuned 'cause he's trying to find a spot. He describes it like "if pizza and Ike's had a baby." Which sounds... perfect?
 
19. Ike is a partner in an Indian flat bread spot in Oakland that just opened
Check it out: Bombay B's Indian Bistro -- authentic and affordable Indian street food and it's right next to Ike's Place in Franklin Square. Basically, if Ike is a part of it, we're happy to eat it.
Sign up here for our daily San Francisco email and be the first to get all the food/drink/fun SF has to offer.
Daisy Barringer is Thrillist's SF editor, and if Ike ever named a sandwich after her, it would have to have a plethora of jalapeños. Tell her what your sandwich would be on Twitter @daisy.