Best burgers in San Francisco, shmest shmurgers in shman shmancisco. Today we cast off our burger-y chains to pay homage to a new spot that... pays homage to the Robin to burger's Batman: The French fry. Now open in Mid-Market, 3 Potato 4 is your new destination for fries, fries, and nothing but fries.

Started in a town famous for witchcraft and using "space-age technology" (Salem, it's Salem), 3p4 interestingly turns out a potatocopia of fries that aren't actually, um, fried.
Instead, they use a high-intensity convection oven that steams the fries for perfect, non-greasy crispiness, then they toss said perfect fries in Alderwood-smoked sea salt.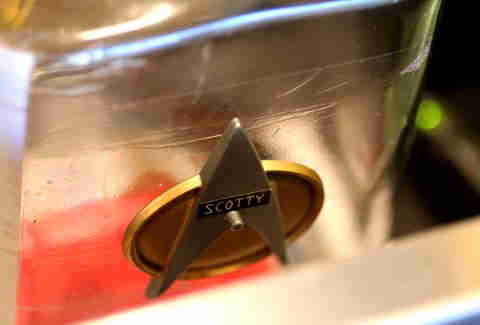 Did we mention they're space-themed?
So, you pick a size (Snack, Hungry, or Share), your fries are ready in three minutes, then you choose one of 12 different sauces to add, like Curry Ketchup, Wasabi Ginger Mayo, Big Bang, or what Left Eye used to say whenever Rozanda Thomas was all "Whatcha' wanna do for takeout tonight, boo? Pizza? Chinese? Wingstop??" (Thai Chili).
Oh, and you can opt for waffle-cut sweet potato fries too, along with the soon-to-come soups and, for dessert, a remarkably-similar-to-what-your-gf-once-made-you-sleep-on-the-couch-for-offering... Banana Rocket.