How to dominate 4505 Meats' new BBQ joint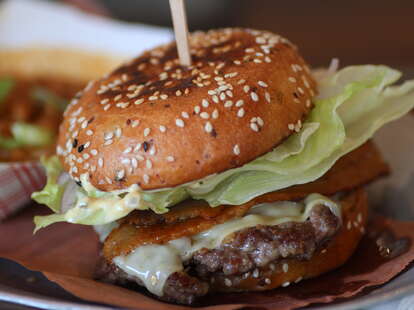 Joe Starkey
Joe Starkey
You might wanna sit down for this: 4505 Meats (of whole-beast butchery and chicharrón nachos fame) finally has its own restaurant. Okay, now you might wanna lie down for this: dubbed 4505 Burgers & BBQ, it's located inside the old Da' Pitt BBQ space on Divis and has one of only three wood-burning smokers in the ENTIRE city. Okay, now you can position your body however you want while reading this guide to dominating the place.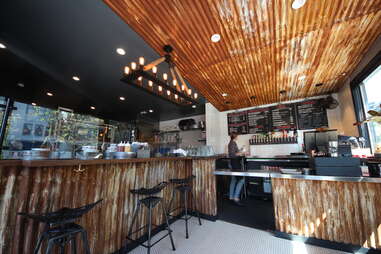 First, head inside. This is where you place your order. Or at least, it will be until they open the late-night burger window that'll be slinging burgers and 'cue to sotally tober people on Divis, as late as 2am.
Once you've put your order in, grab a table on the outdoor patio, which'll eventually expand to a much larger area that also hopefully only has tables with adorbs flower tablecloths. Plan B if there's no room? Take it to-go and head to not-too-distant Alamo Square.
So, what're you getting to-go/to-flower tablecloth? The menu itself has four meats available by the pound or in plates that you can get with one, two, or three different meats. Everything is on point, but try to grab the brisket before they run out. Failing that, try the pork baby back ribs; they're good enough that you won't need any sauce. Or, just order The Presidential that comes with ALL the meats, ALL the sides, and ALL the fixin's. It's supposed to feed "six". Right.
Of the sides, get the Frankaroni (macaroni and cheese with a 4505 hot dog inside [duh]), the potato salad with mustard and a hint of spice from the paprika (okay), and the... cole slaw? Yup, the cole slaw.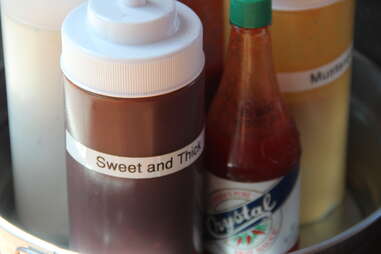 Okay, now the BBQ sauces: they make them all in-house, including a South Carolina-style spicy, tangy mustard, and this "sweet and thick". Just how we like our... BBQ sauce.
And finally, a couple of pro tips: if you're ordering... um... anything... get some spicy fries, too. They come with chimichurri sauce and lemon parsley aioli. And if you're going with the burger (which you should), order it Big Mac-style to get it with fried mac 'n cheese on top. YEP.
Joe Starkey is Thrillist's San Francisco Editor and will basically be posted up here for the next year. Come say 'hi' or just do so on Twitter.