Remember how much you loved that song "Great green globs of greasy grimy gopher feet, mutilated monkey meat, dirty little birdie feet…"? Good news! The nose-to-tail movement has made that song a culinary reality, albeit one not involving two of the three animals mentioned above. We rounded up 13 San Francisco dishes that celebrate chefs creatively cooking up "parts" that traditionally would've been tossed. Eat them all, and tell us your favorite theoretically gross but actually delicious dishes in the comments.
Kokkari gets a 200-pound Berkshire sow delivered every week, and they use every bit of it, including the pig's feet and glands that make their way into this cold terrine of head and trotters, a delightful meal that will have very old immigrants from countries that never stopped eating pig's feet saying "Welcome back, trotter".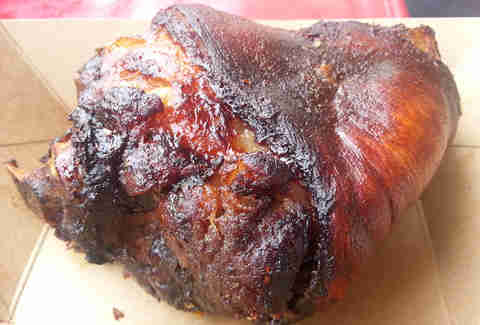 Thomas Odermatt's father taught him how to rotisserie grill at the family's butcher shop in the Swiss Alps (try the ski bunny!). Everything served at his pioneering food truck's roasted on-site, including the Pork Knuckle, which with its crispy skinned outside and juicy and tender inside is absolutely worth the long line.
Everything tastes better on a stick, including this State Fair version of the traditional Scottish meal. Think of this as a corn dog, only with heart, liver, and lungs instead of whatever actually goes into corn dogs, which frankly is probably a lot scarier than heart, liver, and lungs.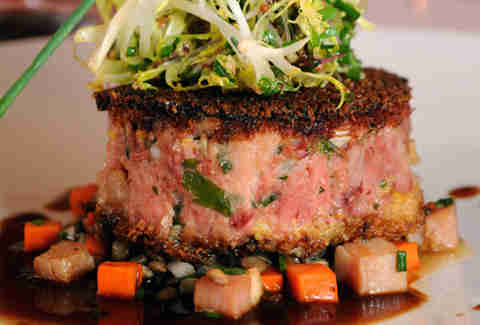 Warm Pig Feet, Sweetbread, and Lobster Terrine at La Folie
Chef Roland Passot faced a dilemma only a classically trained French chef could have: he wanted to serve pig's feet, but only if he could come up with a novel preparation. It was no easy feat (sorry!) -- brining, cooking, stuffing, and crusting ten servings of this textured terrine takes ten hours of manpower -- but efforts like this beauty have earned La Folie a Michelin star, so here's to uncommon dilemmas.
Bludnudlen at SPQR
Among the deep cuts that have graced Chef Matthew Accarrion's menu are Cuore di Manzo (beef heart) sliced paper thin with a hand-cranked Berkel Slicer and Suckling Pork Testa (head cheese) Mejool Date with fried pasta. What you're looking at above is their Tuscan blood sausage ragu. SPQR U ready for it? (Sorry, that was terrible.)
Toasted Sardinia Fregola with Sea Urchin Tomato and Cured Tuna Heart at La Ciccia
If you're looking to break hearts (into tiny little particles), La Ciccia is a good place to start. Chef Massimiliano Conti grates tuna ticker over pasta in order to add a marine-flavored umami to this Sardinian version of bottarga.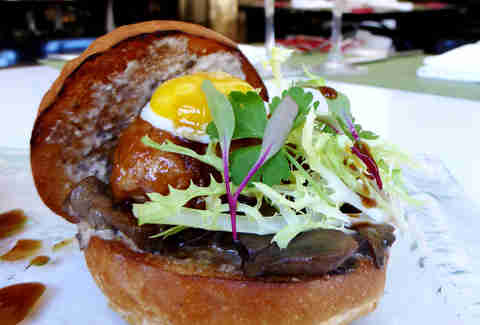 Executive Chef Stephane Tonnelier is all about marrying classical French cuisine with modern American fare, and nothing says "America" like a slider. The deep fried calf glands are glazed in beef jus on a toasted and buttered housemade bun -- instead of White Castle, think Le Château Blanc.
Lamb Belly Steamed Buns at Dirty Habit
The most popular dish at Dirty Habit might be their Korean-influenced chicken wings (foreground), but look just beyond them to spy one of their most adventurous offerings. Chef David "Baz" Bazirgan and sous chef Francis Ang replaced the typical duck or pork with deep fried lamb belly to create fat, salty perfection, appropriately enveloped in a pillowy bun.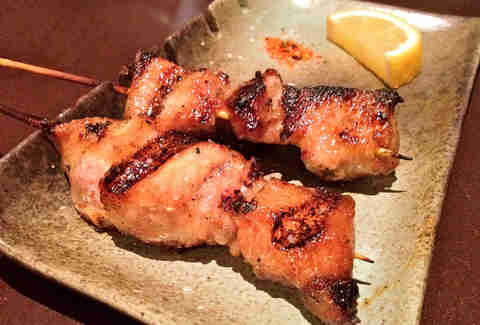 Tontoro Skewers at Chotto
The food (and drinks) here are so damn interesting you won't mind being in the Marina, starting with this snack of pork jowl and sea salt cooked to melt-in-your-mouth (not in your hands, because they're skewers) perfection. Don't stop there though, because you can also get kobe beef tongue on a stick, which should teach Kobe to stop playing basketball with his tongue hanging out.
Bel Campo raises, slaughters, and sells their own meat, a hands-on, cleaver-ready business model that produces everything from the most farm-to-table cheeseburger possible, to an incredibly tender, not too gamey neck o' lamb.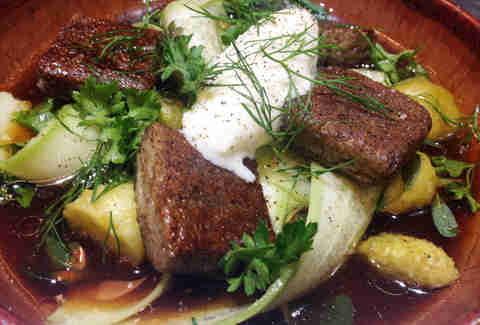 Lamb Liver Dumplings at Bar Tartine
Bar Tartine, whose seasonal menu has also featured dishes involving lamb kidneys (hey, the lamb should have known women that hot always leave you in a bathtub full of ice) has changed the dumpling landscape forever with these poppable bites also delivering lamb fat, sprouted buckwheat groats, and chicken skin for texture and flavor, all topped with West Indian burr gherkins, fresh sliced cucumber, spinach, dill, sour cream, and black pepper.
These super-crunchy fritters are filled with cheek, jowl, tongue, and just for good measure, brain, so if you're going to pair them with a house cocktail, clearly you need to go with the brandy-based Sleepyhead.
Trippa Napoletna at A16
Cow's stomach takes on the flavor of whatever it's been cooked in, in this case a Southern Italian tomato, herb, onion, and wine sauce. The texture is so enjoyably complex, even a non-adventurous eater will be able to, ahem, stomach this offal classic.