Your ultimate Cronut knockoff rundown
If you've desperately wanted to try that "Cronut" thing everyone's waiting in 3hr-long lines for in NYC (but spent all of your air miles flying to DC to try those Georgetown cupcakes), you are a lucky, frivolous person, because there are several Bay Area versions you can try in your own backyard (wait, you have a backyard in this city? Must be nice...). For your eating convenience, we've gone and rounded up all the imitators alongside mouthwatering photos of these doughnut/croissant hybrids from heaven/a fryer.
What: Cronots, probably the most ubiquitous (and most likely to receive a cease and desist), these pillowy doughtnuts are made by The Posh Bakery and come in glazed, sugar, chocolate, strawberry, and specials like maple bacon. *Fans self rapidly.*
Where: All SF Lee's Deli Locations
When: Starting at 6a, though most places are sold out by 745a.
What: The "NYC Croissant Doughnut" probably takes the deep-fried cake for being the most literal version of things, if not the most creative. Also, their custard is on the outside, not the inside, because they got nothin' to hide.
Where:Paris Baguette in Palo Alto
When: They open at 7a, so make sure to take the early Google/Facebook shuttle.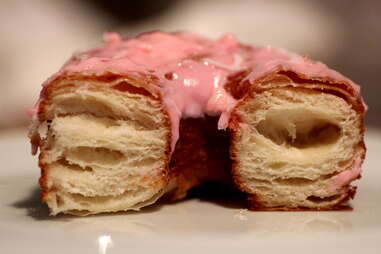 What: Definitely not the Cronut because it's copyrighted, but you can probably ask for a croissant-like doughnut either filled with custard or not, and maybe even use the name because they might know what you're talking about. *Wink.* (Don't wink, though... It's creepy.)
Where:Beth's Community Kitchen in Mill Valley
When: Just like every other place, they open at 730a and that's when you want to get there.
What: D's Nutz, because they were told their original name was too close to the copyrighted version, so they decided to go awesome.
Where:Fillmore Bakeshop
When: Offered Saturdays from 9-10a with limit four per person. It's totally worth it for special flavors like salted caramel chocolate.
What: The Fauxnut (which's not in any way related to the "censored-nut™", lawyers) started out with flavors like "Red Hot" with bourbon cream (sweet Jesus), and will try out more, like a brioche, bacon, and egg. *Incoherent grunting noise.*
Where: Possibly the best sandwichery ever, Stag's Lunchette
When: Sundays at 9a... though you may want to check to make sure.