It's an oft-told, well-loved story: small town boy dreams huge and decides to try his luck under the bright lights of the big city, makes the move, and attempts to strike it rich, only to be thwarted by Phoebe Cates, Kiefer Sutherland, and cocaine. Dreaming beyond its Sacramento home, The Sandwich Spot. Thrilling human tongues in cowville just doesn't do it for the The Sando Spot no mo', so the Sacto chain known for its plethora of crazy-delicious breadwiches is off to SF, with a Marina outpost that's oddly done up Island-style, with Tiki carvings, bamboo, and a wall mounted surfboard, which may be slightly off-kilter, but let 'em roll with it -- it's the first time they've seen the ocean. Every fat specialty comes on your choice of baked-fresh-daily bread (sourdough, Dutch Crunch, sweet roll...), and colorfully named options include the ham/prosciutto/salami/provolone Jimmy Goodtimes, the triple-decker Blavocado (BLT+A), and the marinated chicken, patented spicy "Bomb Sauce" smothered Hot Chick, named after that one Sac chick, Deb, who moved to LA, damn her. If you're really looking to make a mess, opt for the Soul Surfer (basically a Reuben), the BBQ/teriyaki/Bomb sauce-slathered P**n Star, or the hot turkey/cranberry sauce/cream cheese Horny Hapa, a sandwich that unsurprisingly is part white meat. What's better, everything on the menu's under ten bucks, and they'll even deliver your order via beach cruiser if you're in the area, which, as long as said cruiser's being pedaled by a revved-up Kiefer Sutherland, is everywhere.
Recommended Video
You've Been Waiting Your Whole Life to Face San Diego's The Kraken Burger
Previous Venue
Next Venue
Venue Description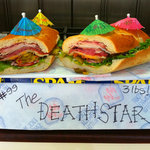 1. The Sandwich Spot
3213 Pierce St, San Francisco, CA 94123
Regional chain The Sandwich Spot is famous for cheekily named menu items and inexpensive and delectable sandwiches. Their lone San Francisco location can be found in Cow Hollow, where lines form at their small counter to order up grab and go lunches. Devotees of the sandwich haven swear by the Jack Lucky, stuffed with marinated chicken, bacon, avocado, and your choice of cheeses.