Hey Seattle, guess what. There are other soups in town. And we get it: Pho is cheap, it's on every block, and most of the city is convinced it's the only cure for rainy days, winter colds, the plague, and probably most STIs. We're not trying to take any of that away (maybe the STI thing), but Seattle's brimming with other piping-hot and curative Asian soups -- some that are probably (gasp!) even better than the mediocre pho that blankets the city. Here's where to find 'em.
Hot pot
Little Sheep
Address and Info
International District
Somewhere between fondue and Korean barbecue is Chinese hot pot. Choose your own adventure by checking off all the meat, fish, vegetables, and noodles that you like from the menu, then dip 'em into the boiling cauldron of either spicy or mild broth on the table. The soup will not only cook the food, but also kill off any flu and clear any stuffed nose. But the best part? It's all-you-can-eat.
Bun bo hue
Hoang Lan
Address and Info
Rainier Valley
The punch-in-the-face contrast to pho's subtle tap on the shoulder, this traditional Vietnamese soup is bright (both in color and flavor). Unlike pho's bantamweight toppings, this soup is loaded with pork hock, blood cake, and beef tendon, along with rice noodles, herbs, and vegetables on the side.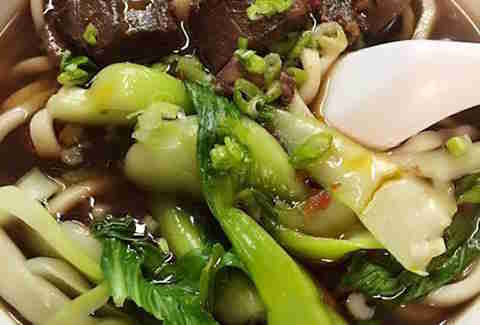 Szechuan beef noodle soup
Szechuan Noodle Bowl
Address and Info
International District
Very much the opposite of the option-filled checklist-menu spots, this tiny joint offers only a few menu items, but it need not have any more: you want the signature dish, and you want it anytime you need a bowl of comfort in the form of big-flavored broth and thick, chewy noodles. Despite the implication of "Szechuan," the heat is mild, leaning instead on richness and spices to pack a punch.
Build-your-own noodle bowl
King Noodle
Address and Info
International District
Forget Burger King, this is how you have it your way: you pick the broth, you pick the noodle, you pick the meat, and you pick the condiments. The options are not quite infinite, but you could eat here every day, all winter, and never have to repeat a soup -- and you could afford to do it, too, since each giant bowl costs less than $8.
Bun rieu
Rainier BBQ
Address and Info
Rainier Valley
While pho has taken over as the Vietnamese soup of choice in Seattle, in Vietnam, bun rieu -- crab soup -- is one of the top choices. Forget the heady meat-drunk rush of pho, this is all about the light shine of seafood -- a broth that highlights the crab paste used, overflowing with round rice noodles.
100 garlic chicken karaage hot soba
Miyabi 45th
Address and Info
Wallingford
It's easy to be distracted by the fancy truffle mushroom soba or the elegant raw oyster appetizers here, but for the ultimate in comfort and curing, don't stray from the fried chicken soba. This hot broth with handmade (daily!) noodles in it comes with a kicker of layu chili oil and will surely beat the rainy day blues.
Guay tiow tom yum
Pestle Rock
Address and Info
Ballard
Thai cuisine is famous for its marriage of spicy, sweet, sour, and salty flavors, and this pork soup exemplifies that mix. High-quality ground pork and crispy pork belly bob about in the lemongrass-tinged broth, mingling in among the rice noodles. Peanuts and green beans provide crunch, and the sweetness is just enough to offset the spice that will help soothe any ailments.
Tempura udon soup
Modern Japanese
Address and Info
Phinney Ridge
This tiny Phinney Ridge cafe specializes in sushi and unique Japanese desserts, but when all you want is to listen to the rain pound on the corrugated plastic patio roof or watch it spill down the storefront windows, the tempura udon soup is the way to go. Big, snakey noodles will wiggle away from you in the light, simple broth, while the tempura shrimp somehow manage not to fall apart. Down it -- with a spoon or chopsticks -- and see why this hidden spot is worth fighting for one of the few tables.
Laksa curry noodle soup
Gourmet Noodle Bowl
Address and Info
International District
Bring a friend if you're diving into this bathtub-sized bowl of spiced broth filled with a tangle of noodles, floating puffs of tofu, chicken, and eggs. The dish, which is Malaysian, is slightly out of place on the mostly Chinese menu, but there is a reason it's there: the chef's combination of chili, onions, spices, and coconut milk makes for one hell of a hearty lunch.
Sizzling rice soup
Chiang's Gourmet Restaurant
Address and Info
Roosevelt
Rice Krispies may have actually stolen their snap, crackle, and pop from this Chinese soup. Aside from the usual delights of hot Chinese broth, the fun of having your soup talk to you cannot be underestimated. As the pre-cooked rice is dumped into the bowl tableside, it babbles noisily with promises of delicious and satisfying crunch. When was the last time your pho said anything to you? If it was "ever," please see a doctor.
Sign up here for our daily Seattle email and be the first to get all the food/drink/fun in town.