It's easy to pick the right bar in Seattle (you're welcome, BTW!), but how 'bout picking the right thing to eat? Well, now we've got you covered there too because we've rounded up the 10 things you absolutely have to eat in the Seattle this summer (all at places where you can eat outside!). Dig in...
Hama Hama Fried Oysters
The Walrus and the Carpenter (address and info)
Ballard
Pull up a chair at Walrus's airy outdoor seating area and order a plate of the most gluttonous way to eat bivalves: deep fried. Served with a side of cilantro aoili, oysters don't get much better than this.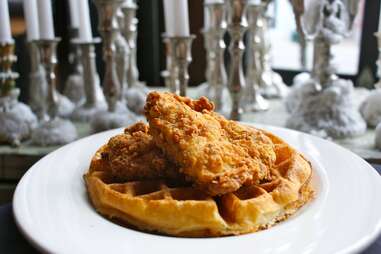 Chicken and Waffles
Local 360 (address and info)
Belltown
You can't miss Local 360's chicken and waffles, which come with maple pepper jelly. If you're lucky, you might even be able to snag a seat in the mini outdoor seating area... and pair 'em with a whiskey cocktail, so you'll really be living.
Market Chowder
Pike Place Chowder (address and info)
Downtown
Stop by Pike Place Market staple Pike Place Chowder for its signature hodgepodge chowder to enjoy while you take in a sweeping view of the Puget Sound down the way. Sure, it can be touristy, but there's a reason you're gonna have to wait in line to get it.
Roti canai
Kedai Makan (address and info)
Capitol Hill
Have a drink at neighboring Montana… maybe even in their outdoor parklet if you're lucky, then hop over to Kedai Makan for some of the best Malaysian food in town. We love the roti canai, a Malaysian roti with dhal curry. You'd be hard pressed to find a better version around.
Whole Hog
Humble Pie (address and info)
Central District
If we were this pizza, we probably wouldn't be all that humble: it comes with prosciutto, pulled pork, and bacon, plus it's served at a place with ample outdoor seating and picnic-style benches, making it the perfect summertime hang.
Burger
Westward (address and info)
Wallingford
For some of the best views around, you can't go wrong with Westward. The quirky and nautical spot's menu features a feta, tomato jam, and pickled onion lamb burger that will ensure this spot becomes a fast favorite of yours.
Paella
Terra Plata (address and info)
Downtown
It doesn't get more summer-y than some good ol' paella done right. Terra Plata celebrates paella night every Monday. Dine up at its rooftop area and enjoy tapas, sangria, and more with your Spanish-style seafood medley and enjoy the breeze before returning to the hot streets.
The War of the Pig Sandwich
Bread and Circuses (address and info)
Multiple locations
Stationed outside of Chuck's Hop Shop on the weekends, the recently opened Bread and Circuses is fighting a brutal war every day. This war is the War of the Pig, which has Italian roast pork, aioli, havarti, broccoli rabe, jus, and chilli oil all on a hoagie. We're just going to say your appetite doesn't stand a chance.
BBQ Burger
Twilight Exit (address and info)
Central District
Having a hard time deciding between BBQ and a burger? Fret not, indecisive reader, Twilight has a burger for you. Grab a spot in its expansive outdoor back area and ready the napkins -- this bad boy has Zoe's bacon, fried shoestring onions, BBQ sauce, and muenster cheese.
Tat'strami
Tat's Truck (address and info)
Multiple locations
Forget Pioneer Square, now you can load up on your favorite sandwiches on the go thanks to the new Tatsmobile. The appropriately punny Tat'strami has-house-cured and smoked pastrami, Swiss cheese, Russian dressing, and sweet slaw. For more information on where to find this truck next, find their schedule here.
Sign up here for our daily Seattle email and be the first to get all the food/drink/fun in town.