You already know a lot about Dick's Drive-In (it's got cash machines now! It totally got hosed on a certain men's lifestyle site's best burgers in Seattle list. OMG it's crowded at 1:50am!), but you don't know everything, which is why we got the granddaughter of the guy who put the Dick in Dick's to help us come up with 11 things you don't know about what makes this iconic Northwest drive-in so... waitforit!... Special.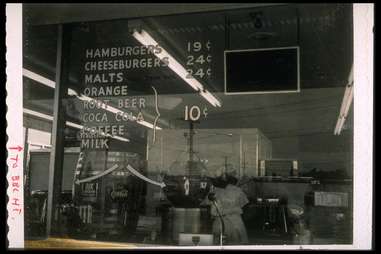 1. Dick's didn't start selling the Special and the Deluxe until 1971
For the first 17 years, it was just (astonishingly cheap) hamburgers, cheeseburgers, fries, shakes, and ice cream.

2. When they opened in 1954, there was only one other fast-food restaurant in Seattle
But the food service industry is sink or swim, and despite what you might expect, Gil's -- a fish & chips shop -- couldn't do the latter and had to close.
3. Ever notice this painting hanging at Dick's? It's not a cow.
It's a steer. Dick's uses their meat because it's generally considered superior to cow or bull or whatever, and they tend to take it easy on condiments, so flavor stands out.

4. Founder Dick Spady paid McDonald's to let him work there
Dude gave the then-California-only burger joint $50 so he could work the line and, in the name of research, invented a compensation model Mickey D's has been working toward ever since.
5. Dick's started serving Diet Coke in 1982
That's the last time they changed the menu... and the last time they offered up the orange soda once kept in these wonderfully round receptacles.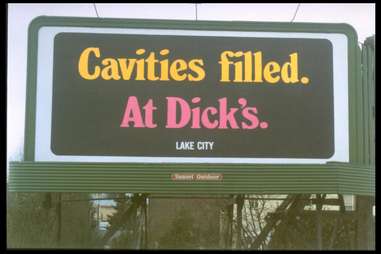 6. This '60s-era billboard made people think their Lake City location was actually a dentist's office
Possibly adding to the confusion -- one of Dick's co-founders, Dr. B.O.A. Thomas, was a professor of dentistry at the University of Washington and lauded periodontist.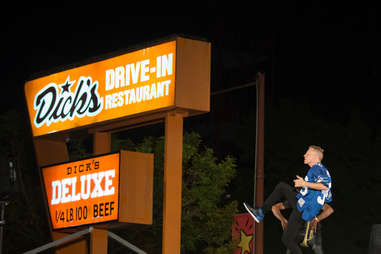 7. Technically, Dick's is Sir Mix-A-Lot's second-favorite fast-food spot on Broadway
Dude wanted to hit "Taco Bell for some Mexican eatin'", but it was closed (now permanently), so he and his posse hit the Cap Hill location -- something a slew of subsequent Seattle rappers, from Macklemore to Blue Scholars, have also done in their music videos.
8. Dick's used to have a location in Bellevue
Apparently nobody knew that, 'cause it closed in 1973 (the only one of Dick's locations to do so). And no, there isn't a Dick's in Spokane... err, well, there is, but it's a whole different drive-in-style fast-food joint famous for its cheeseburgers.
9. Dick's used to have "Malt girls" who were in charge of making the milkshakes
This is the very first "Malt Boy", whose milkshakes presumably brought all the girls to the yard... err, parking lot, and who went on to be an international ballet star.

10. Adult film star and Seattle native Gianna Michaels got her start at Dick's
Sure, a lot of people already knew that. But YOU didn't, 'cause you don't watch that kind of stuff, right? Right?! What not many people know is that Seattle PI reporters, a local radio host, and a former Alaska governor (the one before Palin!) did too.
11. In the early days, Dick's had separate lines for ordering burgers, fries, and ice cream
Nowadays -- especially when you're there crushing Deluxes around 2am -- they prefer to have absolutely no lines whatsoever.
Sign up here for our daily Seattle email and be the first to get all the food/drink/fun in town.