Italian? Not tonight. Mexican? We always have Mexican. Ethiopian? Way too spicy.
Deciding on a specific cuisine for dinner has become a far too familiar and daunting task for just about everyone with access to Yelp and disposable income. But what if the food at each option was so over-the-moon delicious it didn't matter where you went? Now we're talking. Here's every best restaurant for every type of food imaginable in Seattle... now go forth and conquer dinner, Yelp reviewers be damned.
Italian:&nbsp;<a href="http://www.thrillist.com/venue/eat/seattle/restaurants/altura-restaurant" target="_blank">Altura
Capitol Hill
Having dinner at this Capitol Hill staple is an entire experience. With a focus on local and fresh ingredients, Chef Nathan Lockwood's tasting menu is the heartbeat that keeps Altura pumping out delicious Italian meals. Expect to spend a couple hours making your way through a 10- to 15-course meal with sommeliers nearby to guide you through the finest wines. Visit Altura if you want to slow down, take your time, and really enjoy food.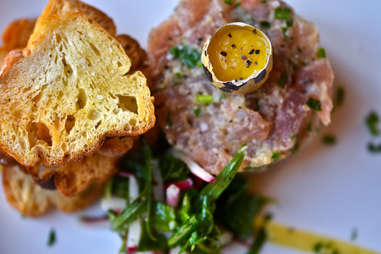 French: <a href="http://www.thrillist.com/venue/drink/seattle/bar/toulouse-petit-kitchen-lounge" target="_blank">Toulouse Petit
Lower Queen Anne
If there's one word that sums up Toulouse Petit, it's "small." No wait, "charming." From the Creole- and French-inspired eats packed with flavor, to the intricate decor, this adorable cafe is a definite must-see for any visitor or local. The 4-6pm happy hour is killer, and a collection of Benedicts and scrumptious beignets make this one of the best brunch spots in town. A variety of charcuterie options are also a nice addition to the reasonably priced and tasty dinner plates.
Mexican: <a href="http://www.thrillist.com/venue/eat/seattle/restaurants/plaza-garibaldi" target="_blank">Plaza Garibaldi
Lower Queen Anne
This underrated spot near Seattle Center serves up traditional Mexican and Tex-Mex food on platters big enough for two (although you won't want to share). Is it fancy? No. But if you want piping-hot plates of cheesy enchiladas, spicy stuffed chile rellenos, and some of the best blended margaritas in the city for a reasonable price -- get here ASAP. A hidden gem on the menu is the ceviche. Order it, you won't be sorry.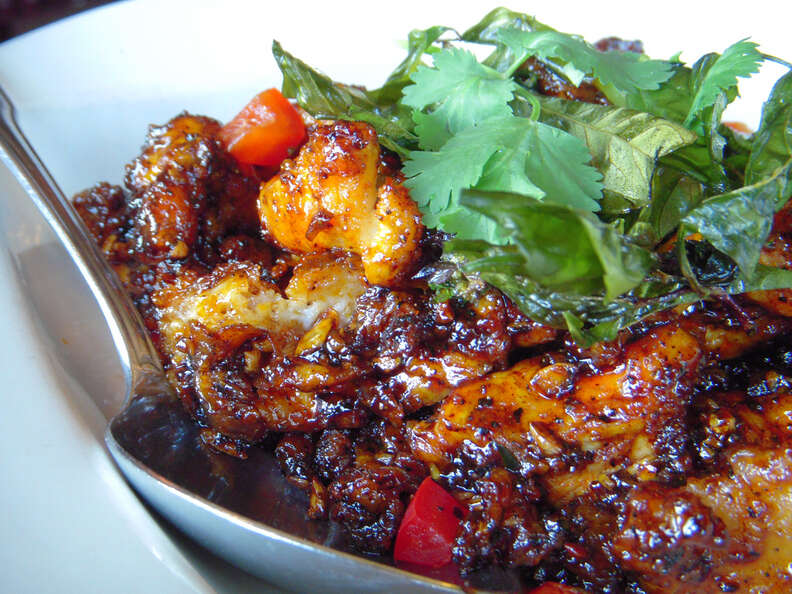 Thai: <a href="http://www.thrillist.com/venues/eat/seattle/restaurants/buddha-ruksa" target="_blank">Buddha Ruksa
West Seattle
Decorated with intricate dark wood carvings and glowing with a soothing ambience, Buddha Ruksa is all you'd expect out of a great Thai restaurant. Sure, it makes a mean pad Thai and crispy garlic chicken, but the experience of eating your favorite Thai comfort foods in a place that exudes comfort and warmth is priceless. As for the traditional Thai flavors? They're all there: spicy, sweet, salty, hot, and sour, indistinguishable. It's definitely worth the trip over to West Seattle.
Vietnamese: <a href="http://www.thrillist.com/venue/eat/seattle/restaurants/pho-bac" target="_blank">Pho Bac
International District (& other locations)
Heralded as one of the city's first pho restaurants, Pho Bac serves up hot bowls of the good stuff daily, with beef bone marrow that's been simmered in a blend of special spices for 10 hours. This laid-back spot started out primarily as a sandwich shop, but customers became so crazy about the pho on the menu that the restaurant focused more and more on the tasty soup. To go back to the basics, grab the bánh mì. It makes a great dipping partner to the real star of the joint -- warm, meaty, slurpy pho.
Chinese: <a href="http://www.thrillist.com/venues/eat/seattle/restaurants/lionhead" target="_blank">Lionhead
Capitol Hill
Sichuan flavors rule the menu at Lionhead, with a warm and numbing quality that makes these traditional Chinese dishes irresistible. This fairly new Seattle establishment has the Sichuan peppercorn as a logo, a reminder of the unique flavors that make restaurant-goers go wild with culinary excitement -- and maybe fear. James Beard Award-winning chef Jerry Traunfeld opened the place after a trip to China, so you know it's at the top of its class. And there's no tipping here -- it's included in the price of food. Hmmm... amazing food and paying workers a living wage? Sign us up.
Indian: <a href="http://www.thrillist.com/venues/eat/seattle/restaurants/bengal-tiger" target="_blank">Bengal Tiger
Roosevelt
Chef Muhammad Uddin and his team work hard to ensure you not only get amazing food at Bengal Tiger, but that walking into the inviting restaurant feels like you're at home. Maybe not your home in particular, but a home that is filled with the spices and smells of food cooked with love and care. Curries, tandoori, vindaloo, butter chicken; all the classics are present with an attention to detail that shows how much this charming restaurant really cares about the overall dining experience.
Japanese: <a href="http://www.thrillist.com/venues/eat/seattle/restaurants/shiros" target="_blank">Shiro's Sushi
Belltown
Shiro's Sushi is the best sushi restaurant in Seattle, and one of the best in the country. Chef Shiro Kashiba, a local legend, opened up this traditional Japanese sushi restaurant in 1994 by infusing his expert training with local, fresh ingredients from the Pacific Northwest. Shiro, who has since moved on, left a palpable mark on his eponymous restaurant that won't soon fade. It is pricey, but you get what you pay for -- amazing, top-quality sushi.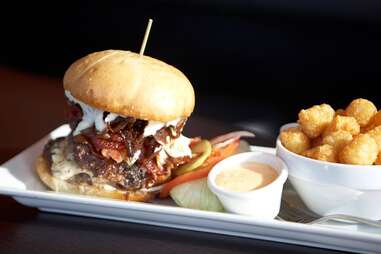 American: <a href="http://www.thrillist.com/venue/eat/seattle/restaurants/lunchbox-laboratory" target="_blank">Lunchbox Laboratory
South Lake Union
What could be more American than taking bacon, ground meat, and an assortment of other greasy foods, and slapping it all on a bun covered in melted cheese? Not much, really. Maybe a bald eagle sporting a Springsteen tank top, but that's really about it. Lunchbox Laboratory is all about the weird relationship between nostalgic American comfort food and taking things right up to the line of "Did we go too far?" The burgers? Covered in gooey mac-n-cheese. The shakes? Loaded to the brim with booze. God bless America.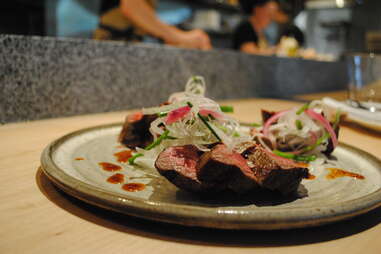 Korean: <a href="http://www.thrillist.com/venue/eat/seattle/restaurants/girin-steakhouse-ssam-bar" target="_blank">Girin
SoDo
Although Girin only opened in its elegant space this past April, the Korean-inspired steakhouse and ssäm bar is already making a respected name for itself. Beautifully cooked meats and seafood are served traditionally with a spread of greens and chiles for wrapping, and the house-made kimchi will have your mouth watering. Make no mistake, this is not the Korean restaurant you visit for a fast bite to eat. Girin is serene and delicate, like a pairs figure-skating competition -- with flavors that you'll want to savor all night long.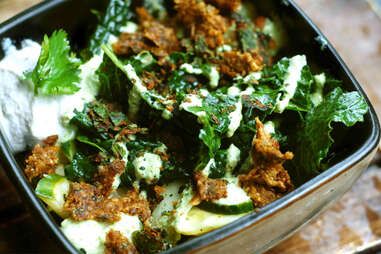 Vegetarian: <a href="http://www.thrillist.com/venues/eat/seattle/restaurants/thrive" target="_blank">Thrive Cafe
Roosevelt
Not only is Thrive vegetarian, but it has a fully gluten-free and dairy-free menu. What this fascinating restaurant lacks in traditional ingredients, it more than makes up for in serious flavor and health points. Meals are packed with vitamins and nutrients that do a body good, like the restaurant's many ready-to-eat warm grain bowls. The Buddha Bowl (Bhutanese red rice and quinoa, walnut crumble, marinated mushrooms, kale chips, sesame ginger sauce, marinated kale, and fresh organic cucumbers) is topped with a "garlic cilantro god sauce." Coincidentally enough, it's heavenly.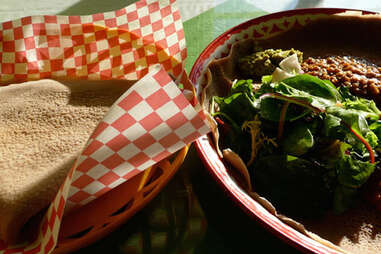 Ethiopian: <a href="http://www.thrillist.com/venue/eat/seattle/restaurants/jebena-cafe" target="_blank">Jebena Cafe
Northgate
Ethiopian food -- with its potent flavors and distinct taste -- can be a formidable meal for first-timers, but this unassuming family restaurant creates a calming atmosphere that will send any naysayers reaching for the next piece of injera to eagerly scoop up some of the tastiest curries. The meat combination dish with qey wot (lamb stew) and beef tibs (sauteed beef), along with a veggie side, is by far the best way to ease into this amazing cuisine.
Sign up here for our daily Seattle email and be the first to get all the food/drink/fun in town.
Cody Permenter is a freelance writer who feels the weight of the world on his shoulders after ranking the best food in all of Seattle. Bring on the haterade! Follow him on Twitter.