Turns out handmade pasta & fry breads from a truck were killing it this year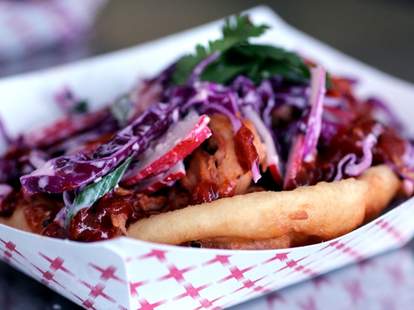 That house you built with the Hearthfire expansion pack for Skyrim is pretty sweet, but it probably didn't make the cut for best new spots among these food/drink mavens
Ethan Stowell, Chef/Owner, Ethan Stowell Restaurants"Green Leaf Belltown, Joule, Ballard Pizza Company, Rione Xlll... though the last two might be a little obvious.
Brad Glaberson, Owner/Executive Chef, Cucina Fresca"I'm a pizza junkie and can eat it breakfast, lunch, and dinner; cold, warm, or hot. Right now, Elemental Pizza in University Village has me stopping in for a quick pie two or three times a week. No joke.
Tom Ennis, CEO, Oh Boy! Oberto Beef Jerky"The restaurant that tops my list this year is Il Corvo, for their exceptionally fresh, all natural ingredients, which inspire all their dishes to create unmatchable taste. We also like the owner's signature hat, daily rotating menu and ultra-Italian dish naming conventions. A few others at the top of my list this year are Altura and Lloyd Martin.
Sam Crannell, Chef/Owner, Lloyd Martin"The new Green Leaf, Bitterroot BBQ, and Off The Rez.
Jason Wilson, Chef, Crush"Atera in NYC. Altura in Seattle.
Jon Christiansen, Bar Manager, Monsoon East & Ba Bar"The new Restaurant Zoe means I don't have to be sad about the old Zoe going away. And when I go out, I tend to stop by Canon. I like to read the menu and marvel at the quantity of liquor behind the bar. Plus I can walk there from Ba Bar several times a night."