Meat glue, chewing gum, and other surprising things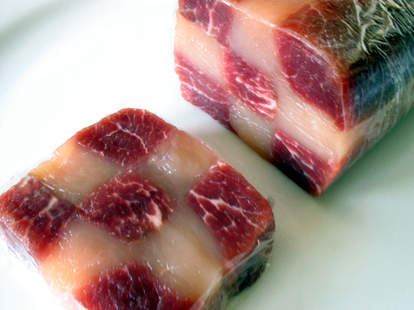 Today Seattle food/drink luminaries dish about the year's biggest surprises, like just how bad the Mariners were. Just kidding, these are actual surprises
Jon Christiansen, Bar Manager, Monsoon East & Ba Bar"My biggest surprise is that the invisible hand of free market capitalism didn't magically correct the evil pricing schemes imposed by competition-free, state-controlled alcohol sales. By and large, you are still going to need Goose on your shelves, and only one distributor has it. Monopoly intact. Middle man paid.
Brian & Jaime Brooks, Chefs/Owners, Hunger"Top Chef filming in Seattle, and Le Gourmand closing after 27 years."
Tom Ennis, CEO, Oh Boy! Oberto Beef Jerky"The biggest shock was the use of transglutaminase, a meat glue made from the blood of pigs, cows, and chicken. With beef prices on the rise, some chefs just glue their leftover chunks of meat into a meat log that can be sliced up as steak."
Greg Lopez, Chef, Urbane"The continued demand for classic cocktails and food. Craft bourbons and good mac & cheese has never had a bigger fan base.
Jason Wilson, Chef, Crush"Diners are embracing tasting menus and wild foraged ingredients much more than they have in prior years.
Sam Crannell, Chef/Owner, Lloyd Martin"That grown adults still put gum under chairs and bars."