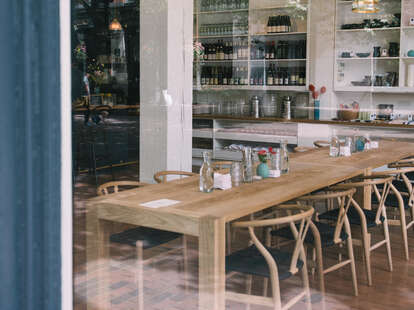 Summer's been pretty good to Seattle -- no, not because the average temperature's been about two degrees higher than last year (seriously, how hard is that?!) -- but because a slew of sweeter than average eat/drink establishments have opened, including big time boozers like The Old Sage, seafood-slingers like Rock Creek, and six other can't-miss spots we've helpfully listed below. Feast your eyes...
1. Alibi Room
Greenwood
Opened by the same crew behind the sort-of-subterranean Post Alley version, this laid-back, bi-level boozer boasts a torch-lit patio, and presumably has the same casual attitude towards telling the truth about where you were last night as the original. (Hint: If you're smart you were there eating their gorgeous brick-fired pizza.)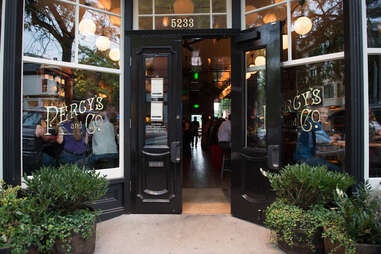 2. Percy's and Co.
Ballard
A stunning apothecary-style spot from dudes whose past credits include places like King's Hardware, Rudy's, and The Ace Hotel, Percy's is serving up a sophisticated selection of eats (confit chicken leg w/ slow-roasted carrots, wilted pea vines & sweet corn purée), and drinks that, as the parsley-/ sage-/ rosemary-/ thyme-infused gin-based Garfunkel demonstrates, are practically works of... waitforit... art.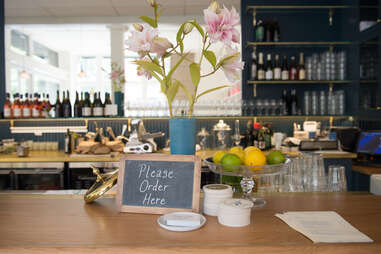 3. London Plane
Pioneer Square
This collab between Matthew Dillon (Sitka and Spruce, The Corson Building, etc.) and Katherine Anderson (Marigold and Mint) is opening in two stages: It is currently a retail shop/ wine bar serving charcuterie-style snacks, but when it expands later this year, it'll have a full menu that, if their previous spots are anything to go by, will be anything but... ugh, Plane.
4. Bloom
Ballard
What started as a pop-up in Fremont is now a "real business" in Ballard that's using seasonal, locally sourced ingredients to turn out Asian-style eats, including their Nibuta Donabe hotpot (above), a variety of ramen offerings, and Butabara, which is Japanese for this will make you even fatter, silly American! grilled pork belly.
5. Little Uncle
Pioneer Square
The former pop-up and current Cap Hill takeout counter has opened a second location in the underground, brick-walled space that used to house Marcus' Martini Heaven, and they're using it to make a slightly more complicated menu of Thai-style eats like broiled pork "Gradook Moo" spare ribs, and shrimp paste fried rice, which if you ask a two-year-old, might be a big waste of shrimp and fried rice... but is nonetheless completely delicious.
6. Teacher's Lounge
Greenwood
Started by a pair of industry vets, this 50-seater is serving cafeteria-inspired, or "Gastro-teria"-style, eats ranging from a mortadella "baloney" sandwich, to a sloppy joe on a baguette, and over a dozen signature 'tails, all in a space decked with a shton of grade school-ish touches, including Pee Chee folder menus, and blackboards full of history lessons and equations... both of which you can use to predict that next Summer's weather will probably be... sigh... average.