Chona Kasinger
Chona Kasinger
Because they're not owned by Digital Underground, most restaurants won't just let you "Doowutchyalike" with their menu... unless you're at a sweet spot like 8oz. Burger Bar or Li'l Woody's, where they literally let you build your own meatwich. Well, that's exactly what we went and did, and the result -- a towering monstrosity from 8oz. with four different meats on a brioche bun -- is so spectacular that we're pretty confident there's "Nuttin' This Funky" anywhere else in town. Feast your eyes...
We start with... waitforit... 8oz of grass-fed beef (aka Jay and Silent Bob's pet cow), and top it with some Gouda.
While that cooks, they start adding things...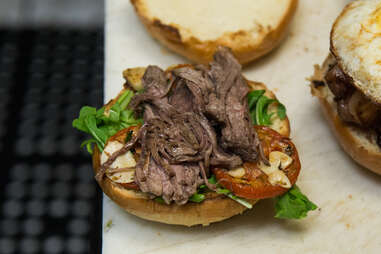 ... like this braised short rib, plus additional meats like candied bacon and braised pork belly.
There's still more protein in the form of a fried egg, and some veggies, including roasted corn salsa, garlic roasted tomatoes, arugula, fried onions, and a fried green tomato (abusive husband meat not included).
Putting this sucker together is as easy as 1, 2, 3... uh, 4, 5, 6, 7, 8...
Approximately $38 later, the result is a gorgeous meat-based work of art that you're welcome to try and top... though if you do, it would be a Shock, G.