Seattle's freshest sandwiches are in Pike Place Market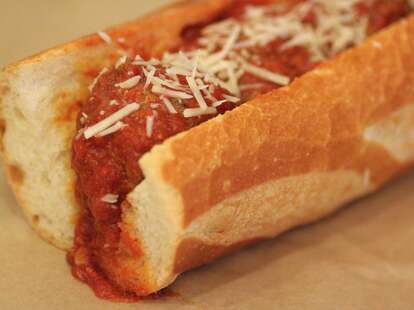 If you were born and raised in Philadelphia and're looking for a fresh start, the obvious thing to do is move to Bel Air and kind of date Tyra Banks for seven episodes. But if that falls through you can always sell your French bistro, move to Seattle, and start selling fresh sandwiches from a former ice cream stand in the Pike Place Market like the lady behind Zaccagni's
Opened in the former Danny's Wonder Freeze space, this DeLaurenti-adjacent spot's making fist-meals either inspired by the ones made by the owner's grandma, or her family in Umbria.
Even if it costs a little extra green, all Zac's ingredients come from the source -- the market's farmers & vendors, who definitely live up to the unsigned hype
That includes the meat, which come from Don and Joe's, but probably not the spoon.
If you're not into sandwiches... you should try getting into them, they're quite good! But they've also got handmade Tiramisu, though good luck keeping your lady's fingers off it
You really should get one of Zac's non-desserts though, whether it's braised brisket or this roasted pork, which isn't as rare as a cab with dice in the mirror, but it is pretty damn fresh.