"Are you military?" a hostess at Kabul Afghan Cuisine in Seattle's Wallingford neighborhood asks a young man with short hair when he walks in. He shakes his head no, and feeling the need to explain herself, the hostess says that, though they've been open since 1992, recently a lot of their customers -- especially those that look like this young man does -- have served in the US military in Afghanistan. Back home, they now come to the restaurant looking for tastes of the memorable food they indulged in during their tours of duty -- a trend happening at Afghan restaurants in Seattle, as well as the rest of the country.
Experiencing the local cuisine is not a given for soldiers stationed abroad, but for the small percentage who are forward-deployed, embedded, or otherwise working closely with local officials, Afghanistan opened its restaurants and laid out local tables with kebabs, naans, and Qubali pulaos. Returning soldiers reminisce about the food and the generosity surrounding it and continue to seek out both at Afghan restaurants in the US upon their return.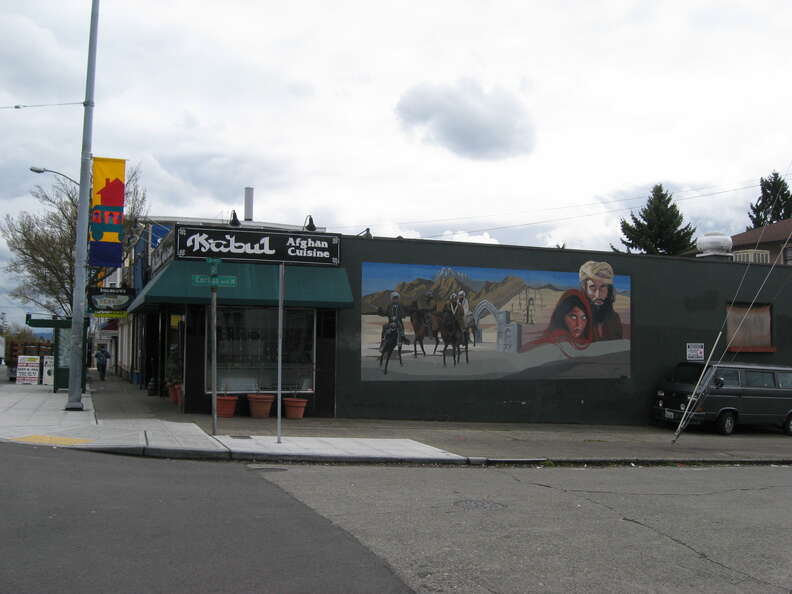 Justin was embedded with the local police force in Helmand Province in 2010, which allowed him to try a variety of regional delicacies, though he noted that most of the soldiers stationed there don't have the same access, or desire: "They have a TGI Friday's out there, for God's sake," and many of the soldiers preferred familiarity over what they imagined to be the unorthodox. But for those who took the opportunity to explore Afghan cuisine, the majority came away wanting to tell their fellow Americans the same thing about it: just how good it was. "It's amazing," said Carlos, who did two tours in Afghanistan in 2011 and 2013. The Marine radio operator most enjoyed getting to try something new, but was surprised at how relatable he found some of the food: "I was returning to our compound, and outside of our gate a man had a little food stand where he was serving a fully-veiled woman some elote." Elote -- corn with cream, cheese, hot sauce, and lime -- is a common Mexican street food. "I stopped and thought, 'Where the fuck am I?' It was like a scene straight of my hometown in Mexico, except here I am in Kabul in full battle rattle."'
If you're invited to somebody's house and they don't offer you at least a big cup of tea, they're probably going to kill you.
Matt, who did three tours as an embedded military advisor in the north and east of Afghanistan, states it's the cuisine's relatability that makes the food especially easy for Americans to enjoy. "It's not weird food. It's simple, basic: beef, lamb, chicken, rice, bread, and vegetables." For most of the American soldiers with access to it, taking a liking to the food was easy -- and, in many instances, essential.
"In Afghanistan, if you turn down food, that can be offensive." The hospitality is immutable and unflappable, the joke being that if you're invited to somebody's house and they don't offer you at least a big cup of tea, they're probably going to kill you. "Tea," Matt said, "is offered even to your most hated enemy. You are a guest, and you are under that auspice of hospitality." However, once you leave the residence? An attack could be imminent.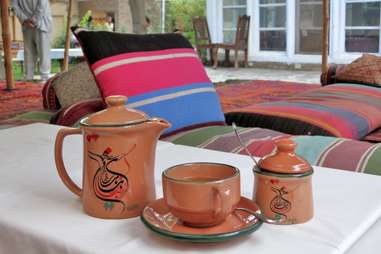 Pashtun culture dictates that you must treat any person in your house as a guest. "These people, they opened their home to us and served us a month's worth of food without even thinking about it," Justin remarked of a particular experience. "And these are some of the poorest people on the face of the planet. It's a very humbling experience to wrap your head around." Also, his life -- and that of many Americans -- depended on accepting that hospitality. "You really can't afford not to be friendly and accept these gestures. If you turn down a food, that's a personal insult to whoever was giving you food. They in turn could either not help you (best case scenario), or they could actually turn against you because they perceive you as rude, an affront to their personal honor. So you really had to tread lightly and do your best to make the best impression you possibly could." When it came down to it, Justin and many of the other Americans ate the food because it tasted good, but they also ate it because they valued their lives.
Americans ate the food because it tasted good, but they also ate it because they valued their lives.
Aref Yousefi has worked to create that same hospitality soldiers found in Afghanistan at Hungry Eyes, his Afghan restaurant in Kent, just south of Seattle -- though with far less risk. "I try to make it seem like Afghanistan in here." Specifically, that means he wants to bring in couches and floor seating to the restaurant he opened in 2014, to fill the room with the scents and sounds, as well as the food, of his country. But it is also about embodying the respect for guests dictated by Afghan culture. Many guests here, as at Kabul in Wallingford, have been to Afghanistan and are looking to remember both the food -- "They like the kebabs," he says of his many military guests -- and the kindness.

Kebabs are central to many of the soldiers' memories of the food. Tom, who was on a transition team embedded with the Afghan National Army, learned from an interpreter that each kebab, which came complete with pieces of meat, fresh bread, and a hot pepper, also came with a piece of fat, the source of the flavor. "You know they took care of you if they gave you that." Much of what set the kebabs in Afghanistan apart was the freshness of the meat: Justin recalls seeing the animals walked out for daily slaughter during his 4am guard shifts. Matt's team hired a local goat- and sheep-herder to keep animals in the hills above them, bringing a fresh one down when they signaled, once or twice a week. Sometimes the American involvement even brought innovation to the local food: Matt's Afghan soldier teammates found, among their equipment, the perfect skewer for their kebabs -- the cleaning rod to their AK-47s.
One thing everyone can agree on about Afghan food in the US is that the bread isn't as good here.
But kebabs weren't necessarily the first dish the men looked for when they sought out Afghan food back on American soil: the one thing everyone can agree on about Afghan food in the US is that the bread isn't as good here. One of Aref's regrets about Hungry Eyes is that he doesn't have enough room to make his own bread in the Kent restaurant. Says Tom, "Everywhere you go, driving around, you see people making bread. And it's better than anything you'll get in America." His team ended up hiring the mother of one their interpreters to bake for them daily, after tasting her incredible leek bread. Matt stated that while everything in Afghanistan is cooked over an open fire, he found that otherwise the food at Kabul -- the Wallingford spot -- is very similar to what he'd eaten overseas, including his favorite dish: shornakhod (which they call a chickpea salad, but is really chickpeas soaked in vinegar and oil, spiced with cilantro and cumin). "It always brings back memories, the tastes alone, the smells, it transports you back." Then, as if on cue, laments that the bread is the exception. He's heard it's a problem with the flour; it's too finely milled here, so the dough doesn't stay together the same way.
But when it comes down to it, the reason the returning soldiers searched for Afghan restaurants didn't have to do with kebabs or bread. Justin took his girlfriend with him for a meal, because she likes to hear his war stories that he doesn't often tell -- except when the food brings the memories rushing back. "It wasn't anything about the actual food," he says of taking her to an Afghan meal "but an emotional response it was eliciting." And if they didn't have a friend to share the meal and the memories with, they found one at the restaurant. "I love to talk to American soldiers when they come in," says Aref. "I talk and talk. I talk too much, about the food, about the culture, about what parts of Afghanistan are like, that the people are nice." Just how nice people are in Afghanistan was one of the resounding themes from the returned service members. As Justin put it: "It's the generosity of the people that really sets the cuisine apart from pretty much anything else I've ever experienced."
Important decisions aren't made by firing bullets at each other or making power plays. It's all about negotiations, and you're doing that over tea.
Matt tells the story of a farmer who lived next to their base, sharing his lunch with him each day. The first time they split a meal, "he brought a roasted goat skull with him that he cracked open, fresh off the fire, and picked the brains out for me. We shared that with some flatbread and this awful curdled milk with salt, pepper, and leeks. I kind of choked that down; it was tough to eat. It wasn't something that I was used to. But he was sharing everything that he was eating for lunch with me. It was important to eat the food."
Eating food together and sharing a meal is the way business got done in Afghanistan. Important decisions, Justin says, "don't get made by firing bullets at each other or making power plays. It's all about negotiations, and you're doing that over tea." To learn how to do that, it seems wise to take advice from an Afghan: "Everybody is a human being," Aref says, "God sent us to taste everything. Go to any part of the world, enjoy and eat your food, be happy."
Sign up here for our daily Seattle email and be the first to get all the food/drink/fun in town.
Naomi Tomky hopes to someday taste Afghan kebabs and bread in Kabul, Afghanistan, but for now is tiding herself over at Kabul, the restaurant. Follow her on Twitter @Gastrognome and Instagram @the_gastrognome.