Last week a cultural icon, an innovator, and a hero died. Sadly, I'm not talking about Bowie (RIP, Starman), but about Dick Spady, the man who opened and ran Dick's Drive-In. The man behind those orange signs, the man behind the burger you shoved in your inebriated maw at 2am, the man who paid fair wages to employees and supported the community since 1954. Spady, it's fair to say, was a downright burger -- and business -- phenomenon.
These days, there are many great burgers around town. Newcomers are often mystified about why the locals are so committed to Dick's -- they aren't the fanciest, nor the most creative, nor the highest quality. They are, however, cheap, fresh, reliable, and always there for you when you need them. That's why any real Seattleite will totally relate to these eight times you needed Dick's -- and it was there for you.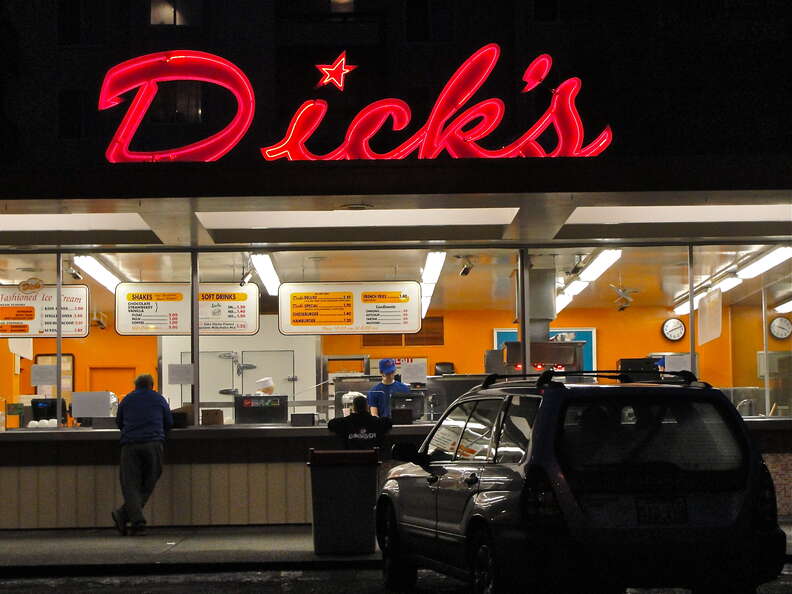 When your allowance was only $1
These days, even a hamburger is $1.40 ($1.45 with ketchup), and a Deluxe is just over $3, but the prices at Dick's have always been a part of the allure: anyone can buy one. In middle school, that meant handing over the crumpled dollar bills we'd saved all week. By high school, it was the change you found between the seat cushions of a friend's car.
When you missed curfew and needed an excuse for where you'd been all night
There are very few places you can claim to have been when you miss curfew that don't get you into more trouble. Dick's was one of those places. You better be sure you smelled like the sweet scent of French fries and brought a cheeseburger peace offering though.
When you needed the coolest job -- and some money too
It was the only way to get those awesome blue-and-orange T-shirts, one of the only jobs that paid high-schoolers well, and a place that earned you money and a whole lot of social status. As Julia Wayne wrote this week on Eater, of working at Dick's, "there was always a sense that we were part of a fun club of people."

When you needed munchies at midnight
When out-of-towners claim they don't understand Dick's, it's up to the locals to explain just what it's like to have grown up in Seattle, where most of the food ceases to be served at 10pm but where the marijuana is fantastic (and now legal) at all hours of the day. What it's like to see that tall orange sign, rising over the horizon, calling to you like White Castle called to Harold and Kumar. Not to mention that you know you'd run into all sorts of crazy people you know -- or were about to know -- in the parking lot.
When your friend from out of town wanted to see a local celebrity
OK, your buddy from California doesn't understand why you're crazy over the burger, but they do want to know if you've ever seen Macklemore. You'll find him -- and other local celebs -- at Dick's, just like you'll find everyone who's anyone in town there, from Sir Mix-a-Lot to Bill Gates.
When you were in the suburbs and you still needed a late night burger
Just because people grew up and had kids and moved to the suburbs doesn't mean they don't still need late night burgers. And after nearly 40 years without a new location, Dick's opened up its sixth spot, in Edmonds in 2011. They say they sell more full meals and fewer simple snacks there, but you know that's just until the late night boom, when the soccer moms and suburb dads sneak out for their 1am fill.

When you needed to make a well-timed Dick's joke
For all the times you want a Dick's in your mouth, when the Bellevue location closed in 1974 and suddenly Bellevue was Dick'sless, when you can't go another night without Dick's, and yeah, you get the picture. Hey, why do they charge for ketchup? Because they're Dick's. When you need to know how many Dick's you can afford, so you go to DicksInMyMouth.com. Nope, they'll never stop being funny. Not to any 12-year-old, not to any stoner, not to any life-long fan of the Dick's Deluxe.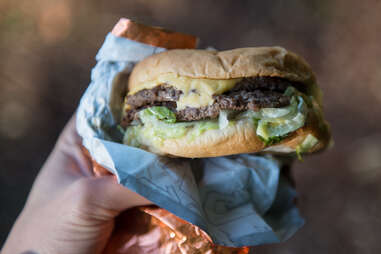 When you needed a burger that would change your life
People who weren't surprised that Dick's won by a landslide in Esquire's "most life-changing burger joint" poll: anybody who grew up in Seattle. People who were: everybody else. Dick's makes great burgers, sure, but also, they literally change lives through scholarship programs, benefits for workers like a 401(k), health care, fair wages, and a litany of other community support programs. That's the kind of meal that truly makes a difference. We'll miss you, Dick Spady.
Sign up here for our daily Seattle email and be the first to get all the food/drink/fun in town.
Naomi Tomky unabashedly loves both Dick's and Dick's jokes. For more tasteless humor and tasty food, follow her on Twitter @Gastrognome and Instagram @the_gastrognome.