Capitol Hill's best burgers... in Ballard!
As Anthony Weiner, and Larry Craig, and David Vitter, and Jon Ensign, and Newt Gingrich, and... um, lot's of other old white dudes have demonstrated, getting off on Capitol Hill is apparently wayyyy easier than getting off of Seattle's Capitol Hill. That's why the guy behind 95 Slide, Alive & Well, etc., opening an outpost of his sweet burger spot, Li'l Woody's, in Ballard is such a big deal... well, that and the fact they're serving up some badass patty'd meats.
Apparently, "What can I get you?" is the second most important question at this counter-service-style beef slinger.
Is it inappropriate to suggest this place has more wood than a Congressman's office? Too late, I already did!
This small, vibrantly colored space has almost as many seating options (banquettes, tables, a counter, the bar, etc.) as it does signature burgers...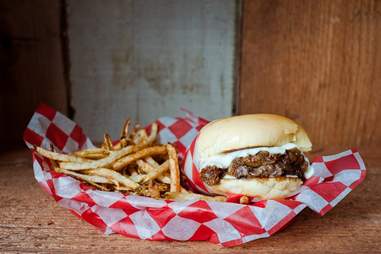 Just kidding! Their menu's way bigger, with weekly specials (a peanut butter burger, etc.), build-your-own-style sandwiches, and signature joints like this horseradish sauce'd caramelized onion/apple/Painted Hills bacon number that's called what no one will call you if you have too many of 'em: The Trotter.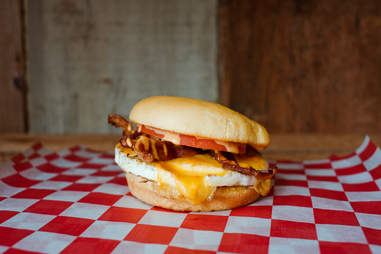 Additional sandwiches range from fried chicken, to this two-egg breakfast beast w/ bacon & Tillamook cheddar, which industry insiders say mostly comes from selling those giant tubs of vanilla ice cream at Costco.
As if that's not enough, you can also have hand-cut fries smothered in queso, or some badass onion rings the same way members of Congress like their relationships: on the side.