Naming a restaurant after yourself can be a risky move in famously humble Seattle, but Bastille's executive chef Jason Stoneburner has totally pulled it off by opening a Ballard Ave spot where his last name also describes what the restaurant's all about -- almost everything's literally cooked on hearths made of... waitforit... stone, though hopefully he's a little less literal about burning things.
Recommended Video
The Definitive Eggnog Recipe You Need for the Holidays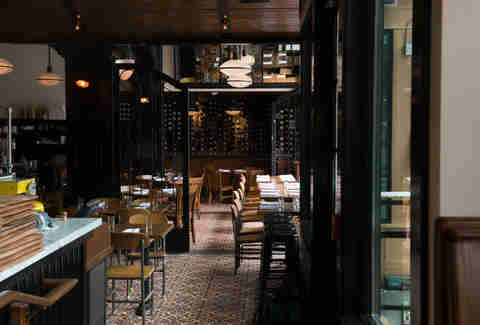 The method of cooking isn't the only thing that's old school; as they've done at Bastille, Poquitos, etc., the crew running SB has filled the space with a shton of reclaimed materials, including a turn-of-the-century pressed tin ceiling from an... um, old school.
Additional touches include hammered-glass factory windows and wood from a decommissioned Italian Embassy in Buenos Aires -- though, sadly, using that fact to try and pick up ladies at the marble-topped bar probably won't improve your chances of initiating domestic relations.
Sitting at the bar's still a good idea though, because, in addition to serving cocktails crafted by the guy who does the drink menus at Bastille and MacLeod's...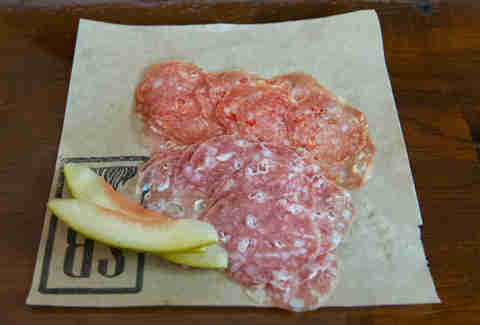 ... the SB crew might just hand you some gratis sliced meat from the nearby charcuterie station.
You'll probably need something more filling, though, so opt for rustic 'za like this fresh mozz/tomato/basil number, or the Spicy Lamb Meatball w/ kale & Provolone, which is not to be confused with a popular support group for non-bigamist wives living outside Salt Lake City.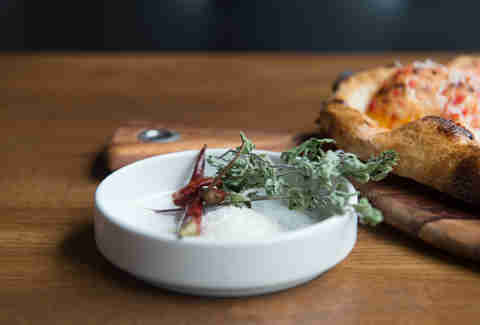 Because it comes with a mound of parmesan, chillies, and house-dried oregano, you'll probably be something of an Outkast if you're not Crumblin' (the) Erb on your pie.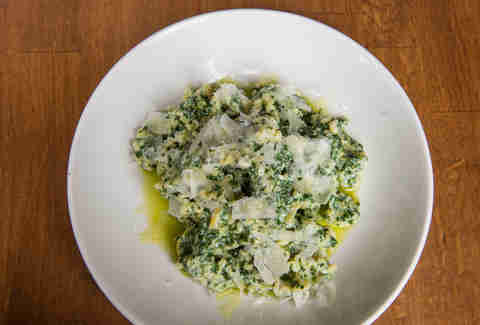 They've also got pasta dishes like the brightly flavored Little Queen w/ spinach pesto, ricotta & preserved lemon, which pretty accurately described Jack even during the Glengarry Glen Ross days.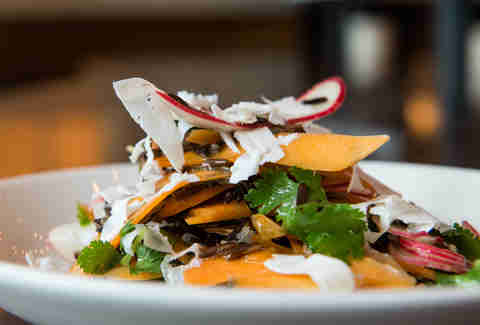 Lighter fare includes a "salata" made with wild rice, carrots, ricotta, and one more kind of radish than you knew existed: two, which is probably also the number of Seattle restaurants named for chefs you can think of. Seriously, try it! And then let us know how you did in the comments.
Previous Venue
Next Venue
Venue Description
1. Stoneburner
5214 Ballard Ave NW, Seattle, WA 98107
Atmosphere is key at this Ballard Ave restaurant with an early-twentieth-century feel off the lobby of Hotel Ballard: Repurposed architectural elements litter the place, including oakwood wall panels salvaged from a former Italian embassy in Buenos Aires and hanging lights from the old New York Times building. A stone hearth fires rustic Italian bistro pizzas by chef Jason Stoneburner, and when you order the Yukon potato and chanterelle mushroom iteration, a waiter whirls fondue over it in front of you. The vegetable small plates are a highlight, with roasted brussels sprouts tossed in honey, soy, walnuts and Szechuan. Even gluten-free diners can sample the pasta in a version of creta di gallo (winter squash, kale, pumpkin seeds, Podda) that won't sour their stomachs. Strong and smart cocktails by Bastille's Erik Carlson like Don't Give Up The Ship (gin, Dubonnet, Curacao, fernet) contribute to the consistent evening crowds (as to be expected from the same team who brought you Bastille, Poquitos and McLeod's).