The rule of three is either a simple mathematical principle that states... um, something to do with math, or some super-secret street food regulation that requires leading food trucks like Marination and Skillet to open two additional bricks & mortar operations. Since the first option involves like, numbers, and Skillet actually is expanding to Ballard, the second answer MUST be true... but really, who cares? You've got a breakdown of Skillet's badass new menu to check out!
Housed in the eco-friendly Greenfire Campus, SDB boasts a huge bar, a sprawling patio, and tons of natural light, so eating there during the daytime is all good... especially if what you're eating is a breakfast consisting of this pork belly & cornmeal waffle topped w/ fried chicken.
Next up is a Honey-Q Caipircumberha w/ cachaça, lime, honey, and English cucumber -- it's an excellent palate cleanser, and the first part of its name is an excellent thing to say if you have to introduce Jessica Alba and John Cleese but can't remember their real names.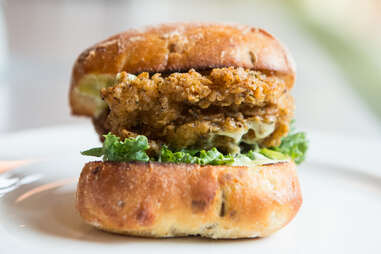 By now, you really should have tried Skillet's bacon jam-topped burger, so instead, opt to pack your stomach with even more poultry, via their fried chicken burger w/ kale, all in between a potato bun.
Do you want fries with that? Duh! Especially since they come with a sauce that's presumably named for how you look stuffing these hand-cut numbers into your face: "Gorgeous".
Now that you've had waffles, a sandwich, AND fries, it's time for entrees, so try the applewood-smoked BBQ shrimp w/ spiced brown butter and charred lemon...
... or some short ribs on grilled polenta w/ goat cheese that obviously beg the question, which cheese is the Greatest Of All Time? Is it Gouda, Cheddar... Method Man? Is this something else, in addition to whatever the EFF the rule of three means, that we don't really care about? Yes!
Finally, sit back with a Contra Manhattan, which is made w/ moonshine, Dolin Blanc, lemon bitters, and is served in a glass washed w/ more bitters (these ones are whiskey barrel-aged), and should probably have its own rule of three: Don't drink that many.