Opened by the crew behind Wallingford's Cantinetta and Bellevue's Mercato Stellina Pizzeria, this compact Madison Valley-boozer is pouring a shton of wines to go with an equal shton amount of playfully simple Italian, which we will now show you how to dominate by the… shton.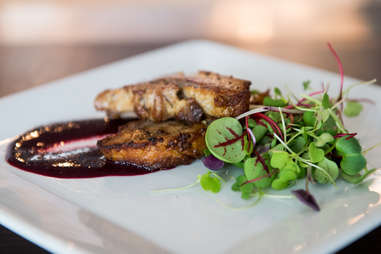 Start with a handful of antipasti items, including this crispy pork belly w/ a vivid huckleberry sauce & micro greens.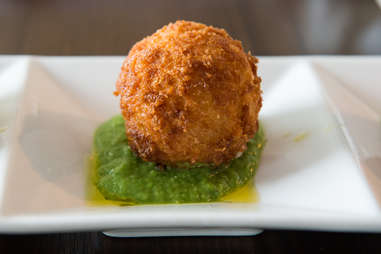 Arancini are freakin' delicious fried balls of ragu coated in breadcrumbs and, in this case, served on a smattering of mushy Summer peas.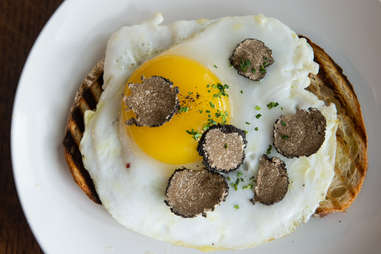 One Quilceda Farm duck egg + Black truffles + Toast = A snack that IS toast... or would be if you'd quit doing math already, and get back to dominating this menu.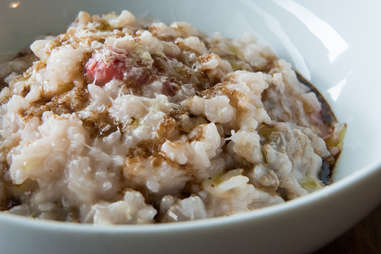 Next up: A highly complex risotto w/ fennel sausage & strawberries, but not Darryl Strawberries 'cause then it'd just be high.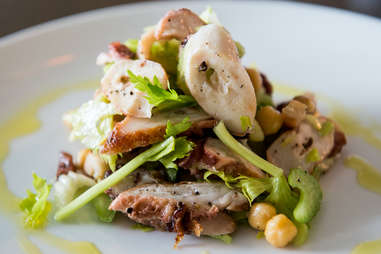 Time to clear your palate with what passes for a salad at BC: Charred octopus w/ garbanzo beans & celery hearts.
The Bistecca alla Tartare from Painted Hills (complete w/ a gorgeous quail egg) is particularly well done, without being... you know, well done. Or cooked at all, really.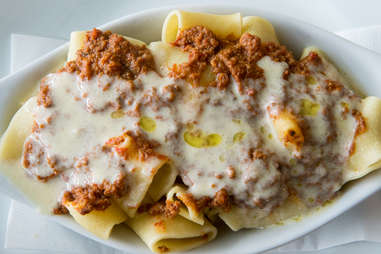 If you're anti-pasta then... um, go back and order some more appetizers(?) 'cause this Bombolotti alla Bolognese with... waitforit!... a shton of melted cheese on top, probably isn't for you.