RIP: 11 shuttered Seattle bars and restaurants that we'll miss
If we were Stormtroopers, then the 11 bars and restaurants on this list would be like pretty much everything we shoot at in the Star Wars movies: we'll miss 'em. Except for that one Jawa Sandcrawler that Obi Wan says we shot up super-efficiently, obviously...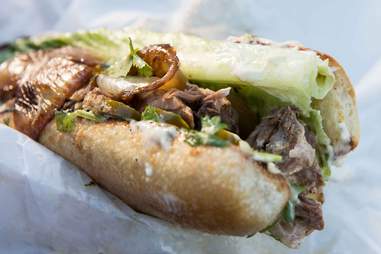 Chona Kasinger
Paseo
Fremont/Ballard
Amidst speculation of unscrupulous business practices, one of America's best sandwich shops shuttered its two locations abruptly in early November. The good news, however, is that the shop will be back "as soon as possible" thanks to the investor behind RockCreek, who bought the business at an auction and plans to keep everything just as it was.
Seastar Restaurant & Raw Bar
Denny Triangle
In early November we caught wind that Seastar would be closing its doors after five years, effective January 3, 2015, but it will be survived by Howie's original Bellevue location.
 
2 Bit Saloon
Ballard
What will we miss most about the bar that started as John's Offshore Tavern in 1947 and later became the Bit Saloon, then finally (after a brief hiatus) the 2 Bit Saloon in 2010? Its decidedly claptrap appearance outside and the quarter pipe they built inside.
The Scarlet Tree
Roosevelt
Long story short: The Scarlet Tree first opened in the '60s in the same location off of Roosevelt that is now occupied by Bengal Tiger. In 2005, the erstwhile music venue/restaurant burned down. It reopened in 2009 just down the block. Fast forward to 2014 and the poorly rated spot just couldn't stay afloat. Wayward Vegan Cafe will be assuming its post before the end of the year.
Dot's Charcuterie and Bistrot
Fremont
It was shocking to hear that this well-regarded Fremont deli would be shuttering after a recent hiatus in lieu of renovations. Even more so for the the staff, who were't made aware of the deli's imminent closing until the day before.
Catfish Corner
Central District
In the wake of this financially troubled 30-year-old CD institution, it's safe to say everyone misses the same thing: the Cajun catfish and hush puppies.
 
Bruno's
Downtown
Oh Bruno Mazarella, we'll miss that for 40 years there was no better named pizza slinger in town, and maybe no one slinging worse pizza.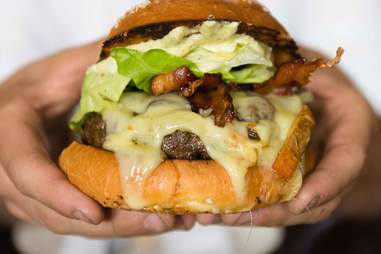 Chona Kasinger
Aragona
Aragona
Downtown
Jason Stratton shuttered his high-profile Spanish spot after only nine months (with a bang too, he offered a $65 five-course tasting menu during the final two weeks) in favor of a new restaurant serving what he knows best, Italian food, in the same beautiful Downtown space.
Piecora's NY Pizza
Capitol Hill
Another sign of the times -- the Piecora's building sold to a developer for a cool $10.29 million, meaning dollar signs for the owners and no more pizza on the corner of 14th and Madison for everyone else.
 
The Hurricane Cafe
Denny Triangle
One of the very few around-the-clock establishments in town, The Hurricane Cafe will be closing for good after New Year's Day… which means if you're still scrambling for a good place to hang on NYE, by all means send this place off in style before it becomes just anther new Amazon building.
 
Sign up here for our daily Seattle email and be the first to get all the food/drink/fun in town.