Its very name, The Barking Frog, evokes this Eastside mainstay's tranquil setting in... ugh, Woodinville. But given the fact that everyone in Seattle rides around on Razor scooters and won't travel further West than, say, 15th Ave on Cap Hill, they did the smart thing and decided to bring their badass NW eats to you via Barking Frog Mobile Kitchen.
The massive commercial truck they've turned into a mobile kitchen will be at events like the Iron Vintner Challenge all summer and is actually a frog's worst nightmare, presuming it's the one from Konami's 1981 classic, Frogger.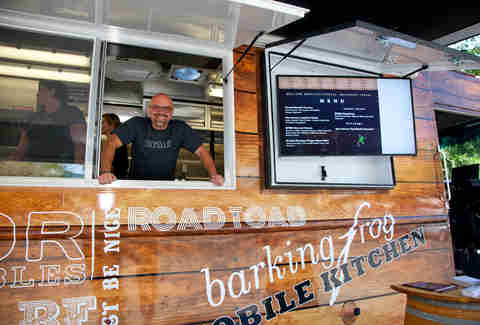 Chef Bobby Moore loves stuffing faces with things like braised boneless Wagyu short ribs, mac and cheese made w/ Beecher's white cheddar Mornay & crispy pancetta, and devil's food cake Ding Dongs w/ whipped white chocolate ganache.
BFMK's signature Grand Marnier prawns start with a great batter, as would a grand Mariner team if only they could... you know, find one.
Once they're fried up, the prawns get covered in a reduction of their namesake spirit and orange juice.
While you're waiting, have 'em pour you a strawberry Thai basil lemonade, which obviously includes one ingredient that could help the Mariners this year, even if he last played 15yrs ago.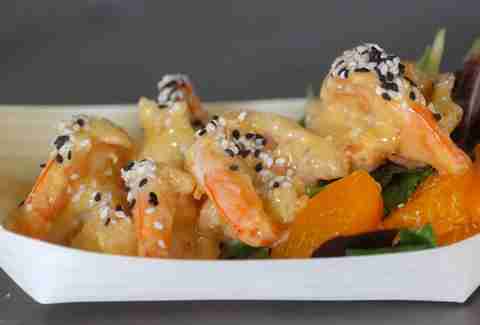 These saucy numbers are then served on a bed of mixed greens w/ lemongrass vinaigrette, but don't let that relatively healthy fact stop you from...
... stuffing your not-at-all-frog-like face with this delicious seafood morsel, even if it's, like, your 15th.