The 7 Best Bacon Dishes in Seattle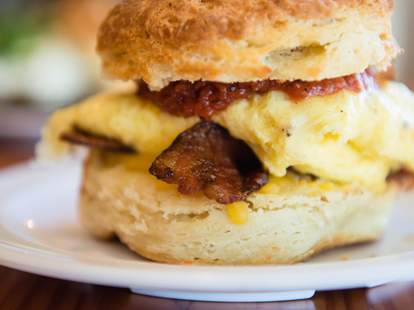 Some people say the "bacon craze" should have jumped the shark a while ago, but those people are 1) idiots, 2) IDIOTS, or 3) IDDDDIOTTTTTTS. Since you're clearly not, though, you get this: the seven best bacon dishes in Seattle. Feast your eyes...
Chona Kasinger/Thrillist
La Bete Burger
Spaghetti Western (address and info)
Capitol Hill
One of the 33 best burgers in America, the LBB is one of the few things that survived La Bete's transformation into a playful cowboy-themed eatery, and the Painted Hills beef is still topped with the Gruyère, grilled onions, remoulade, and of course, bacon.
BRADLEY FOSTER/Thrillist
Beer & Hickory Smoked Bacon Waffle
My Sweet Lil Cakes (address and info)
Capitol Hill
No longer just what that weird guy in your building keeps calling your girlfriend, these hot cakes are made-from-scratch waffles on a stick stuffed with glorious ingredients and served from a bright orange food cart that's famous for it's Red Velvet Buttermilk version. But this article isn't about red velvet cake, is it?! No, so you'd better settle for this one that's made with beer and covered in syrup.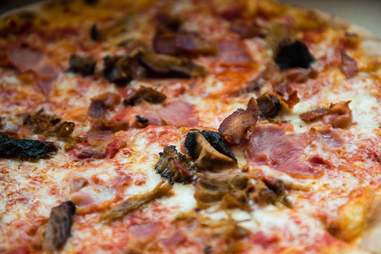 Chona Kasinger/Thrillist
Whole Hog pizza
Humble Pie (address and info)
International District
Just like its name suggests, this pie makes use of the entire hog. From bacon and pulled pork to prosciutto, it's the perfect pizza to... sorry'boutthis!... pig out on.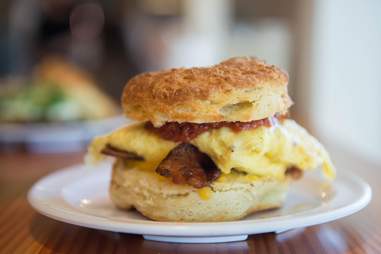 Chona Kasinger/Thrillist
The Fast Break
Morsel (address and info)
University District
Make a fast break for breakfast at Morsel with its Fast Break, which has two hefty slices of bacon, egg, cheddar, and roasted tomato jam. This meaty biscuit can be found at Morsel's location in the U-District or Ballard.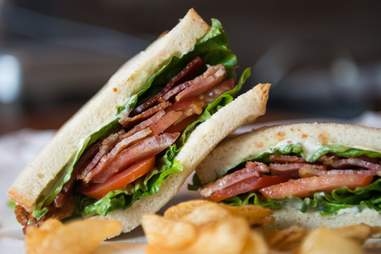 Chona Kasinger/Thrillist
The B.L.F-ingT
Delicatus (address and info)
Pioneer Square
The king of all bacon sandwiches, Delicatus' B.L.F-ingT trumps all other BLTs. Chock-full of the essentials: bacon, leaf lettuce, tomatoes, and mayo on sourdough, Delicatus recommends that you consult your doctor before ordering. Message received!
Early Riser
The Butcher and the Baker (address and info)
Green Lake
The early bird gets the worm, right? The Butcher and the Baker serves brunch on Saturdays and Sundays from 9am-2pm, and on its brunch menu you'll find this hearty meal complete with two eggs, winter vegetable hash, fresh fruit, and your choice of bacon or ham.
 
Devils on Horseback
The Gerald (address and info)
Ballard
A super-savory treat that never fails to hit the spot: Asiago-stuffed dates wrapped in bacon. If you don't think you need this in your life, then you don't know what you want. This famously jam-packed appetizer will leave you feeling devilishly satisfied.
Sign up here for our daily Seattle email and be the first to get all the food/drink/fun in town.