Sure, we've already told you about the 19 things Seattle is better at than anywhere else... but one thing that's not on that list is free, or even affordable, stuff (unless you're talking about Mariners tickets, obviously). That's why we've tracked down the seven best complimentary bar eats in the city. Feast your eyes...
Chicken wings, onion rings & more...
Oliver's Lounge (address and info)
Downtown
The swanky Oliver's Lounge, located in the historic Mayflower Park Hotel, offers free munchies like the ones above, but during happy hour they roll out platters of complimentary crudités, cheeses, salamis, and fruits, plus a rotating selection of traditional bar eats like pot stickers, chicken wings, sausages, onion rings, and deep-fried prawns.
Cheese puffs
Speckled & Drake (address and info)
Capitol Hill
Get those napkins ready because you're going to need them lest the snacks here turn your fingers and face a disturbingly unrealistic shade of orange.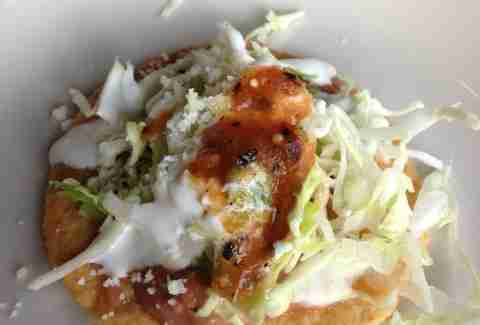 Tostada appetizer
Fogón Cocina Mexicana (address and info)
Capitol Hill
This Mextaurant has made a success of the former Kiki (and Kurrent) space -- which has been called everything from "kursed" and "krazy" to things that don't start with Ks -- by serving badass South-of-the-border eats and giving away one free tostada appetizer (w/ refried beans, Cotija cheese & crema) to every diner.
Pretzels... and dog treats
Fremont Brewing (address and info)
Fremont
With all these beers on tap, you're going to need something to keep you going. Luckily, Fremont Brewing offers complimentary pretzels with their potent draughts, and because their taproom is dog-friendly, they also offer the canine equivalent to pretzels.
Lentil soup
Main St. Gyros (address and info)
Pioneer Square
If you dine in at this Pioneer Square joint, they'll dish up complimentary lentil soup to warm you up before heading on your way.
Popcorn
Radiator Whiskey (address and info)
Downtown
This cozy whiskey joint in the heart of Pike Place Market serves warm, salty popcorn to its patrons, which they can munch on 'til their heart's content while enjoying a super-picturesque view of the Showgirls across the street, where nothing is free, hence the reason you can't afford anything besides the popcorn.
Goldfish
Rob Roy (address and info)
Belltown
During happy hour, which falls from 4-7pm, this classy Belltown spot makes $6 cocktails like its Gunpowder Punch and Huntsman AND throws in complimentary Goldfish, which doesn't sound all that great until you realize said Goldfish cost two bucks (!) the rest of the time.
Sign up here for our daily Seattle email and be the first to get all the food/drink/fun in town.