Unlike Memphis, Austin, or Kansas City, Seattle is a seafood town. So it isn't surprising that, for years, it seemed like the only place to find BBQ, America's most famous contribution to the culinary tradition, was some hole-in-the-wall spot like Pecos or... uh, Hole in the Wall BBQ. Not anymore. In the last few years, an abundance of seriously good meat-slingers have opened across the city, meaning you can finally get great Kansas- or Texas-style 'cue without actually going to those states (or to some former gas station in SoDo). Unless you want to, 'cause Pecos is still on our list of Seattle's best BBQ joints.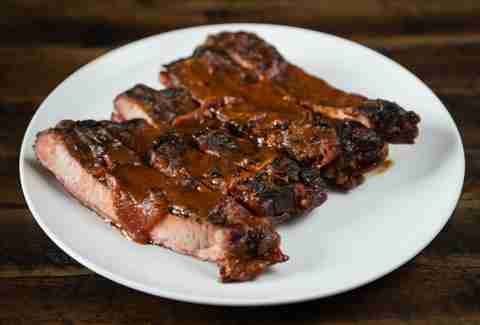 Central District
Open from noon-7pm, this small Central District hole in the wall is run by a formidable man named Pookey. And Pookey's been known to stock his smoker with fallen branches collected from the streets of the CD. Trust Pookey. From beef brisket and succulent pork ribs to sweet potato pie, lunch is well worth the wait here.
SoDo
This lunch-only spot regularly draws long lines to its service window, from which it serves up incredibly messy brisket, pork, or chicken sandwiches, and not much else. The vivid red smoke ring on the brisket has been known to make novices think it's raw. But don't worry -- when the meat is this good, you don't need much else... except, maybe, a hot link... or a few sides, like smoked potatoes, or BBQ beans, which you can enjoy at the handful of tables scattered outside (if there's room).
Ballard
Nestled in Ballard, this authentic BBQ joint boasts a robust menu of Texas-inspired eats, like boneless fried chicken and fried bologna, plus BBQ plates that are "piled high," and both half and full slabs of signature ribs. It also has a wide array of trademark sauces inspired by Southern states, with names like Kansas, Alabama, and... um, roasted habanero.
South Lake Union
This small, cozy spot in South Lake Union is a vegetarian's worst nightmare, thanks to its seriously mouth-watering selection of smoked meats (including pork ribs, pulled pork/chicken, pastrami, brisket, etc.), 11 different kinds of sliders, and much more. It also boasts a sizable whiskey and vodka selection, and has a happy hour from 3-6pm with $3 sliders, drafts, and wells.
SoDo
With all the fixings, from buttermilk hush puppies to Frito pie, this Central Texas-inspired BBQ joint serves its meat with your choice of sides, plus bread, pickles, jalapeños, and BBQ sauce (if you ask for it). Note that Jack's is closed on Sunday and Monday, though all the others days are fair game.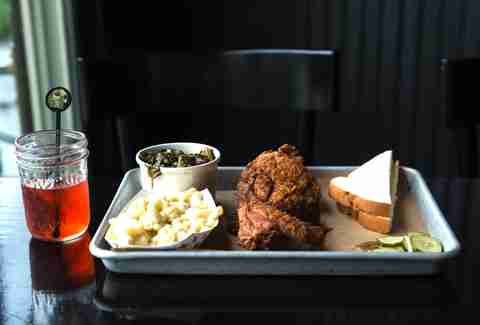 Ballard
Helmed by a North Carolina native who brought his killer fried chicken recipe when he moved to the Northwest (it involves a marinade of lemon, thyme, cayenne, and garlic), B&B is the place to go for slow-smoked pork shoulder, brisket, house-made andouille sausage, and smoked pork belly bacon. It's also one of Seattle's best whiskey bars, so don't skip out on one of its fine bourbons -- served in a miniature Mason jar, of course.
Ballard
Presumably not named for what you'd have to call everyone else in The Roots after years of Questlove getting all the attention, this exposed-brick and aged wood-decorated spot boasts a custom smoker that's putting out serious 'cue. Like what? Try the house-cured and -smoked pork belly, ribs, a smoked pork shank, or a platter packed with a half chicken, brisket, baby back ribs, pulled pork, and three sides, called the "Cowboy Killer." Oh, and don't forget the bar in back, which is pouring American whiskeys, bourbon, and craft brews.
Fremont
Owned by Nate Rezak -- the same guy behind 9 Million In Unmarked Bills, who's also a serious Seattle BBQ vet -- this Fremont BBQ "shack" is winsomely and exuberantly decorated to evoke a kind of cartoonish Southern charm. But you probably won't notice any of that when you smell the meat that's been smoking for up to 16 hours on green alder, or taste the chicken brined for three days, then wrapped in caul fat before it's cooked, or spread the smoked bone marrow on a piece of bread, or... oh, you get the idea.
Pioneer Square
It's technically not a hole in the wall; just a small shop next to an alley. And since 1989, a father and son have been serving up slow-cooked 'cue (the meats are smoked for 16 hours with oak and fruit woods) that's so good, it's won them a state BBQ championship twice. But come lunchtime, when it's packed with workers from all the nearby office towers, it sure feels like... well, whatever's smaller than a hole in the wall.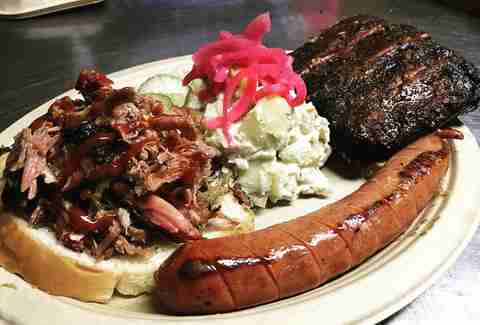 Multiple locations
Managed by a pair of dudes (one of whom owns the venerable Hallava Falafel food truck) who are steeped in the BBQ traditions of Kansas and Texas, this mobile meat operation serves a wide array of sandwiches (like the Texas chicken, made with a peppery chopped thigh, or the hickory-smoked pulled pork, served on brioche with buttermilk slaw) and large plates, highlighted by the Woody, which is really just a heaping bowl of smoked jalapeño mac & cheese topped with meat.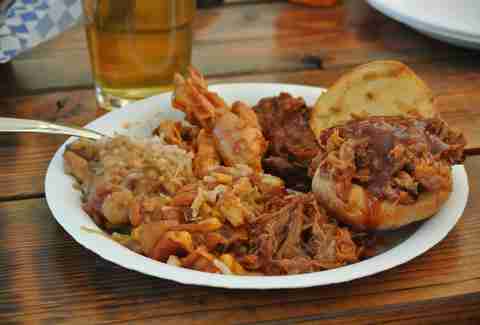 Lake City
Bringing barbecue with a touch of Louisiana to the far northeast corner of the city, this new-ish roadside meatery is outfitted with a smoker that cranks out 120 racks of ribs at a time... or would, if it weren't also being used to make house sausage "hammers," brisket, pork, etc. by the pound. Some of the latter is put on buns to make eight different kinds of "sandys," including the jalapeño-cheddar sausage-based Iron Horse, and the Rock Dawg with chopped brisket. And whatever you do, don't sleep on the "side pieces," including gumbo, hush puppies, and more.
Sign up here for our daily Seattle email and be the first to get all the food/drink/fun in town.
Bradley Foster is a former Thrillist editor who still misses the BBQ at Pinky's Kitchen, but can practically smell the meat smoking at Two Shoe BBQ from his house, so he's getting over it.