The 8 Best Breakfast Spots in Seattle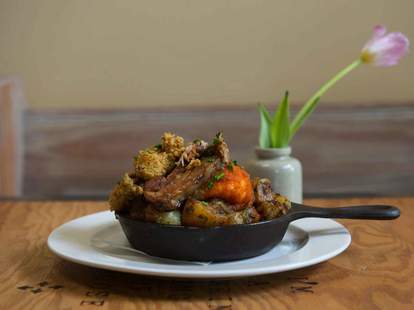 Know what's better than digging into a great brunch? Digging into said brunch on, like, a Tuesday... aka having breakfast, which is why we rounded up Seattle's eight best places to score AM eats. Every. Single. Day. Feast your eyes: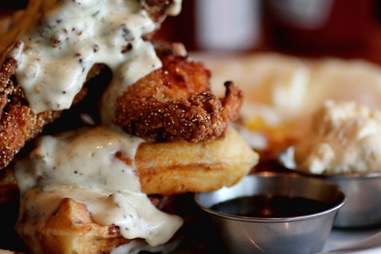 Bradley Foster/Thrillist
Wallingford
What you're getting: Chicken & waffles
This badass beer bar in sleepy Tangletown serves all-day breakfast from 10am-4pm every day, with highlights including Fried Chicken & Waffles with three pieces of boneless fried fowl on top of a bacon waffle with country gravy & bourbon maple syrup; a Biscuit Benedict with your choice of two eggs (any style) and meats like applewood ham from a "single muscle," two words that'll be preceded by "you don't have a" if you eat too many of said b-fasts.
Belltown
What you're getting: The Mess
This dive-y 24/7 spot is Tom Morello's least favorite Seattle bar, but it may be our favorite, not only because of its motto ("alcoholics serving alcoholics since 1929"), but also because it's serving solid breakfast foods all day, and if you actually get there between 6-9 in the morning they (rather subversively) serve bacon pancakes and quick-fried mini donuts, plus cheap wells and $2 drafts during the morning happy hour.
Fremont
What you're getting: The 2x2
From East Coast breakfast specials to pretty much every kind of bagel and beyond, this old-school Jewish deli-style spot is failsafe for breakfast -- there're even $2 mimosas! We recommend the 2x2 Breakfast, which gets you a little bit of everything: your choice of two pancakes or slices of French toast, two eggs any style, two slices of bacon, and two links of sausage for $10.95.
Madrona
What you're getting: Mexi-fries
The Hi-Spot Cafe in Madrona serves breakfast daily from 8am-2:30pm. You can't go wrong at this quaint spot with the Mexi-fries, which are potatoes with sautéed onions, carrots, bell peppers, zucchini, mushrooms, tomatoes, olives, and green chiles with three-cheese sour cream and salsa -- basically, everything.
Chona Kasinger/Thrillist
Various locations
What you're getting: Something from the Breakfast Bar
With three locations in Roosevelt, Ballard, and South Lake Union, it's never hard to "eat like you give a damn." We love the pancakes because they gets you unlimited access to the fully stocked berry bar, but we can also recommend pretty much everything else on the menu. Roosevelt and South Lake Union serve breakfast from 7:30am-11:30am Monday through Friday, but Ballard serves it all day.
Columbia City
What you're getting: Geraldine's Casserole
Deep in Columbia City, Geraldine's Counter serves breakfast all day. This spot's hearty fare includes Chicken Fried Steak & Eggs and Geraldine's Casserole, which has hash browns, sausage, pepper jack, cheddar, eggs, cream, and pico de gallo. Geraldine's Counter has received countless accolades from local media, so rest assured, you're in good hands here.
Queen Anne
What you're getting: French Toast
Way up the hill in Queen Anne is a breakfast spot well-worth the hike (or gas). The 5 Spot serves its New Orleans breakfast menu from 8:30am-3pm and includes delectables like its Bananas Foster Bread Pudding French Toast (pecan and raisin studded bread pudding dipped in cinnamon and custard) and Treme Tumble (roasted yams and potatoes sautéed with collard greens, andouille sausage, house-cured tasso, bell peppers & onions).
Chona Kasinger/Thrillist
Capitol Hill
What you're getting: The Hangtown Fry
From the heaping bowl of awesome called Hangtown Fry (fried oysters, pork belly, poached eggs, etc.), to biscuits covered in warm gravy, The Wandering Goose is your Southern-style breakfast go-to. Find the naturally lit space off 15th in North Capitol Hill and be sure to try the Old Dominican hangover helper (a daily squeeze crafted at the chef's whim) if it's that kind of day. Or any kind, really.
Sign up here for our daily Seattle email and be the first to get all the food/drink/fun in town.