There are few things better than a lazy Sunday morning… one thing, however, is a lazy Sunday morning spent with chicken & waffles. Or sandwiches smothered in bacon jam. Or crab-stuffed beignets. Or really anything on the menus at the 12 places we listed below. Prepare your stomach for Seattle's best brunches.
Recommended Video
You Probably Haven't Heard of America's Best Fried Chicken Chain
​Capitol Hill
Helmed by a chef who spent the better part of the last decade in Paris and Shanghai before returning stateside and settling in Seattle, this still-buzzed-about Asian-inspired spot is the only place in the city to get crazy brunchables like pho-braised beef potstickers, Hong Kong-style charcoal waffles, and open-faced golden-brown omelets with Gruyere and potato "crunchies."
Capitol Hill
This not-so-nue (thank you, thank you) destination for international street food isn't messing around when it comes to morning-appropriate plates from around the globe -- we're talking thin yeast pancakes stuffed with Dutch pepper bacon from the Netherlands; Flemish-style French fries from not France, presumably; and a linguica, roast beef, and ham sandwich from Portugal.
Central District
Opened a couple years ago by the guy behind one of Seattle's best burger spots (hint: it's Li'l Woody's), Fat's wasn't happy selling its eponymous chicken & waffles for lunch and dinner so it quickly started serving 'em Saturday and Sunday mornings too, along with a can't-miss biscuit sandwich with fried chicken breast, a fried egg, bacon & gravy. It's also got a delicious eggs Benedict with fried green tomato, a pimento cheese BLT, and so much more.
Ravenna
Housed beneath a nondescript apartment block on the northern edge of Ravenna, this bright and airy restaurant is serving up an array of accolade-heavy dishes that combine the chef's Southern background with the farm-to-table principles he learned at Bar Sajor and in his training as an Italian salumist. Expect plates like pork belly with Parmesan brodo, a poached egg & salsa verde; a chorizo sandwich with scrambled eggs & hollandaise; and beignets with apple butter.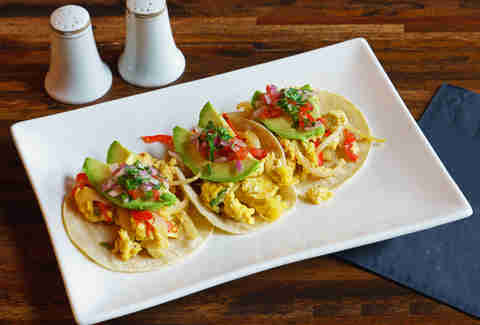 Belltown
One word: frunch. It's a portmanteau that doesn't stop at combining "breakfast" and "lunch" but instead adds "Friday" too… yes, that's right, this Belltown gastropub doesn't wait for the weekend to start serving chicken & waffles with bourbon maple syrup; breakfast sandwiches with bacon jam, a fried egg, caramelized onions, smoked Gouda & more; or bananas Foster French toast with a maple caramel sauce.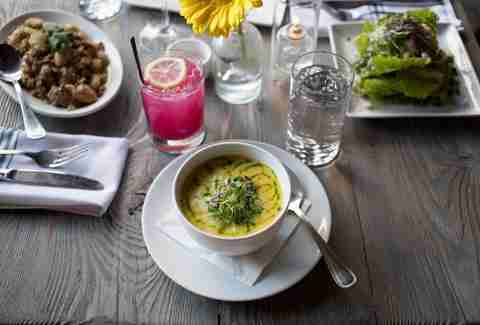 Capitol Hill
A seriously underrated spot, this Mexican-inspired bar from the crew behind Cantinetta recently started serving classic brunch eats on the weekends (huevos rancheros with tomato-jalapeno salsa; migas with scrambled egg, fried tortilla, crema fresca & pico de gallo; etc.) that, just like the regular soft taco-heavy menu, really shouldn't be passed over.
Fremont
One of the best new restaurants in the country according to GQ's 2017 list, Tarsan I Jane sits in a barn-like space next to one of Ethan Stowell's pizza joints, Frelard. It seems like an odd place for refined, locally sourced Spanish-style food that's chosen for you by the chef, but you'll forget all about that by the time your five-course, prix fixe brunch -- which ends with a huge pan of what is probably Seattle's best paella -- is over.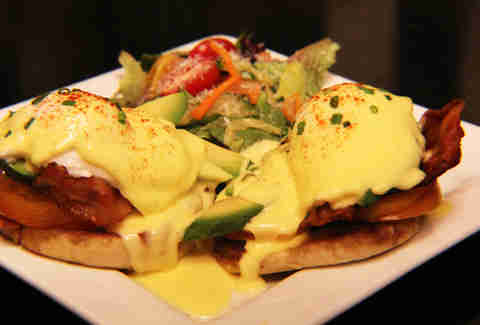 Downtown
The Can Can is now opening the doors to its sultry subterranean lair for matinee burlesque performances that, while "family-friendly," are still pretty steamy. They also come with an amazing brunch menu, featuring dishes like crab beignets, Dungeness Benedicts, and bottomless mimosas -- which are never a bad idea. Especially on date night… or, date day, which is why it also made our list of Seattle's best date ideas.
Tangletown
Though some of Coughlin's lesser-known laws -- like only play basketball with Tom Cruise -- are pretty hard to follow, the guy behind this sparse, wood-heavy beer bar had no problem taking the maxim "beer is for breakfast" to heart by pairing tons of craft options with an all-day breakfast menu. A classic Dutch baby with powdered sugar & lemon, chicken & waffles with sausage gravy, and a 7oz chicken-fried rib-eye and eggs all make this spot a perfect brunch destination.
Capitol Hill
This Melrose Market mainstay still boasts one of Seattle's best rooftop patios -- a sprawling, trestle-topped triangle surrounded by an edible garden overlooking a bustling Pike/Pine intersection -- and has some seriously amazing stuff to eat, like shrimp & grits with Parmigiano, poblano, chili flakes, and smoked tasso ham; a mouthwatering buffalo burger; biscuits & gravy with chorizo; and more, so it still gets on our list.
Capitol Hill
Recently opened in the old Kingfish Cafe spot on the backside of Capitol Hill by the guy behind Fremont's excellent Vendemmia, Contadino (which is actually two places -- an Italian restaurant and a separate pizza joint) offers a brunch highlighted by crispy pancakes with ricotta, a pork belly & egg sandwich, and some gnocchi with braised rabbit -- which would probably sound suspiciously like dinner if it wasn't made with semolina and didn't come with a poached egg.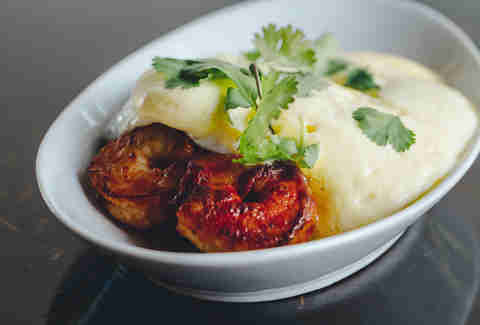 Ballard
Opened three years ago in the old Le Gourmand spot, B&H boasts a laminated coin floor made with thousands of pennies... which is probably what you're about to spend on next-level bites like "ramen" loco moco with house-made noodles, sausage, pork gravy & a sunny-side-up egg; buttermilk-fried quail and mascarpone grits; and hot-puffed black rice with mango and coconut milk.
Sign up here for our daily Seattle email and be the first to get all the food/drink/fun in town.