Thanks to the fact that Seattle's the fifth most congested city in America, and thanks to these 10 drivers, you spend so much time stuck in traffic that we wouldn't blame you for moving to, like, Mt. Vernon. Haha... just kidding, we'd totally blame you! What we wouldn't blame you for is wanting to stay close to home once the weekend rolls around. To help make that easier, we picked the best brunch spot in 13 different Seattle 'hoods...
Tangletown
The Burgundian Tavern (address and info)
Burgundian serves brunch on Saturdays and Sundays from 10am-4pm, which gives you a six hour time frame on each day to get your paws on the sublime brûléed oranges, Croque Madames, papas con chorizo, and fried chicken with malt waffle, apple butter, sausage gravy, and bourbon maple syrup.
Fremont
Restaurant Roux (address and info)
For a righteous Creole breakfast with restorative properties, look no further than Restaurant Roux's brunch, which is served Saturday and Sunday from 9am-2pm. Highlights, both sweet and savory, include the (in)famous beignets and a dish called The Cure, which has two eggs, Creole fries, your choice of meat, grits, and grilled bread.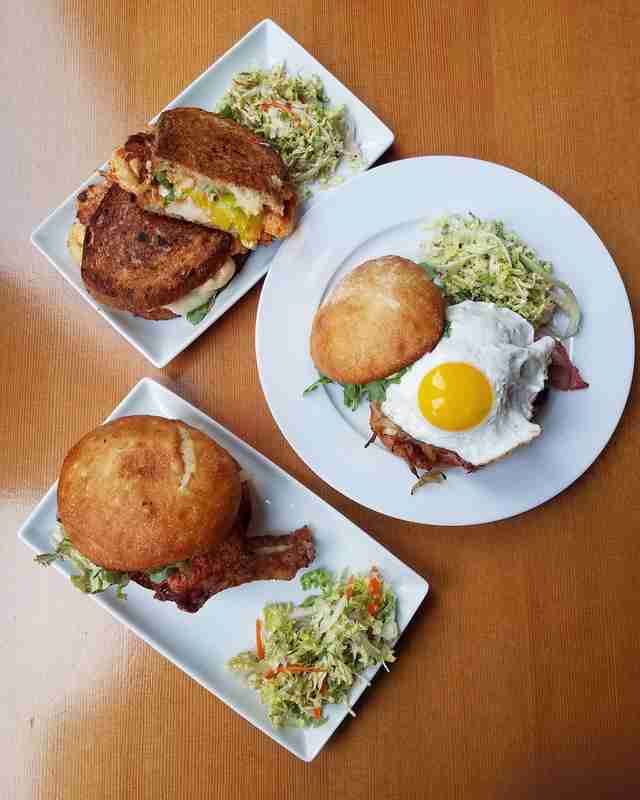 Ballard
Porkchop & Co. (address and info)
On the weekend, Porkchop & Co. purveys exotic twists on breakfast like shakshouka or kimchi hash, which has kimchi (duh), potatoes, and cauliflowers. Add a buck for a fried egg or chorizo for two and you'll be set until dinner.
Capitol Hill
The Wandering Goose (address and info)
You need something fried, and you need it fast. We get it. Opt for the Hangtown Fry at The Wandering Goose, served hot off the skillet. This is as close as it gets to visiting your Grandma's house in the country come summer. Hours here are 7am-4pm every day, so don't worry about waking before noon for this brunch.
Georgetown
Brass Tacks (address and info)
Georgetown's Brass Tacks does brunch on Saturday from 11am-3pm and Sunday from 10am-3pm. Seasonal items on the menu at this rustic restaurant include the Kentucky Hot Brown (brioche, bacon, roasted turkey, tomato, mornay, and a fried egg) and the Pork Flank Steak & Eggs with breakfast potatoes, pan roasted pork flank steak, and two eggs.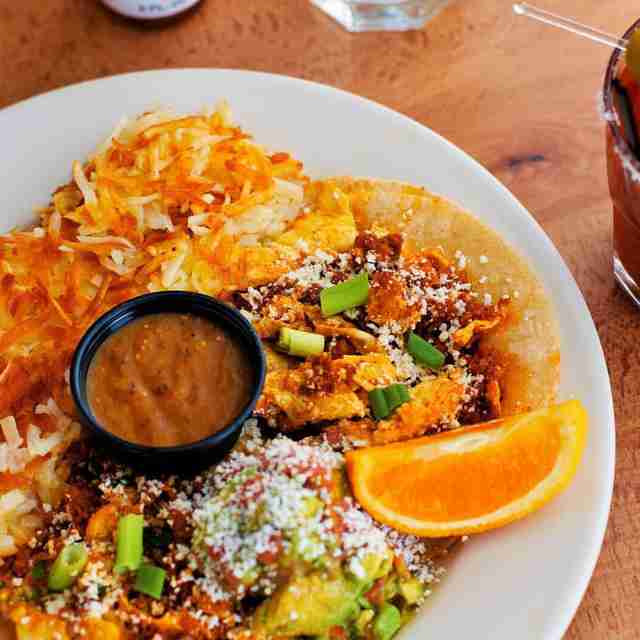 Downtown
Lowell's Restaurant (address and info)
Tried and true, this Pike Place Market establishment might be a winner if you don't mind slugging through the crowd on a Saturday morning. From breakfast tacos to an exciting take on an omelet that boasts Dungeness crab and has been deemed "world famous," it's well worth the effort getting there.
Pioneer Square
London Plane (address and info)
Served on the weekend from 9am-3pm, London Plane's offerings are light and fresh, very much like its atmosphere. From baked goods galore to the mustard rubbed pork shoulder with creamed nettles and poached egg, this beautiful space is the perfect spot to perk up on a Sunday.
Phinney Ridge
The Fat Hen (address and info)
So maybe it's technically in Ballard, but it's worth heading down the hill for the glorious offerings at this itty bitty neighborhood cafe. We recommend the Wild Alaskan Smoked Salmon Benedict to really get your weekend brunch going.
Belltown
Local 360 (address and info)
This behemoth spot in Belltown serves brunch on the weekends from 9am-3pm. You'd be remiss if you didn't order the fried chicken & waffles with maple pepper jelly or the corned beef hash, which comes with poached eggs and a fluffy biscuit.
Columbia City
​Geraldine's Counter (address and info)
From 8am-3pm, Geraldine's Counter in Columbia City serves hearty brunch fare like its signature casserole, which has hash browns, sausage, pepper jack, cheddar, eggs, and layered cream, or rep the PNW with its Emerald Scrambled Eggs, which have pork sausage, hash browns, spinach, sweet bell peppers, onions, eggs, and pepper jack cheese.
Queen Anne
5 Spot (address and info)
You're going to need something filling after shlepping up the hill, so try out the Pecan and raisin studded bread pudding dipped in cinnamon custard or the red flannel hash, a New England standard that features corned beef, potatoes, and beets with two poached eggs.
U-District
Portage Bay Cafe (address and info)
Brunch at the location off Roosevelt in the U-District runs from 7:30am-2:30pm. One of the house favorites at Portage Bay is the migas, which has three eggs scrambled with chipotle and cumin, two kinds of Tillamook cheese, fresh basil, homemade salsa, and sour cream all folded into a large flour tortilla.
Madrona
St. Clouds (address and info)
This homey Madrona spot serves brunch on the weekend from 9am-2pm. Specials here include St. Clouds Eggs Benedict and the Not-So-Standard Imperial Mix Up, which touts rice, scallions, eggs, ginger, and Portuguese sausage.
Sign up here for our daily Seattle email and be the first to get all the food/drink/fun in town.