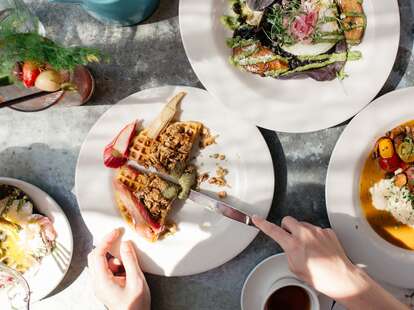 Serious question: Is it really the weekend if you don't treat yourself by way of brunch? Probably not, and if you're waking up before 10 am on a Sunday with nowhere to be, you're doing it wrong. Brunch is a sacred event, and there's a certain ceremony to it; you must commence long after regular breakfast hours are over, you will probably arrive slightly hungover, and all the better if you are surrounded by friends with whom you can recall whatever it was you got up to the night before.
With that in mind, we've compiled a list of what are, in our not-so-humble opinion, the best brunch spots in Seattle. We're talking mimosas, French fries, chicken and waffles, Huevos Rancheros, bottomless diner coffee, and practically everything else you could wish for between the hours of 11 am - 3 pm. Importantly, some of these restaurants and cafes have opened for dine-in, while others have not—so make sure to call ahead before you go, just in case. Without further ado, here are the eateries serving up the tastiest brunch in the city:
Opened a few years ago by the guy behind Li'l Woody's (one of Seattle's best burger spots), Fat's wasn't happy selling its eponymous chicken & waffles soley for lunch and dinner, so it quickly started serving them on Saturday and Sunday mornings too, along with a can't miss biscuit sandwich with fried chicken breast, a fried egg, and bacon & gravy. They've also got a delicious egg Benedict with fried green tomato, a pimento cheese BLT, and so much more.
How to order: Use Uber Eats or Postmates for delivery, or simply order takeout and pick it up yourself
This not-so-nue destination for international street food isn't messing around when it comes to morning-appropriate plates from around the globe—we're talking thin yeast pancakes stuffed with Dutch pepper bacon from the Netherlands; Flemish-style French fries; and a linguica, roast beef, and ham sandwich from Portugal. Oh, and if you're trying to switch things up in your own kitchen, try Nue at Home, which offers cocktail kits, grills to go, and shippable meals.
How to order: Click here for pickup or use DoorDash, Caviar, Grubhub, or Uber Eats for delivery
Seattle's most famous meat-free restaurant serves everything from dinner (corn tortillas filled with cheesy mashed potatoes, a Portobello Wellington with madeira wine sauce, plus a selection of pizzas, sandwiches & salads) to brunch, for which you can down buttermilk banana pancakes, biscuits & gravy, and more. Keep in mind that while Cafe Flora's dine-in service has returned, only the outdoor tent and indoor atrium are currently available, and all tables are first come, first serve.
How to order: If you're not dining in, click here for takeout, or order delivery via Caviar
Helmed by a former vegetarian making up for 15 years of meat-free eating, this mostly breakfast/lunch spot offers a handful of AM appropriate burritos like The Thomas with scrambled eggs, pork belly, and Mama Lil's peppers; a slew of signature sandwiches (try the Apple Melt with two kinds of cheese, caramelized onion, and apple); pantry items like bagels and lox; and brunch items like the Dad's Breakfast, which is just two eggs any style, plus their excellent house bacon and potatoes.
How to order: Reserve a dine-in table here; alternatively, visit ChowNow for pickup or delivery
Boasting four locations across the city these breakfast specialists have your brunch needs covered, highlighted by more than a half dozen Benedicts made with everything from smoked salmon to braised pork shoulder, as well as a diverse range of other "favorites" including biscuits topped with a local, foraged mushroom gravy, and a dungeness crab grilled cheese with gouda & spinach pesto, but the best option is probably something from their breakfast Bar, which is basically just a bunch of different kinds of pancakes, French toast, and waffles.
How to Order: Call 206.462.6400 for pickup and GrubHub for delivery
Also boasting locations in Everett and Mill Creek, this family-run Mexican mini-chain serves an impressive array of authentic South of the Border-style dishes made with ingredients—including hand-pressed tortillas—produced almost entirely in-house, like Huevos Rancheros smothered in red salsa & jack cheese, and chile poblano stuffed with scrambled eggs and cheese. La Palmera is the kind of place that is so welcoming, it will quickly become your home away from home—especially once you get acquainted with the all day, everyday happy hour.
How to order: Dine-in any day of the week, or try pickup or delivery
Opened two years ago by a team of local industry vets, D & E (which stands for drink & eats) is just as focused on cocktails as it is on food, so come hungry and ready to drink. We'd recommend the fried chicken and waffles with maple butter, vegetable quiche, or carnitas breakfast tacos to start. If you're dining in, keep in mind that D & E doesn't have a covered patio or heaters, so dress appropriately (unless, of course, you get seated inside, which is also an option, albeit limited).
How to order: If you're not dining in, click here for pickup and use Caviar for delivery
What started as a weekend enterprise slinging biscuits at farmers markets, HB is now a fixture in Pike Place Market thanks to their flakey, buttery signature offerings which come in a variety of ways, including a fried chicken biscuit sandwich with mayo and pickles from Seattle Pickle Company, Southern-style biscuits & gravy, and breakfast biscuits topped with eggs, Beacher's Flagship Cheese, and the most important part of any brunch, bacon.
How to order: Click here for pickup or use Grubhub for delivery.

Admittedly half the fun of eating at this venerable diner by the West Seattle Bridge is the riotous '50s-inspired interior, but the menu is also pretty fun too, with highlights like the Elvis Waffle that comes with peanut butter, banana, and two slices of bacon, or the S.O.S, which is French bread topped with roast beef and then covered in sausage gravy. They also offer 15 or so omelette all of which can be had in a "Pile" which takes all the same ingredients and mixes 'em with hashbrowns.
How to order: Visit in-person for limited indoor seating, call 206-935-7250 for pickup, or use Caviar for delivery
Posted up in the former Roux, former Buckaroo Tavern space made famous in 10 Things I Hate About You, this casual French Bistro is offering an extensive brunch menu featuring bread pudding French toast with candied pecans and maple syrup, a pork belly breakfast sandwich, and Le Coin's World Famous Apple Fritters with pear butter. You can make reservations for dine-in here; indoor and outdoor tables (which are heated and covered) are now available.
How to order: If you're not dining in, call 206-708-7207 for pickup