When it comes to a Sunday checklist, there's nothing more satisfying than ticking off a booze-filled brunch. Unless you have Monday off... in which case, Sunday is technically your Saturday and you've made really fantastic life choices. Anyways, brunch. Everyone's favorite meal. We've scoured Seattle for the latest and greatest options to keep your eggs runny, your bacon crisp, and your mimosas overflowing (figuratively, of course).
Pioneer Square
This former pop-up turned Pioneer Square hotspot just got a new Sunday-only brunch full of quirky, Asian-inspired eats including pork, duck, or shrimp Pinch Buns; a range of their signature congees; and "Spapple" fried rice, that features both Spam and apple... hence the name. Oh, and also they've got drinks like the Morning After Meds, which is really just a tall can of Rainier and a shot of Jack.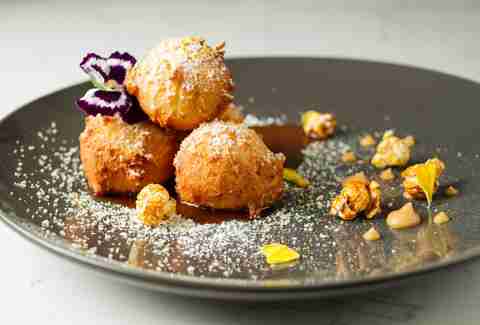 Queen Anne
Opened in the old Entre Amis space this fall, Eden Hill quickly started serving not-quite-breakfast options that mirror the rest of the menu's "avant garde", local-first approach to New American eats. Case in point: pig head croquettes w/ endive, butterleaf, and soft egg, and brioche French toast served with salt block roasted brie.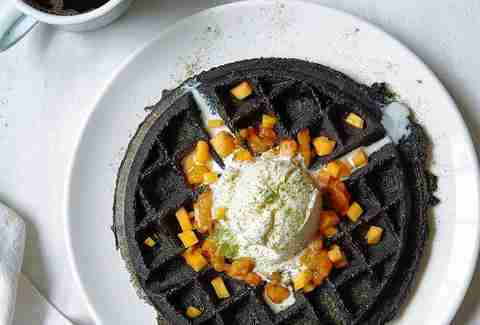 ​Capitol Hill
This much buzzed about spot in Pike/Pine is giving you a chance to get buzzed over brunchables ranging from small plates like Pho braised beef potstickers, to larger options including Hong Kong-style charcoal waffles, and open faced golden brown omelettes w/ Gruyere and potato "crunchies."
Capitol Hill
This nue-ish (thank you, thank you... hold your applause) international street foodery isn't messing around when it comes to am-appropriate eats from around the globe -- we're talking thin yeast pancakes studded with Dutch pepper bacon from the Netherlands; Flemish-style French fries from... um, not France, presumably; and a linguica, roast beef, and ham sandwich straight out of Portugal.
Central District
Opened in September by the guy behind one of Seattle's best burger spots (hint: It's L'il Woody's), Fat's wasn't happy selling its eponymous chicken & waffles for lunch & dinner so it decided to start serving 'em Saturday and Sunday mornings, too, along with a can't-miss biscuit sandwich w/ a fried chicken breast, fried egg, bacon & gravy, a classic eggs Benedict, and more.
Madison Valley
This burger joint from the people behind the nearby Bottleneck lounge (bet you can't guess exactly how far away it is) is doing a brunch menu that... surprise!... has a burger on it, but also boasts things like French toast, donut holes, and breakfast poutine.
Capitol Hill
Helmed by the talented chef behind the Volunteer Park Cafe, this cornerstone of the relatively new Chophouse Row development has the newest brunch menu in town: highlights of their reworked offerings include the hot ham and Gruyere sandwich, brisket & eggs, and more.
Ballard
The latest spot from Seattle super-chef Ethan Stowell (his third of 2016), this gastropub has been serving brunch for about a week now, so you can probably still be the first person you know to down things like like pork cheek hash w/ kale, potato, chanterelles & a poached egg, or Smoked Trout Benedict w/ spinach, hollandaise & grilled baguette, and then wash it all down with a bottle of La Luca prosecco, plus a pitcher of orange juice, all for only $25.
Sign up here for our daily Seattle email and be the first to get all the food/drink/fun in town.
Bradley Foster is a former Thrillist editor who's reluctant to go more than 2 Doors Down from his apartment for anything… except brunch.