Upon finishing this article, one of the first things you'll likely lament is: "WHAT, no Dick's? No Red Mill?! No [insert favorite burger place here]?!?! Just what the hell is going on, Thrillist?" But bear with us. This was a list created knowing full well that Seattle has so many quality burger options, we'd invariably have to make the excruciating decision to cut some great ones. However, that leaves us with an incredibly talented lineup of 12 burgers that includes everything from burgers topped with peanut butter to ones made with deep-fried meat. Now, without further adieu, Seattle's best burgers.
Truffle Burger
Burger Addict
Address and Info
Renton
Hidden away in a rundown strip mall outside of Renton, Burger Addict is a labor of love from an award-winning local chef who moved home after running kitchens in New York, London, and Paris. That chef, Marcus Olson, uses his experience to make burgers that are totally at odds with the hole-in-the-wall where they're made. The grass/alfalfa-fed sirloin is ground by hand, the molten cheese made in house, and the burgers are cooked-to-order using a unique induction-impinger oven, which they've patented. The result is a range of burgers, like this one topped truffles & mushrooms, as wells as truffle cheese, that will deliciously defy expectations.
Troll Burger
LTD
Address and Info
Fremont
Since purchasing LTD last year, its new owners have been slowly transforming it from an out-and-out sports hang into the kind of neighborhood pub that serves the usual classic American bar food... only slightly more elevated. This includes the Troll Burger, which features two perfectly charred quarter pound patties, Cheddar cheese, bacon, and a fried egg... making it the requisite burger to eat while watching the game. Something you can totally still do there.
Bacon Cheeseburger
Dahlia Lounge
Address and Info
Downtown
Sure, the classic burger at Tom Douglas' Palace Kitchen might be more celebrated, but his lunch only number at the DL surpasses it with some help from a bacon/beef patty that's topped with even more bacon, white cheddar, pickled green tomatoes, and special sauce, which isn't a "secret" sauce per se, but they're still not telling you what it is.
The Classic Burger
Uneeda Burger
Address and Info
Fremont
Housed in a former garage, Uneeda Burger cooks up patties made with all-natural beef sourced from Painted Hills (or grass-fed wagyu from Crescent Harbor for a few dollars more), the best of which is... debatable. The best deal though is The Classic with a quarter pound of beef, shredded lettuce, and fresh tomato, all for just five bucks. Or, to put it another way, less than what McDonald's charges for burgers nowadays.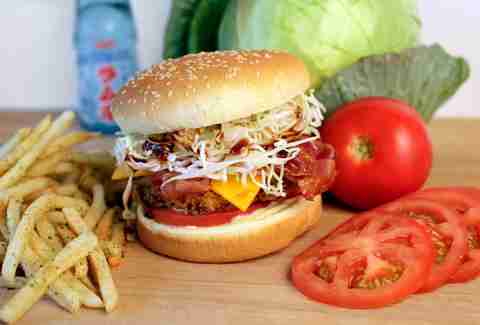 Mt. Fuji
Katsu Burger
Address and Info
Georgetown (& Other Locations)
Katsu Burger, which combines Japan's juicy Katsu style fried meats with American style burgers in brightly colored counter service style spaces, was a huge sensation when it first opened in SODO. Lucky for us, it's pretty much stayed that way ever since, expanding to Capitol Hill last year, and still serving -- among other more manageable options -- Seattle's most ridiculous (in a good way) burger: the Mt. Fuji with beef, chicken, and pork patties, plus three types of cheese & bacon.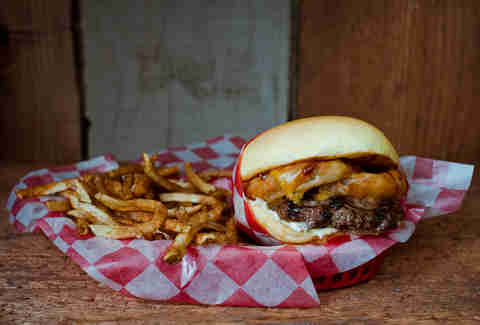 The Pendleton
Lil Woody's
Address and Info
Capitol Hill (& Other Locations)
Already boasting locations in Seattle's three busiest food neighborhoods, this much ballyhooed restaurant has just opened it's fourth spot inside White Center's massive new beer hall, Beer Star, where it continues to throw out can't miss specials every week, as well as a dozen or so mainstays -- highlighted by the BBQ sauce and onion ring topped Pendleton -- all served on incredibly buttery buns.
The A Burger
Quality Athletics
Address and Info
Pioneer Square
Served with a generous pile of housemade potato chips, and complemented with sharp cheddar cheese, housemade bacon, pickled onions, and New Hampshire sauce, the A Burger from this Pioneer Square sports bar really brings its... A-game! Thank you. I'll be here all week. Please stop booing.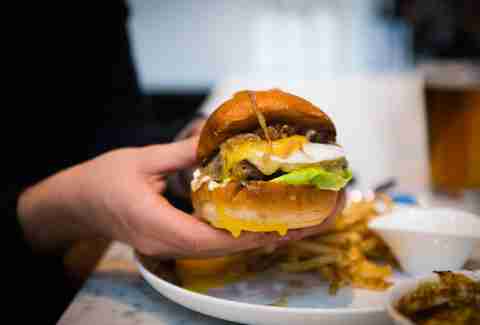 Beef Burger
Loulay Kitchen & Bar
Address and Info
Downtown
This upscale French restaurant, from Seattle's famed Chef In The Hat, does this quintessentially American dish right: the beef burger comes with a heaping side of fries, aioli, and a bacon-onion jam. And for the right price, you can even add a duck egg or foie gras to go with it.
The After School Special
King's Hardware
Address and Info
Ballard
This After School Special isn't about making sure latchkey kids don't talk to strangers on the way home from school. No, it's about putting two of the world's best foods, bacon and peanut butter, on an already phenomenal piece of juicy meat.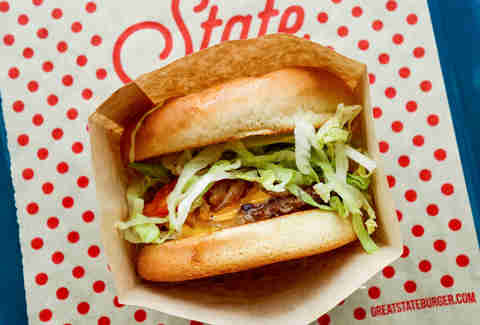 The Double
Great State Burger
Address and Info
Downtown (& Other Locations)
Already boasting four locations (with a 5th on the way), this unstoppable counter service style burger operation from prominent Seattle chef Josh Henderson (the man behind Westward and Quality Athletics) serves up delightfully retro crinkle fries and shakes alongside two burgers made with organically raised beef: the Single, or the Double. Guess which one you're getting.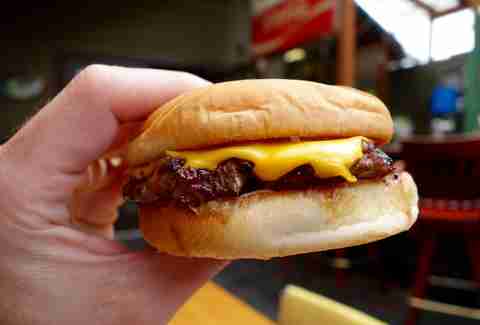 The Tavern Burger
Loretta's Northwesterner
Address and Info
South Park
Of course the top spot on our Burger Critic's aforementioned list was reserved for the Tavern Burger, which he called the forth best burger in America. Needless to say this caused something of a stir at this out-of-the-way dive, which is suddenly showing up on all sorts of best burger lists, and where people who've never heard of the place are showing up to try this utterly simple, but simply perfect combination of cheese, raw white onions, a pale special sauce, and pickles on a soft white bun. You seriously better figure out where South Park is, pronto.
Sign up here for our daily Seattle email and be the first to get all the food/drink/fun in town.