It's easy to disagree about the best kind of burger. You might go for the sweetest burger in your neighborhood, while Carrie Bradshaw would clearly prefer one that didn't break-up with her on a Post-it. Here at Thrillist, we're into new things, so we spent most of 2014 scouring Seattle -- in our fat pants -- for the best new burgers of the year. Feast your eyes...
The Bison Burger
Brunswick & Hunt (address and info)
Loyal Heights
In the hierarchy of meaty things, bison obviously wins, especially when it's combined with chuck and topped with pickled shallot and English cucumber.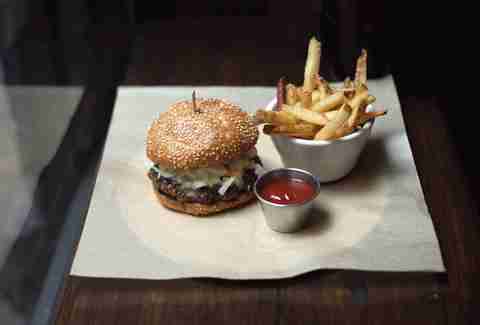 The Gangnam Brgr
BRGR Bar (address and info)
Pioneer Square
A burger that's simultaneously a touch sweet and plenty savory? Sign us up. Pioneer Square's BRGR Bar serves their Gangnam with kalbi-style marinated patty, house-made oriental coleslaw, garlic aioli, and house-roasted garlic mayo.
Kit N Caboodle
Giddy Up Burgers (address and info)
Ballard
Located at the corner of 46th and Leary in the far-ish end of Ballard, this spacious burger joint is making a jaw buster with all the fixings: a 1/3lb patty, haystack onions, bacon, cheddar cheese, ranch and BBQ sauce, lettuce, pickles, and tomatoes, all on a house bun.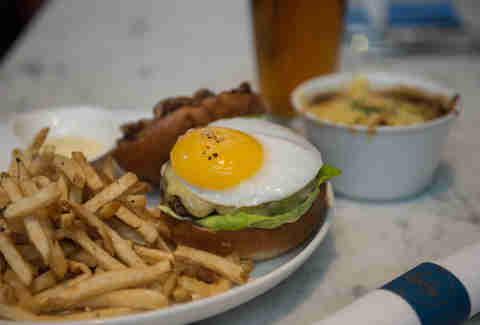 Beef burger
Loulay Kitchen & Bar (address and info)
Downtown
The upscale French restaurant, from Seattle's famed Chef In The Hat, does not mess around when it comes to burgers. Loulay's beef burger comes with a heaping side of fries, aioli, and bacon-onion jam, and for the right price, you can even add a duck egg or foie gras to go with it.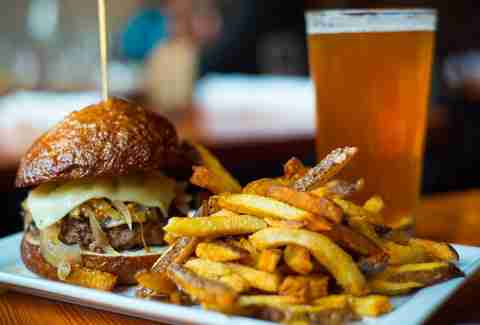 The Wünderbürger
Local Burger (address and info)
Bellevue
Local Burger's German-inspired Wünderbürger comes complete with a 50/50 patty, Swiss cheese, stone ground mustard, and horseradish aioli. To sweeten the deal, Local Burger also offers 24 drafts on tap, and one of those, like a Hefe or Doppelbock, is bound to pair perfectly with this burger.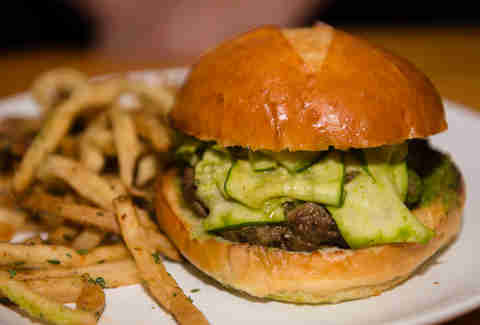 Lamb burger
Tallulah's (address and info)
Capitol Hill
The only burger on their small but sweet menu, Tallulah's lamb burger comes with zucchini and harissa, plus a ton of fries, and it isn't half baaaaaaa-d.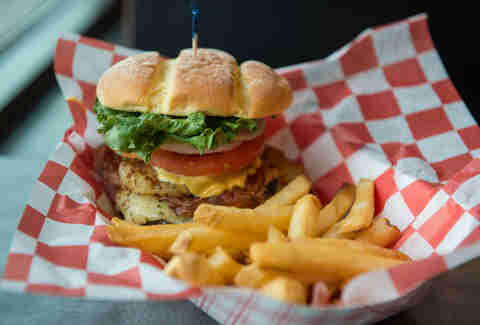 Monster Double Burger
Teddy's Bigger Burgers (address and info)
Greenlake
It doesn't get much more real than this behemoth burger. Featuring a gut busting amount of chuck (you can choose between 10, 14, and 18oz), plus special sauce, lettuce, tomatoes, onions, and pickles; you won't leave this Greenlake newcomer hungry.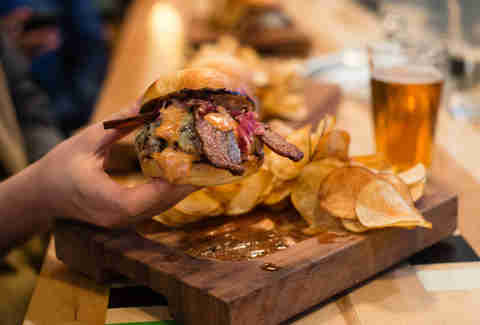 The A Burger
Quality Athletics (address and info)
Pioneer Square
Resplendent with sharp cheddar cheese, house-made bacon, pickled onions, and New Hampshire sauce, this Pioneer Square sports bar really brings its A-game on this thing. Served with a generous pile of homemade potato chips, Quality Athletics really sets the bar when it comes to eating well during the game, win or lose.
Triple Whammy
Burger Boss (address and info)
White Center
With three patties, three slices of cheese and their signature sauce, this burger is about as formidable as they come in this part of town. Don't forget to grab some crinkle fries to seal the deal at this lightning fast walk-up spot that opened just about five months ago.
The Spaghetti Western
Spaghetti Western (address and info)
Capitol Hill
Brought to you by the people behind La Bete, Aleks Dimitrijevic is back to square one with a Western-inspired BBQ and Italian classics joint. Every bit as good as their La Bete Burger (incidentally still on the menu), the Spaghetti Western is jam packed with a 7oz patty, Mama Lil's Peppers, bacon, queso Oaxaca, charred red onions, and chipotle caponata, all sandwiched between brioche buns.
Sign up here for our daily Seattle email and be the first to get all the food/drink/fun in town.