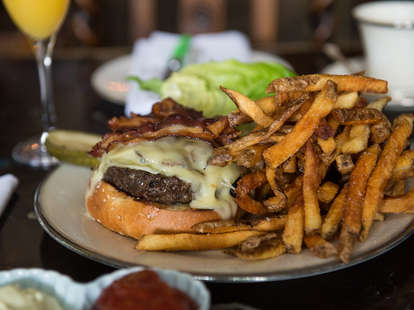 There are probably some great new restaurants nearby, or maybe there's a sweet fish & chips shop handy, but no matter what your alternatives, you never want to be too far from a great burger, which is why we've assembled this list of the best burger in 12 different Seattle 'hoods, some of which aren't even in Seattle. We're looking at you White Center!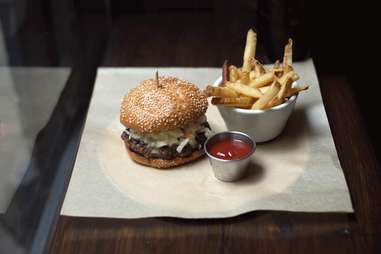 Pioneer Square
BRGR Bar (address and info)
What to get: The Gangnam Burger
Who needs syllables when you have Korean-inspired burgers like the Gangnam, which touts a Kalbi-style marinated patty, house-made oriental coleslaw, garlic aioli, and house-roasted garlic mayo? Not you, although you might need some of the beer/wine this place in the old Dome Burger location is pouring.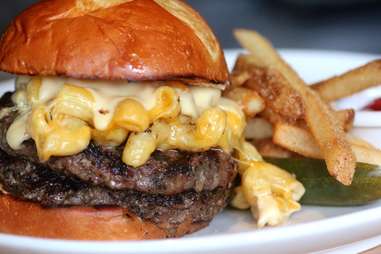 SoDo
Henry's Tavern (address and info)
What to get: The bacon mac 'n cheese burger
It doesn't get much better than Henry's Tavern's glutinous bacon mac 'n cheese burger, which touts... youguessedit!.. mac 'n cheese, plus applewood-smoked bacon and an Elysian Immortal cheddar sauce. Just a stone's throw from Safeco Field; win or lose, this burger is sheer victory.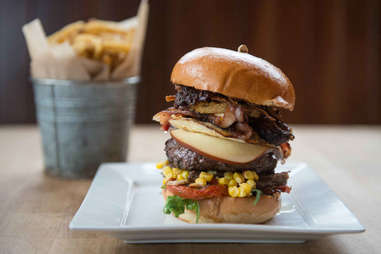 Capitol Hill
8oz. Burger Bar (address and info)
What to get: Build your own
Sure, you can't go wrong with the signature burger, which has arugula, balsamic onions, hills bacon, Beecher's flagship, and truffle aioli, but 8oz. Burger Bar's philosophy is that not all burgers are created equal, and what more do you need than the behemoth burger above to believe that?
Phinney Ridge
Red Mill Burgers (address and info)
What to get: A Red Mill Double Deluxe with fries and cheese. You won't be sorry.
Red Mill is the reason we carry cash in our pockets at all times. This cash-only Seattle staple lives up to the national level television hype, and is cheap to boot. Make sure to grab a shake while you're at it!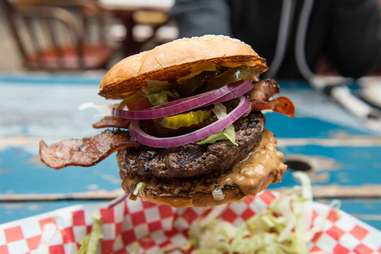 Ballard
King's Hardware (address and info)
What to get: The After School Special
Oh yes they did. The After School Special helps you to get in touch with your inner pink-cheeked, fat kid self with a righteous combo of peanut butter and bacon, among other things. Just do it.
Fremont
Uneeda Burger (address and info)
What to get: The signature burger with caramelized onions, watercress, and blue cheese
Resplendent with a spacious patio, this punny Fremont burger joint serves up everything from the fancy Crimini mushrooms (with porcini, black truffle salt, shallots, and Gruyère cheese) to the messy BBQ Smash (with charred onions, bacon, cheddar, and BBQ sauce). And if a burger doesn't suit your fancy (why are you even here?), Uneeda Burger also has a hefty selection of sandwiches, soups, and salads.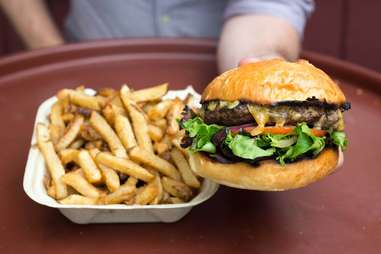 West Seattle
The Swinery (address and info)
What to get: There's only one kind of burger here, so this one's pretty hard to mess up
With a name like The Swinery, would you expect anything other than an excellent burger? The Swinery's signature burger highlights one-third pound Painted Hills ground beef, caramelized onions, tomato, fresh greens, house pickles, red onion, and your choice of bleu, cheddar, provolone, or Swiss cheese… or in layman's terms: the works.
U District
​EJ Burger (address and info)
What to get: The California, which comes loaded with bacon, Swiss, avocado, and house sauce
Cheap, fast, and chock full of options (EJ Burger's menu consists of 16 different ways to enjoy your favorite food, including teriyaki or in fish form), this burger joint just off the Ave is a fail-safe spot to score tasty lunch or dinner that won't break the bank.
Ravenna
Rain City Burgers (address and info)
What to get: The 12th Man Burger
Dave Matthews' favorite burger spot (purportedly) tips its hat to Seattle's all-stars with burgers like the 12th Man Burger (two beef patties, four slices of bacon, and two slices of American cheese on a Kaiser bun) and the Sonics Burger (cheddar & Swiss cheese, caramelized onion, and Rain City hot sauce on a Kaiser Bun). Just try to avoid this spot during lunch because the little kiddies over at Roosevelt High School love to raid this place during their daily break from class.
White Center
Zippy's Giant Burgers (address and info)
What to get: The Big Mouth w/ bacon
An oasis smack-dab in the heart of White Center, this old-school burger joint has all the makings of a legendary hang -- video games, burger paraphernalia, and a comical burger mural. A burger museum of sorts, you'll definitely want to sit inside and eat, rather than taking your food to go.
North Seattle
Burgermaster (address and info)
What to get: Combo 1
The best burger off Aurora is as easy as a flick of your headlights -- this Seattle area chain is at your beck and call when it comes to burgers. Since 1952, this drive-up spot has contributed to the fry mountains forming underneath our car seats, and we wouldn't have it any other way.