Editor's Note: This story is the eighth entry in Thrillist's Burger Quest, Kevin Alexander's yearlong mission to find America's best cheeseburger. Follow along @ThrillistBurgerQuest, and use #ThrillistBurgerQuest to let Kevin know places he needs to hit.
Oh, Seattle. The land of (disappearing!) teriyaki and fresh fish. The land of second-wave coffee and popular, yet depressing, early '90s music. But the land of great burgers? I wasn't so sure. And yet, I was willing to find out because A) I am a professional and B) actually, that's about it.
In order to figure out the best burger places to go, I spoke to our fantastic food/drink freelancer Naomi Tomky and the Seattle Times food writer Bethany Jean Clement, plus chefs and other locals. Though I usually narrow down the list to 10, it was basically impossible to cut any after 15. And so I embarked on a perilous 48-hour journey to eat all of those burgers alongside my native Seattle buddy Justin McCullum and a couple of other pals. Though I ended up missing Zippy's because the location I went to was closed on Mondays, I did have 14 burgers and many opinions about them.
In case you're new to my rankings, here are some guidelines: if the restaurant had multiple burgers, I tried to order the closest to a classic cheeseburger, and if it came with options, I always picked American cheese and grilled onions. If you think I missed something, please yell at me in person, or say something dismissive in the comments, but until then, here is my Seattle burger ranking:
14. Classic burger with cheddar
King's Hardware
Address and Info
Ballard
Look at the picture of this burger. Doesn't it look like something out of a catalog of beautiful and sexy burgers? Visually speaking, this was one of the best burgers of the trip. And I expected as much from King's -- I've been there many times before, though admittedly just to drink and maybe eat some wings -- but the food has always been excellent. And yet, the burger did not stand out, and I'll tell you why: the bun. The bun was dry and thick and somehow heavy. It took up a good portion of the three bites I managed before I gave up. The stuff inside was totally functional -- I have no complaints on the meat, or the toppings, or the King's sauce -- but the bun has to go. Great michelada though.
13. Cheeseburger
Dick's Drive-In
Address and Info
Various locations
Oh, Dick's, you mischievous rascal. This was the first Dick's burger I've ever had while not, um, impaired. And it kind of appeared I was the only one in an unaltered state. Two shirtless homeless guys chased each other around slap-boxing behind me while a cop patiently stood in line for a burger, then finally turned around and pleaded with them to stop acting up so he could eat, and then maybe deal with trying to arrest them on a full stomach. A sign by the front pointed out that Macklemore filmed a music video on their roof. It is the greatest show in Seattle.

As for the burger, the burger is fine. It is very close to a McDonald's cheeseburger, albeit an old-school McD's cheeseburger that's been sitting under a lamp for a bit. I'm not saying that as a knock, really -- I love McD's cheeseburgers -- but Dick's just is what it is. And that is a necessary late-night burger. May it carry on in glory forever.
12. Quality Burger
Quality Athletics
Address and Info
Pioneer Square
I'd like to take this opportunity to point out that when Justin and I rolled up to QA around noon on a Tuesday, Marshawn Lynch walked by us several times, just strolling the strip by the stadium, possibly guerrilla marketing his clothing line. So that was neat.

Quality Athletics' Quality Burger had so much potential. So, so, much. The pickled onions were fantastic -- all pink and vinegar-y and crunchy -- and the New Hampshire sauce had a good kick, possibly as a callback to former Melrose Place star Andrew Shue, who spent years handsomely kicking soccer balls in New Hampshire at Dartmouth. The meat was flavorful, you could taste a unique sort of mix of spices, but that meat was also overcooked. Like, excessively overcooked, and it quickly dried out. Still, I can see where they're going with this thing, and I like it. Just with a little juicier meat.
11. Painted Hills Beef Burger
Quinn's Pub
Address and Info
Capitol Hill
Quinn's has a special off-menu "ultra" burger that is casually famous amongst the food people in Seattle, as it is basically just the chef's whim and has involved absolutely insane combinations, like seared foie gras, plus glazed donuts and whole duck eggs. Chefs have weird whims. Of course, Burger Quest is not about the stunt burger, but I thought you'd want to know about that thing, just so we can all feel cool next time we go together.

ANYWAY, the non-ultra Painted Hills burger has a lot of great elements. It is incredibly juicy at the start, the white cheddar, bacon, and mayo blend into a salty trifecta of fat, and the bun is a particularly buttery brioche. There were a few issues. The meat dried out rather quickly, as all the juice seemed to make its way out of the burger by the second bite; the brioche bun's top started to flake off, and that entirely buttery, rich combination of salt and fat had no acid to combat it. Nonetheless, it's a solid burger, even without the "ultra" label.
10. Beef Burger
Loulay
Address and Info
Downtown
Justin and I got to the Chef in the Hat's fancy little hotel restaurant on the early side, and popped over to the bar. Despite me wearing a relatively nice shirt, and Justin having a colorful button-down on, the bartender did not like the cut of our collective jibs, and our lot with him didn't improve when he found out we were splitting the burger. Despite the attitude, the burger came quickly and showed some real potential, with that bacon-shallot jam and aioli playing off each other. And man, the burger was so juicy, you could've collected a cup under it. But that was also the problem -- the beautifully buttery and fresh bun was all soggy along the bottom within three minutes of my first bite. It was like eating the burger equivalent of a bowl of Golden Grahams: great at first, but astonishingly soggy after an unreasonably short period.
9. Palace Burger Royale
Palace Kitchen
Address and Info
Belltown
The best part of my experience at Palace Kitchen started with the cheese. After I ordered the burger, the bartender began listing off cheeses they'd put on said burger, and got through four fancy ones before he said, "or you know, just a couple of dirty, old-school Kraft singles."

As you might imagine if you've read any of my previous stories, I audibly sighed in satisfaction at the Kraft single call, and ordered it on my burger. The Royale comes tricked out -- house-made Dijon aioli, Dahlia Bakery bun, razor-thin slices of white onion, dill pickles, etc. The patty is on the thicker side and came in at a good medium, with the flavor of a juicy, grilled backyard burger. That Dahlia bun was griddled and flaky and just a tiny bit bulky. It's a completely solid burger, and yet it's only ninth. What can I say -- Seattle is just packed with talent.
8. Li'l Woody
Li'l Woody's
Address and Info
First Hill
One of the handful of Seattle burger joints I'd tried beforehand, LW has the swagger of a true contender and one of the cooler exterior signs I've ever seen (check the photo at the bottom of the story). The Li'l Woody burger itself had a lot going for it. The chopped onion and diced pickle blend well with the ketchup and mayo, so the whole thing kind of seems like deconstructed special sauce, and it was well seasoned and charred up. Some minor issues -- the burger meat was a little dry, and somehow "overly chewy" (that's from my notes), and the bun, while soft, wasn't quite grilled enough to keep it from getting a bit soggy. But I'd dance with it again.
7. Cheeseburger
Wedgwood Broiler
Address and Info
Wedgwood
Imagine a place you went as a child with your grandparents. Did this place have carpet? Older, sassy waitresses who give just as much as they take? An entire phalanx of retired people asking about the BBQ Pork Slices appetizer? Nature photos of whales on the wall for sale for $165?

Well, the Wedgwood Broiler has all of these things, plus a side salad that comes with the burger and features Cheez-Its AND salami. As for the actual burger, it features a sesame seed bun perfectly griddled, and really well-ground meat so it almost falls apart as you bite in. It's flavorful and solid and DID I MENTION THAT THIS PLACE PUTS CHEEZ-ITS AND SALAMI IN THEIR SALADS? Go here as soon as you can, friends. These type of non-ironic throwbacks are all but extinct, and you need to celebrate and support the ones still kicking. Just mind your shoes on the carpet.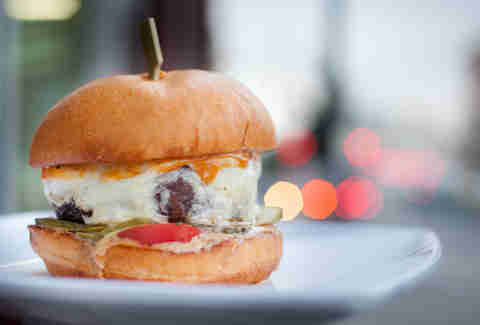 6. The Classic
8oz Burger & Company
Address and Info
Various locations
I don't normally announce my presence at any of these places in an effort to avoid currying favor (though honestly, most people are like, "oh cool, you have your own little burger blog? How original." *YAWWWWNNNNNNN* And then go back to their normal lives). But I came in with our photographer hoisting a giant camera and tripod, and so I felt some sort of explanation was needed. The server was excited, momentarily, until I ordered The Classic.

"The Classic?" she asked. "But that's boring -- don't you want The 8oz? It has bacon and truffle aioli and balsamic onions…"

In truth, I didn't want any burgers at that point, because I'd already eaten six, but I tried to explain that I order the most basic burgers from any place with a lot of different options. Undeterred, the server managed to bring out both burgers, though I am only reviewing The Classic (I had a bite of The 8oz and it seemed quite nice).

Said Classic had fantastic topping distribution, was extremely juicy, and was just professionally executed in every way. The salty thicker patty had a lot of umami flavor, and it would rank probably even higher if the bun didn't end up getting quite so soggy on the bottom from the mix of the sauce and the burger's juices.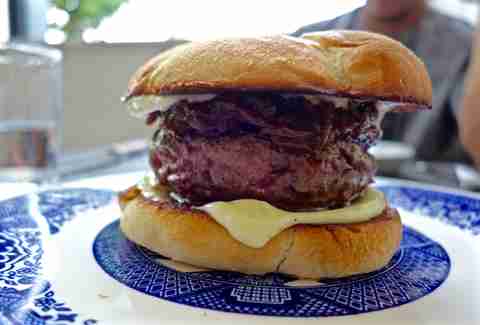 5. Bateau Burger
Bateau
Address and Info
First Hill
On the recommendation of Bethany Jean Clement, I added this precious and beautiful steakhouse to the list to dance with its burger, and also maybe drink something with blue curacao in it. It didn't disappoint on either end. Despite having a super-thick patty, the sear on both sides of the burger was peppery and intense and suggested it was cooked under intense heat. The dry-aged beef was almost fragile to the touch, each piece of the coarse grind falling off gracefully.

The bun was delicious, soft, and supple, but held up the juice. The caramelized onions were so intense, it was basically like they'd been strained from French onion soup. The aioli was also intense. It was like all the flavors were being played on high volume while I was wearing those expensive Beats headphones from that old Kevin Garnett commercial. If I may make one suggestion to the fine people of Bateau, it would be this: getting something with acid on the plate -- pickled veggies of some sort -- to cut through all those intense and rich flavors and balance it out a touch.
4. The Single with grilled onions and house pickles
Great State Burger
Address and Info
Various locations
Are people even still reading anymore? I haven't had to get through 14 burger writeups before. Maybe I should be quick here? How about this: if the Pacific Northwest had its own In-N-Out-style place, with neat touches like a Jones Soda machine and a giant high ceiling with a big swath of wood, and proximity to Little Darlings (an "intimate gentleman's club"), this is it. And the burger, like In-N-Out, is griddled and thin, with a great bun perfectly toasted, and the most tangy American cheese I've ever had -- it was almost like a spreadable cheese, and it was delicious. It is just a great all-around fast-casual burger.
3. The Classic Burger with cheddar
Uneeda Burger
Address and Info
Fremont
THERE'S A LEGAL POT STORE DOWN THE ROAD. Sorry, that was written by my 19-year-old self, who just giggled nervously. But you don't need drugs to love UNeeda Burger in Fremont, where the Classic costs just $6 and features Painted Hills beef cooked marvelously. Look at the char through the cheese in that picture. This burger was one of the most well-constructed of the trip. I have no complaints, basically. The shredded lettuce, extremely fresh tomatoes (which I normally abhor), special sauce, and pickles all worked together on a bun that held together admirably. It was like eating the burger version of a well-drilled band from that movie Drumline featuring Nick Cannon. Somehow that's got to be a compliment though. Note: this was also my buddy Justin's favorite burger of my entire Seattle trip, and he once played on the practice squad of the Carolina Panthers SOOOO… take that however you want.
2. Cheeseburger with Tillamook cheddar
The Two Bells Bar & Grill
Address and Info
Belltown
Two Bells was empty when we got there on a Tuesday before noon. Zero people. The bartender/server watched us compare and contrast each table for optimal burger light with bemusement and then gave us a couple of beers and one of the best damn cheeseburgers I've had this year. Everything about this burger is a winner -- from the French-esque bread griddled and soft but absolutely impenetrable to the evil sog, to the combination of Beaver sweet hot mustard and mayo giving it a tangy, creamy labor, to the juicy, flavorful meat, which must have garlic and some other spices in there, because it's too damn flavorful to just hold up on its own. I don't even have a lot more to offer -- I just implore you to go and try this burger.
1. The Tavern burger
Loretta's Northwesterner
Address and Info
South Park
It's dark in Loretta's. Even on a Monday afternoon around 1pm in the South Park neighborhood in Seattle (a hood just south of the Duwamish Waterway, which no one I talked to seemed to be very familiar with), the front bar is packed with all sorts of locals watching non-important Olympic games and nursing Rainiers.

I ordered the Tavern burger and a beer at the bar, and then headed back to the covered greenhouse bar in the back, which sits in front of a patio area featuring a trailer and a bunch of tables. The crowd inside reminded me of visiting Seattle in the '90s before the tech tentacles latched on -- or maybe it was just the idea of that time, during the grunge era when everyone seemed moody but heartfelt and a little sensitive, their skin pale from the rains and affinity for flannels. But this is not an ode to a place I visited once in the '90s. This is about the best burger in Seattle.

It is so simple it seems stupid: just basically cheese, raw white onions, a pale special sauce, and pickles. The bun is literally perfect -- one of the more tightly buttered soft white buns I've had across the country. No tricks, just perfect execution, especially around the ends, where you get a crisping that's so buttery and delicious. The burger is not big -- you should get a double if you don't plan on following it up with several other burgers -- but the char is exquisite, and the white onions and tang from the sauce create enough acid to balance the cheese and meat and buttered bread. As Nirvana once wrote… just kidding, guys, I wouldn't do that to you, but I will tell you to cross the fucking Duwamish and get this burger as soon as earthly possible.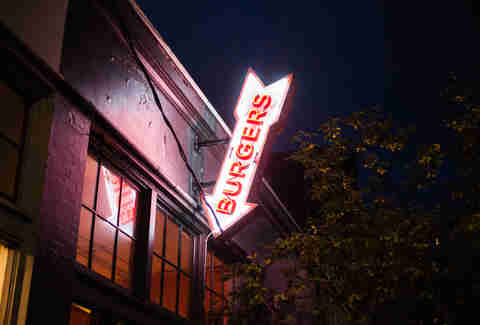 Sign up here for our daily Seattle email and be the first to get all the food/drink/fun in town.
Other Stuff You'll Like In Burger Quest