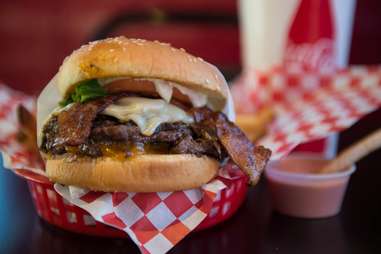 Everett
What you're getting: Nick's Deluxe
Just off Evergreen Way lies burger country. You can't go wrong with Nick's Deluxe, which has two patties, grilled mushrooms and onions, cheddar and Swiss cheese, hickory bacon, avocado, Nick's homemade garlic mayo, lettuce, tomato, and pickles. Be sure to grab Nick's special sauces with your fries too -- nobody would tell us what was in it, but trust us -- you want it.
Pullman
What you're getting: The cheeseburger
This well-loved college bar is infamous for its burgers, just consult this list. Cheap, greasy, and delicious; The Coug's cheeseburger is a winner regardless of how the Apple Cup panned out this year. And most years for that matter. You won't find any hard liquor here, but if you're an alumni, you can go ahead and cry into a nice cold beer.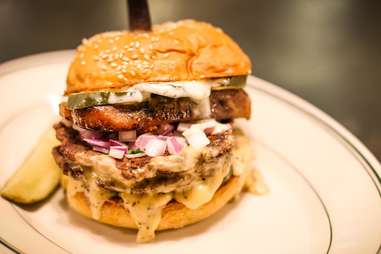 Spokane
What you're getting: The Double Burger
The newish Spokane establishment is definitely making moves with its double burger, which is made with house-bacon burgers and a fried egg. Located right off of Main Downtown, this super-stylish bar is divided into two floors with different cocktail offerings on each. And because it's from the people behind Casper Fry, you know this stuff is going to be good.
Bellingham
What you're getting: The Double Dog Dare
Fiamma Burger in Bellingham definitely knows how to do a mash-up. You've never had a burger like their Double Dog Dare Burger, which has two 3oz beef patties, a hot dog, two slices of American cheese, fried pickles, jalapeños, shredded lettuce, ketchup, mustard, and relish.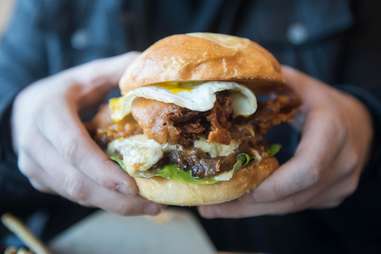 Redmond
What you're getting: The Rockstar
The expansive selection of taps at this Redmond joint gives light to its name, so no need to ring up PETA. Among the bevy of burgers Tipsy Cow purveys, our favorite is The Rockstar, which has custom-ground, grass-fed beef, brew battered & fried Daily's bacon, maple syrup drizzle, Beecher's Flagship White Cheddar, a fried egg, caramelized sweet onions, bibb lettuce, tomatoes, and Tipsy sauce. Pro-tip: pair it with a salted caramel shake.
Issaquah
What you're getting: The Jak's Burger
Recipient of countless awards from acclaimed publications like Men's Fitness and USA Today, this spot, just about 15mi East of Seattle, slings a signature burger that boasts a whopping half pound of ground beef covered in roasted red pepper mayo and topped with lettuce, tomatoes, and bacon.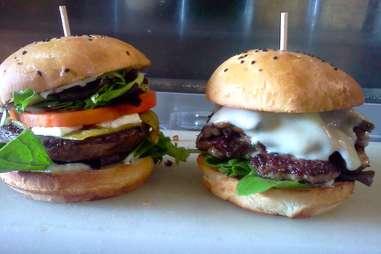 Gig Harbor
What you're getting: The bacon cheddar
This not-quite-waterside burger shop boasts a selection of seriously messy burgers. From indulgent numbers like the Gorgonzola & avocado burger, to classics like our favorite the bacon cheddar. All burgers come with your choice of side, with options like blue cheese potato salad, beet chips, beer-battered onion rings, and more.

Walla Walla
What you're getting: The Green Spoon Classic
Green Spoon's signature burger is a one-third pound hand-pattied beef burger with organic greens, tomatoes, dill pickles, and cracked pepper mayo. It's perfect way to fix yourself up after an afternoon of wine tasting. Other burger option at Green Spoon include The Aussie Lot (fried egg, shredded beets, and bacon), The CO-BLAT (cheddar, sweet onion, avocado, and bacon), and The Bleu Shroom (bleu cheese and mushrooms, duh).

Sign up here for our daily Seattle email and be the first to get all the food/drink/fun in town.