The 8 best burritos in Seattle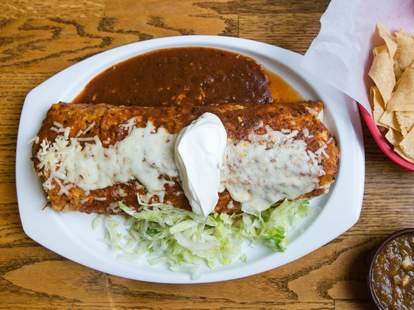 By now everyone knows that Seattle's got a few secrets, but one thing most people don't know is that the Seahawks might not actually be that good. Just kidding! That secret is totally out of the bag. What people might not know is that this town actually has some pretty great burritos. At least eight of 'em, in fact...
Chona Kasinger
Durango Burrito
Taquería Tequila Authentic Mexican Food (address and info)
Greenwood
This slightly out-of-the-way neighborhood joint is turning out giant Mexi-missiles stuffed with your choice of meat, guacamole, sour cream, cheese, pico de gallo, cheese, rice, and beans, AND then covered with even more good stuff. Oh, and TT also gets bonus points for their behemoth margaritas and game screening.
Chona Kasinger
Burrito Grande (aka the "baby burrito")
Gordito's Healthy Mexican Food (address and info)
Greenwood
This spot's Burrito Grande is ironically called the "baby burrito" -- presumably because eating two large flour tortillas filled w/ your choice of meat, black beans, Mexican rice, lettuce, sour cream, guacamole, and fresh, chunky salsa will make you look pregnant.
Chona Kasinger
The El Camión Burrito
El Camión (address and info)
Multiple locations
With trucks in Ballard, SoDo, and North Seattle, El Camión makes it easy to find to-go-style tubes full of grilled meats & veggies, rice, beans, pico, etc., all of which you can top with their extensive selection of salsas/sauces. If you hit their Ballard brick-and-mortar grab some some cervezas and play a game of Pac-Man too.
Chona Kasinger
Bravo Burrito
Rancho Bravo Tacos (address and info)
Capitol Hill/Wallingford
Tried and true, Rancho Bravo's two locations (Capitol Hill and Wallingford) never fail to satisfy after a late night of weekend drinking. Open until 3am on Friday and Saturday, Rancho's Bravo Burrito is the perfect thing to combat the kind of feeling you get at closing time.
Chona Kasinger
TLF Burrito
Taqueria la Fondita #2 (address and info)
White Center
This little truck in White Center serves up a mean burrito (it comes with the works: loads of meat, rice, beans, guacamole, pickled veggies, etc.) and keeps it seriously real with some of the most authentic Mexican fare (and most aggressive pigeons) in town.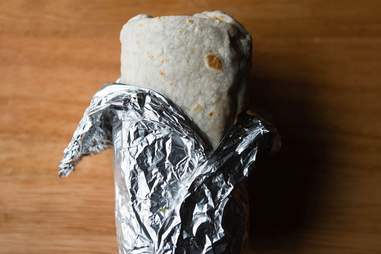 Chona Kasinger
El Asadero Burrito
Tacos El Asadero (address and info)
South Seattle
Burritos from a bus? Yes, indeed. Find this novelty Mexican joint in (where else?) a parking lot not too far from the Othello Light Rail Station in South Seattle, where they're slinging pork butt, frijoles, rice, and pico wraps from a walk-up window in case you're on the go, but we recommend sticking around and eating inside for the full experience.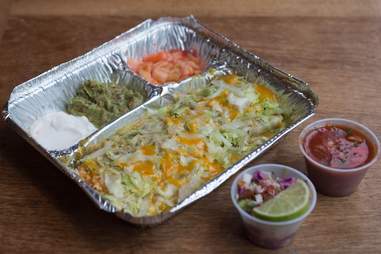 Chona Kasinger
Garibaldi Supper Burrito
Plaza Garibaldi (address and info)
Queen Anne
Named after Mexico City's very own Plaza Garibaldi, this Queen Anne spot near Key Arena purveys huge portions, stiff drinks, and a lunch special, which gets you the Garibaldi Supper Burrito (flour tortillas filled with rice and beans and your choice of chile verde, chile Colorado, chicken, shredded beef, Spanish sauce, lettuce, tomatoes, and cheese) for just $8.75.
Chona Kasinger
Chukis baby burritos
Tacos Chukis (address and info)
Capitol Hill
The burritos at this Capitol Hill treasure might be mini-er than the rest of the ones on this list, but they're just as tasty, and cheaper... until you consider the fact you'll probably order, like, 11 of 'em.
Sign up here for our daily Seattle email and be the first to get all the food/drink/fun in town.